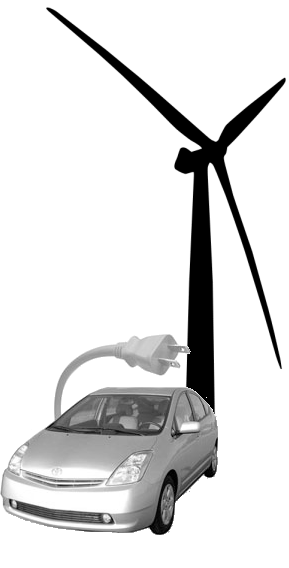 The U.S. Northwest could get an additional 12 percent of its electricity from local wind power if 1 in 8 of the region's cars used batteries.
That's the conclusion of a new study from the Pacific Northwest National Laboratories investigating how electric vehicles can help smooth the introduction of more variable renewable energy into the grid system.
The study examines the Northwest Power Pool, an area encompassing roughly seven states in the Northwest. With around 2.1 million electrified vehicles, the grid could support an additional 10 gigawatts of wind power. With electricity demand from those seven states of about 250 billion kilowatt-hours (kWh) per year, the additional 10 gigawatts of wind would provide 12 percent of the annual electricity demand (roughly 30 billion kilowatt-hours per year).
The results are no doubt applicable to other regions of the country. In fact, at least 33 states have enough wind power to meet 10 percent or more of their electricity needs and if the same portion of vehicles (13%) were electrified in those 33 states, it would allow them to add a collective 100 gigawatts of wind power, meeting nearly 14% of their electricity needs.
Northwest Power Pool
In the long-run, a fully electrified vehicle fleet would theoretically – just do the math! – provide enough balancing power for a 100% renewable electricity system. And since the large majority of those vehicle trips would be made on batteries alone, it would be a significant dent in American reliance on foreign oil for transportation.
Further reading: learn a bit more about electric vehicles helping wind power in Denmark, too.
Hat tip to Midwest Energy News for the original story.