ILSR's new report examines how high rents are shuttering businesses and stunting entrepreneurship, and explores 6 strategies that cities are using to create an affordable built environment where local businesses can thrive.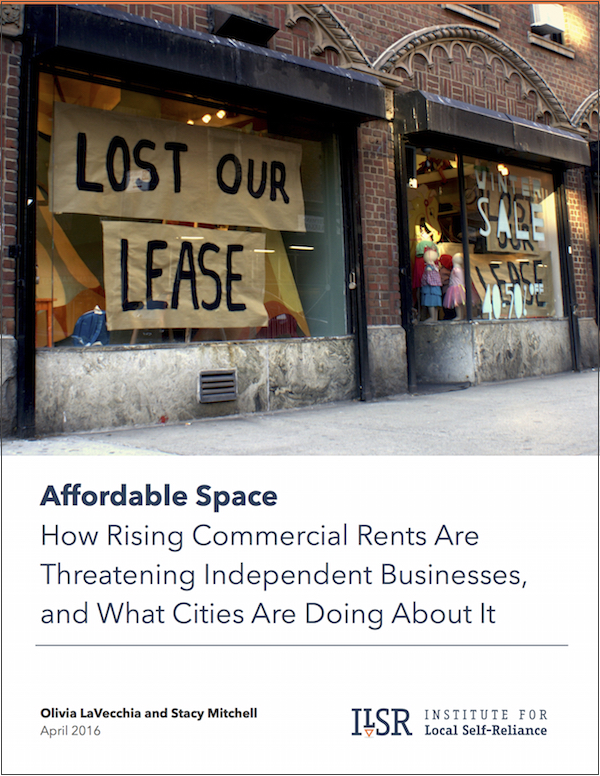 In cities as diverse as Nashville and Milwaukee, Charleston and Portland, Maine, retail rents have shot up by double-digit percentages over the last year alone. As the cost of space rises, urban neighborhoods that have long provided the kind of dense and varied environment in which entrepreneurs thrive are becoming increasingly inhospitable to them. Local businesses that serve the everyday needs of their communities are being forced out and replaced by national chains that can negotiate better rents or afford to subsidize a high-visibility location.
This new report from ILSR offers elected officials insights on what's causing commercial rents to skyrocket, and explores six broad policy solutions, with practical examples, that cities can use to keep commercial space appropriate, accessible, and affordable for independent businesses.
The report finds that the sharp rise in rents is happening across a range of communities, with some of the most intense pressure falling on businesses in lower income neighborhoods. And the trend isn't limited to retailers. The price of industrial space is rising rapidly too, jeopardizing a budding renaissance in urban manufacturing.
There's a public interest in the commercial side of the built environment, the report concludes, and smart city policy has an important role to play in creating an urban landscape in which locally owned businesses can thrive.
Read: ONE-PAGE FACTSHEET  |  Press release  |  Full Report  |  MAPPING RISING RENTS
Introduction
For 22 years, Lisa Monson ran her business out of a building she rented in Salt Lake City's 15th and 15th business district. The 2,800-square-foot space was a good size for her hair salon, and she liked being in a neighborhood of locally owned businesses.
Like many business owners, though, the more Monson continued to invest in her business, the more wary she became of losing her space. Her landlord wouldn't offer her a long-term lease, and every three years, she faced a tough renegotiation. Meanwhile, national chains had started moving into the neighborhood, including a Starbucks and an Einstein's Bagels that bought out a local bagel shop.
"It kept me in a place where I was completely at risk of being thrown out," Monson explains. "I knew that if he got an offer for a lot more money, I wouldn't be able to match it."
The cost of commercial space is spiking upward around the country, driven both by run-away real estate speculation and the growing popularity of urbanism. As a new generation discovers the appeal of walkable and mixed-use neighborhoods,[1] demand for small commercial spaces in those neighborhoods is far outpacing supply, and rents are rising to match. Locally owned enterprises, which thrive in these areas, are increasingly threatened with displacement from the neighborhoods that they've made vibrant, and getting replaced by national chains that can negotiate better rents or afford to subsidize a high-visibility location. As high rents shutter longtime businesses, they also create an ever-higher barrier to entry for new entrepreneurs, stunting opportunity and leading to a scarcity of start-ups in cities once known for their business dynamism.