---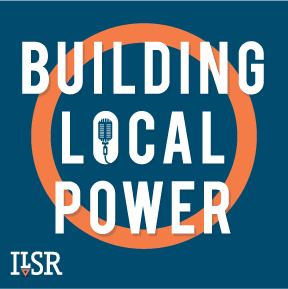 Building Local Power
Building Local Power brings you thought-provoking conversations and new ideas for breaking the hold of corporate monopolies and expanding the power of citizens and communities to chart their own future. The podcast offers a distinct perspective on today's most pressing topics. We bring you interviews with trailblazing lawmakers, scholars, business leaders, and advocates, plus conversations with ILSR's own in-house experts, who share their latest research and reporting from across the country.
– Episode Archive –
---
Building for Digital Equity
Building for Digital Equity is a series of live stream events and a podcast hosted by Community Broadband Networks team members featuring interviews with people working for digital inclusion and ensuring everyone can reap the benefits of the Internet.
– Episode Archive –
---
Community Broadband Bits
A project of the Community Broadband Networks Initiative, Community Broadband Bits is a short weekly audio show featuring interviews with people building community networks or otherwise involved with Internet policy.
– Episode Archive –
---
Connect This!
A project of the Community Broadband Networks Initiative, Connect This! is a video show covering recent news in the broadband policy world. Each episode features a diverse panel of experts and industry veterans having in-depth discussions on the complicated issues that collectively define our networked future.
– Episode Archive –
---
Composting for Community
This is a monthly podcast hosted by the Composting for Community Initiative. We interview composters and composting advocates from around the country. Guests talk shop about their projects, and share their inspirations and lessons learned.
– Episode Archive –
---
Local Energy Rules
A project of the Energy Democracy initiative at the Institute for Local Self-Reliance, Local Energy Rules is a twice monthly podcast featuring ILSR Senior Researcher John Farrell (formerly Matt Grimley and Karlee Weinmann), sharing powerful stories of successful local renewable energy and exposing the policy and practical barriers to its expansion.  Our audience is researchers, grassroots organizers, and grasstops policy wonks who want vivid examples of how local renewable energy can power local economies.
– Episode Archive –
---
Antimonopoly Happy Hour
This is a weekly, hour-long video show from ILSR's Independent Business initiative. Hosted by Senior Researcher Ron Knox and featuring a cast of special guests, the show highlights the most crucial news (and gossip!) from around the world of politics, economics, and regulation.
On Hiatus
– Episode Archive –