In our 2009 report Energy Self-Reliant States, we published the following map detailing the percent of a state's electricity that could come from in-state renewable energy resources.
Click the image for a larger version.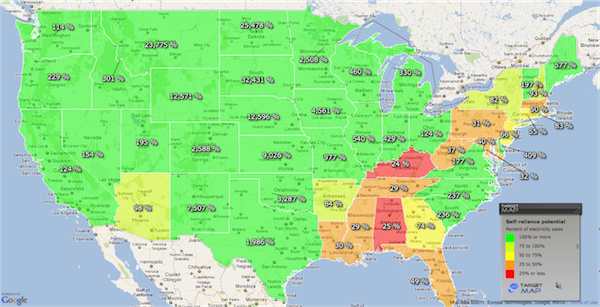 Tom Carlson of the Chesapeake Climate Action Network recently contacted me to let me know that a newer report substantially increases the estimated offshore wind potential for Maryland (in fact, we had found no studies at the time of publication showing any offshore potential).
A 2010 study by the University of Delaware's Center for Carbon-free Power Integration, College of Earth, Ocean and Environment found that Maryland could in fact get two-thirds of its electricity from shallow-water offshore wind (depths of 35 meters or less).
With that update, our Energy Self-Reliant States map would show that Maryland could in fact get 107% of its electricity from in-state sources, rather than just 40%.