An updated version of this report, released in June 2023, is available here.
Solar and wind projects can mean big bucks for communities – but only if they keep them local!
That's a key takeaway from Advantage Local: Why Local Energy Ownership Matters, a new report from the Institute for Local Self-Reliance (ILSR). The report shows that local control and ownership of renewable energy gives towns and cities a bigger economic boost than hosting wind and solar (or high voltage transmission lines) from big out-of-state (or country) corporations.
"Giving up ownership means giving up a big share of the profits of going solar, and it may mean more expensive solar for society," says John Farrell, the lead author of the reports and director of ILSR's Democratic Energy initiative.
Advantage Local explains how local ownership allows citizens to have a stake in their own energy production, and "flips the grid" toward a more democratic energy future.
When Big Utilities want to build Big Transmission lines, community members can offer more than just opposition to the plans– they now have a clear, clean solution: local renewable energy ownership.
Learn more: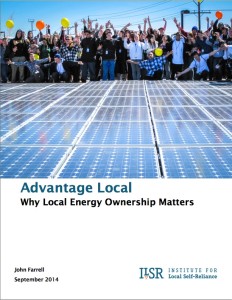 Like what you see? Get email updates on ILSR's energy work!
For more information, and to set up an interview with John Farrell, director for Democratic Energy with ILSR, email Rebecca Toews, rebecca@ILSR.org.