Featured
Article
filed under
The Public Good
| Written by
David Morris
|
No Comments
| Updated on
Mar

8

,

2016
The content that follows was originally published on the Institute for Local Self-Reliance website at https://ilsr.org/american-democracy-under-siege/
The founding fathers minced no words about their distrust of the masses. Our first President, John Adams warned, "Democracy will soon degenerate into an anarchy…" Our second President, Thomas Jefferson insisted, "Democracy is nothing more than mob rule." Our third President, James Madison, the Father of the Constitution declared, "Democracy is the most vile form of government."
In his argument against the direct election of Senators Connecticut's Roger Sherman advised his colleagues at the Constitutional Convention, "The people should have as little to do as may be about the government. They lack information and are constantly liable to be misled." They agreed. Senators would be elected by state legislatures. And they created the Electoral College to shield the Presidency from a direct vote of the people as well.
In 1776, the year he signed the Declaration of Independence, John Adams presciently wrote a fellow lawyer about the collateral damage that would result from "attempting to alter the qualifications of voters. There will be no end to it. New claims will arise. Women will demand the vote. Lads from 12 to 21 will think their rights not enough attended to, and every man who has not a farthing, will demand an equal voice with any other, in all acts of state. It tends to confound and destroy all distinctions, and prostrate all ranks to one common level."
In 1789 the franchise was restricted to white men, but not all white men. Only those possessing a minimum amount of property or paid taxes could vote. In 1800, just three states permitted white manhood suffrage-the right to vote– without qualification.
In 1812, six western states were the first to give all non-property owning white men the franchise. Hard times resulting from the Panic of 1819 led many people to demand an end to property restrictions on voting and officeholding. By 1840 popular agitation by the swelling ranks of propertyless urban dwellers coupled with "Age of Jacksonian Democracy" increased the percentage of white men eligible to vote to 90 percent. And the advent of a new type of presidential electioneering that spoke directly to the people in raucous proceedings lifted turnout from 25 percent of eligible voters in 1824 to a remarkable 80 percent in 1840.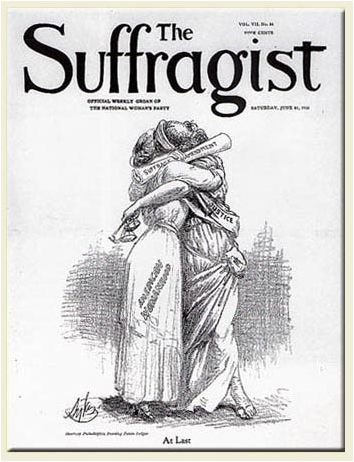 Women had to wait much longer. A number of colonies did allow women to vote. But by the time the Constitution was ratified all states except New Jersey denied women that right. In 1808 New Jersey made it unanimous.
In 1875 Michigan and Minnesota allowed women the right to vote for school boards. In 1887 Kansas gave them the right to vote in municipal elections. In 1889 Wyoming was the first state to give women full suffrage. Utah and Idaho followed in 1896. By 1920, the year the 19th Amendment was ratified women had achieved suffrage in 19 of the then 48 states.
Black Suffrage
For blacks the road was much, much longer and far more treacherous. Even as the states extended voting rights to all white men it took away existing voting rights to black men. In the 1790s, African American males who owned property could vote in New York, Pennsylvania, Connecticut, Massachusetts, New Hampshire, Vermont, Maine, North Carolina, Tennessee, and Maryland. All effectively stripped their black citizens of voting rights in the first quarter of the 19th century.