UNDER THE SPECTER OF A MAINLAND UTILITY TAKEOVER, ISLANDERS MUST CHOOSE BETWEEN A LEGACY OF LARGE CENTRALIZED POWER OR A BURGEONING NETWORK OF DISTRIBUTED ENERGY
Matt Grimley and John Farrell
October 2015
Executive Summary
On the one hand: Sky-high electricity prices. A 20th century electricity system burning fuel oil and controlled by large monopoly electric utilities. A proposed utility takeover.
On the other hand: A new 100% renewable energy standard.  Rooftop solar on one of ten homes, saving each customer hundreds of dollars per year. Cost-effective energy storage. A rising interest in locally controlled utilities.
Welcome to Hawai'i at the Energy Crossroads.
In the next year, Hawai'i faces decisions that will determine how and if it can meet its 100% goal. Immediately, it includes how to value rooftop solar production and whether to approve a takeover of the Hawaiian Electric (HECO) Companies by NextEra Energy, a multi-billion dollar, Florida-based energy company. But beneath the surface, there is a fundamental question of whether power should be generated from the top-down or the bottom-up.
Hawai'i can achieve 100% renewable energy by focusing on decentralized renewable power. And it can do it for cheaper, with more broadly distributed economic benefits, than its electric utilities are proposing. The following chart illustrates the opportunity for cost-effective distributed electricity.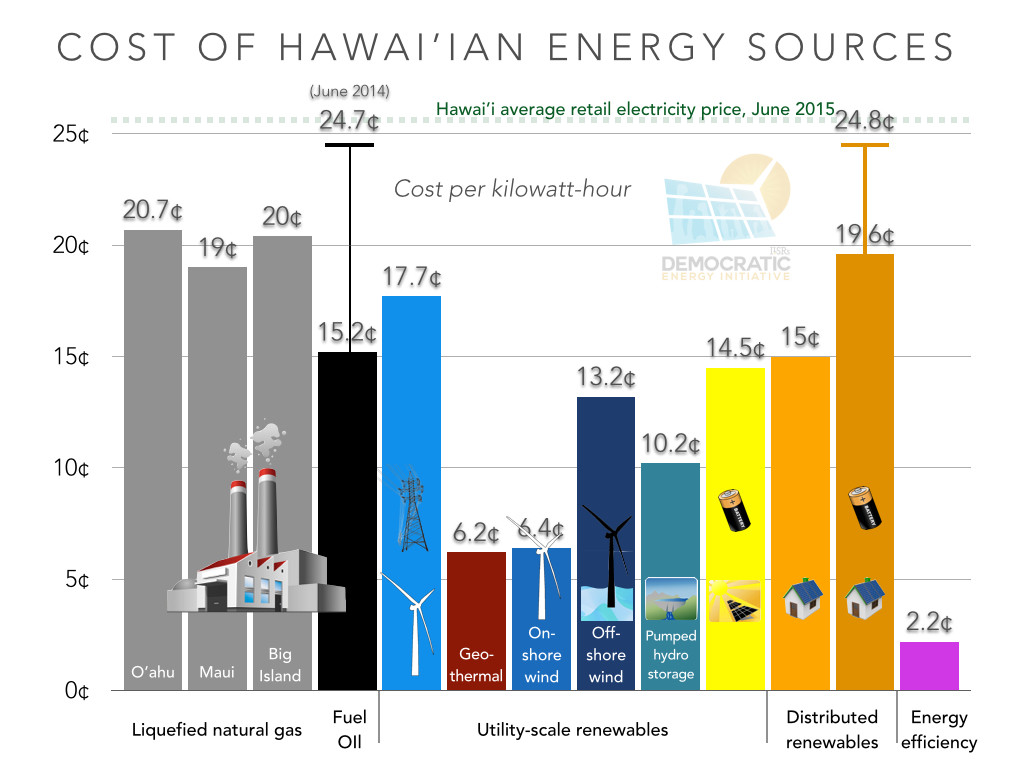 In contrast, the HECO Companies and NextEra are planning a costly, large-scale approach. They want to import liquefied natural gas to supplant fuel oil, slowing the transition to renewable energy and likely costing customers more. They have plans for an inter-island transmission cable to support large-scale renewable energy projects that have, historically, failed to prove cost-effective, and that aren't likely to be economically or environmentally attractive to their customers.
This crossroads is unique to Hawaii in 2015, but the questions it poses are a "postcard from the future" that will confront all electric utilities and their customers across the United States in the next decade. Will electric customers be able to seize the opportunity of distributed power generation? Or will utility companies maintain their monopoly over the power and economic rewards of the electricity system?