The electric utility monopoly is breaking up, but will renewable energy become another form of wealth extraction or will community renewable energy enable communities to capture their renewable power?
Executive Summary
In the past five years, the opportunity for community renewable energy has coalesced around "shared solar," where participants share the electricity output from a nearby solar array in the form of credits on their electricity bill. Some forecasts suggest that shared solar could supply 5-10 gigawatts of new power capacity in the next 5 years.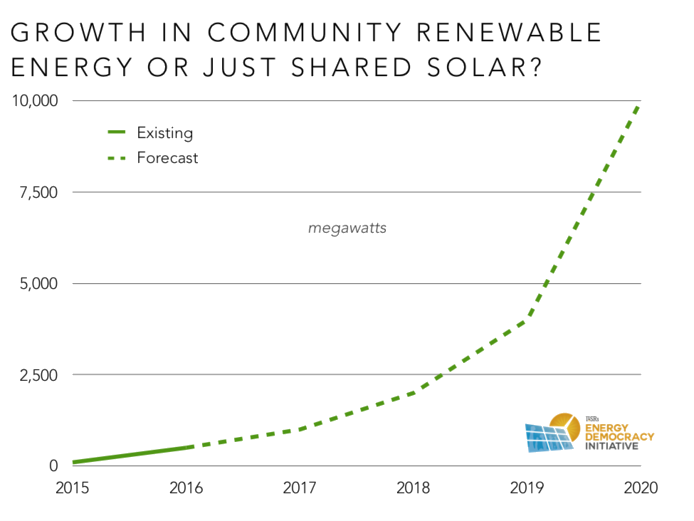 But shared solar is just a small slice of the community renewable energy opportunity, which could include many other renewable technologies such as wind or geothermal, but also community-owned projects that would allow greater local capture of economic benefits. While shared solar is a model shown to avoid several of the pitfalls typical for community renewable energy, these pitfalls could be bridged to much more broadly expand the economic opportunity.
U.S. Barriers to Community Renewable Energy
Three major barriers still inhibit widespread expansion of community renewable energy, much as they did when ILSR published its community solar report in 2010.
Federal and state securities laws, meant to shield ordinary people from Ponzi schemes and bad investments, are often too onerous for community-scale renewable energy projects.
Federal tax incentives require specific and sufficient tax liability, in ways that often precludes ordinary community investors.
Finally, legal limitations to sharing electricity output from community-based renewable energy projects mean only states with explicit exemptions are likely to see substantial growth in community renewables.
Busting the Barriers?
Within limits, policy makers have found ways to work around or reduce the barriers to community renewable energy, but their solutions haven't yet proven widely scalable without significant compromise. Continue reading