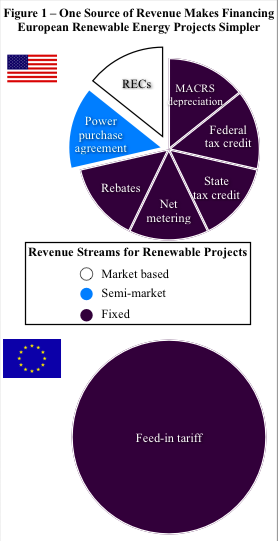 American renewable energy policy consists of a byzantine mix of tax incentives, rebates, state mandates, and utility programs.  The complexity of the system results in more difficult and costly renewable electricity generation, and hampers the ability of states and communities to maximize the benefits of their renewable energy resources.
Evidence from Europe suggests that a simpler, more comprehensive policy achieves greater renewable energy development, but at a lower cost and with greater economic and social benefits like local ownership.  It is called a feed-in tariff, a price for renewable energy high enough to attract investors without being so high it generates windfall profits. The tariff can be varied to spur new emerging technologies or to achieve social ends.
Denmark and Germany both used a feed-in tariff to drive renewable electricity generators to more than 15 percent market share.  This policy also resulted in large-scale local ownership, with near half of German wind turbines and over 80 percent of Danish ones owned by the residents of the region.
In 2009, one Canadian province (Ontario) and one US municipal utility (Gainesville, FL) have enacted a feed-in tariff.  As many as 11 U.S. state legislatures are seriously considering adopting the system as a complement to their renewable electricity mandates.   State and federal policy makers should strongly consider turning to a feed-in tariff as the key mechanism for encouraging renewable energy development.  It's fairness, simplicity, and stability can help the United States maximize the benefits of the renewable energy revolution.
Update January 2011 : A new name for this policy has been adopted in the U.S.: CLEAN contracts, for Clean, Local, Energy, Accessible, Now.
Related Resource:
ILSR'S FEED-IN TARIFF CONFERENCE – 2009
ILSR held a feed-in tariff conference in Northfield, MN, in January 2009 to help bring visibility to this policy tool to people and organizations in the Midwest.  The meeting was attended by approximately 120 people -from regulators and legislators to renewable energy developers and activists.
We learned how cities, counties, non-profits and more individuals can become owners of renewable energy projects
We saw how renewable energy can promote more economic development
We discovered how developing renewable energy can be made more simple
View the presentations and video clips from the conference