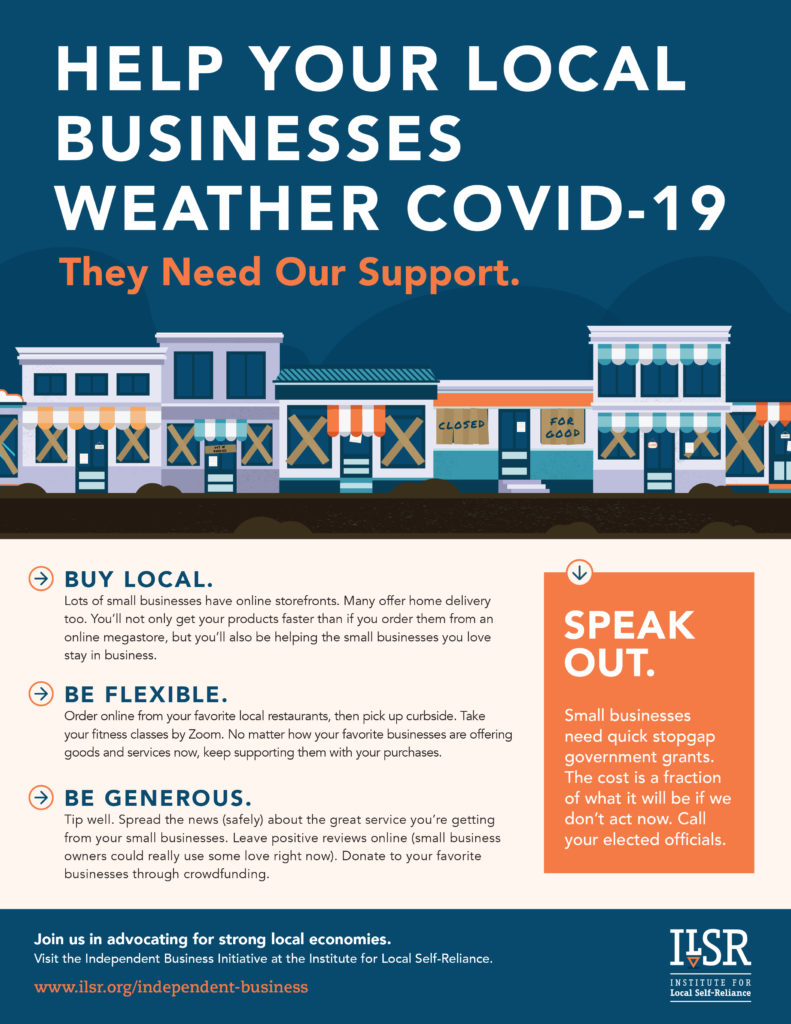 Download this infographic as a PDF (click here) or a jpeg (click here).
In Spanish — download as PDF (click here) or a jpeg (click here).
The coronavirus pandemic has created an existential crisis for America's small, locally owned businesses, which are the backbone of the nation's economy. They create the bulk of the nation's jobs, cultivate new innovation, and shape our communities' personalities. Unlike most national retail chains, they adapt their products and services to meet their communities' needs. And a much higher percentage of the dollars spent in locally owned businesses — versus chain retailers — remain in the community, generating economic activity that supports schools, parks, first responders, and other vital community services.
Most small businesses don't have the credit and capital to weather the coronavirus pandemic. And the average small business has only enough cash in reserve to remain open for 27 days. For restaurants, it's only 16 days; for retail shops, only 19. Being closed for weeks — or months — because of the COVID-19 pandemic will be devastating for hundreds of thousands of small businesses. Governments, foundations, and nonprofits everywhere are scrambling to help small businesses stay afloat during this crisis, but everyone can help. Here are some things you can do.
Keep Shopping (Safely)
Buy from Local, Independently Owned Businesses. You can help the small businesses you love stay in business by buying their products and services. In fact, many small businesses are operating online and by phone now. And buying local means you're not only supporting community businesses, but you will get your products faster than if you ordered them from an online megastore. So give them a call!
Buy Gift Cards. You can use them once the business reopens. In the meantime, you're providing the business with income it desperately needs to stay afloat.
Buy Something Extra. While you're buying a gift card, maybe get one as a birthday gift for a friend as well.
Order Carry-Out. Restaurants throughout the nation have moved quickly to make it easier for customers to order carry-out food and either pick it up curbside or have it delivered. Lots of other small businesses are also offering curbside pickup.
Be Flexible. Many small businesses are trying out new ways to meet their customers' needs and keep themselves solvent. Whether it's an online class offered by your favorite yoga studio or phone video concierge shopping in your favorite bookshop, give them a try.
Donate Your Ticket. If you have a ticket for a performance that has been canceled because of the pandemic, donate it to the arts organization rather than asking for a refund.
Leave a Review. This is a great time to leave positive reviews of your favorite local businesses on Yelp, Google, Facebook, and other social media. Not only can it help drive traffic to these businesses, but the business owners and workers would probably appreciate the emotional support right now.
Don't Forget the Farmers. Farmers' markets throughout the country are closed because of the pandemic — but farmers still have crops and food products available. Check the website of your local farmers' market for information about how to support farmers and buy their produce until the market reopens.
Support Workers
Many retail and restaurant workers live paycheck to paycheck. Being out of work for even just a week or two can put them in grave financial danger.
Tip Better Than You Usually Do. If you are patronizing a service-sector business whose workers rely on tips, leave a bigger tip than usual.
Contribute to Charities and Community Foundations that Support Workers. Industry associations have quickly rallied to help workers struggling to make ends meet during this crisis. For example, the Restaurant Workers Community Foundation has created a relief fund for restaurant workers, most of whom depend on tips and are particularly hard-hit by the coronavirus pandemic. In addition, a quickly growing number of local and state organizations are putting together emergency relief funds for specific types of workers, such as the Boston Center for the Arts' COVID-19 Artist Relief Fund.
Encourage Your Local or Regional Community Foundation or a Community Service Organization to Provide Emergency Assistance to Displaced Workers. If your town or city has a community foundation, give them a call or send an email suggesting that they set up an emergency fund for workers sidelined by the coronavirus pandemic. Community service organizations such as the Rotary Club, Lion's Club, or Kiwanis and faith-based organizations might also be able to help.
Contribute
Some communities have organized crowdfunding campaigns to help locally owned small businesses — particularly small businesses that are most vulnerable to a sharp, sudden downturn. In some communities, crowdfunding campaigns focus on specific businesses.In others, they focus on all locally owned businesses as a group. If one of your favorite locally owned businesses is struggling, ask if it has a crowdfunding website, and contribute.
Speak Out
Congress, state legislatures, and city and county councils are all exploring programs and policies to keep small businesses afloat. The greatest need that local, independently owned businesses have right now is cash flow. Ask your local, state, and federal legislators to act quickly to provide relief to small businesses in the form of grants; low- or no-interest, deferred-repayment loans; moratoriums on eviction and late fees; property tax deferment; and financial assistance and healthcare for small business staff. Dozens of towns and cities have moved quickly to create emergency grant programs for small businesses to help them meet payroll and cover expenses such as rent and utilities. Encourage your town or city council to do the same. You can find some examples here.
Do you value ILSR's Independent Business research & reporting? Sign up for our monthly newsletter — The Hometown Advantage.