For the past 40 years organized citizens and small businesses have successfully defeated proposed incinerators in over 400 cities and counties in the US. Each confrontation was unique even as they shared common elements: Opponents of garbage incineration used facts against the administration's public relations, focused at the local level where elected officials are most vulnerable to public outcries, stayed polite and professional in the face of ad hominem attacks, and relied on community meetings and social media to get around black outs by local media.
This article is a brief description of what happened in Logansport, IN, from 2012 to 2015.
The Victory Over Proposed Incinerator in Logansport, Indiana
"Each community victory is a victory for all of us," explained Italian anti garbage incineration activist Rossano Ercolini, the Goldman Prize winner for Environmental Leadership.
In November 2015, a town of 18,000 in Indiana saw their Mayor, Clerk/Treasurer and six of seven City Council members lose their elected positions after pushing a series of proposals for garbage incineration. Logansport's city administration claimed that incineration would produce cheap, clean electricity. Incineration opponents stuck to the simple request that the administration show examples of incinerators performing as promised. The administration, of course, was unable to provide such an example, even though they appeared convinced—and still appear convinced today–that they were doing what was best.
"Some people say that we ruined Logansport's future. They think that if we had just kept quiet, by now Logansport could offer cheap, clean electricity, and our existing employers could expand and we could attract new employers," stated Mercedes Brugh, one of the citizen leaders. "But most people came to believe that they had been robbed and deceived, and they expressed that belief when they voted. The anti-incineration fight set the stage for the election campaign. The new mayor won with 61% of the vote, even though he was outspent five-to-one."
It all started with Logansport's coal-fired electric generating plant. For decades it had cost more to produce electricity from the city's plant than it did to buy power wholesale from Duke Power, but the local plant provided good jobs and the City continued to use it. However, the expense of tighter pollution controls mandated for 2018 would put continuing to run the plant with coal out of reach.   One possible solution was to retrofit the coal-fired plant to burn natural gas.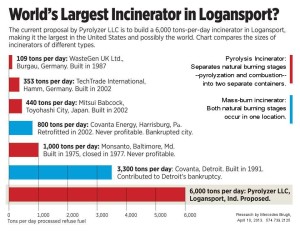 In November of 2012, city officials received a report showing the cost of converting to natural gas was too high (It was later shown that the numbers were inflated in at least two ways). Consultant William-Lynn James presented a "proposal" for what would have been the largest trash incinerator in the world. The proposal contained no examples of incinerators that actually do produce cheap, clean electricity. This proposal marked the beginning of a three-year fight that culminated with the election campaign in 2015.
During those three years, taxpayer dollars were paid to the Indiana Speaker of the House to smooth the way for incineration. Logansport's Clerk/Treasurer paid $1.223 million in claims to William-Lynn James contrary to Indiana law because the one-page bills were hardly itemized. Logansport's city attorney, also the area's State Senator, successfully sponsored a law that kept the State Board of Account's oversight of the Clerk/Treasurer's actions hidden from public view. City and County law enforcement officers were advised not to provide security for anti-incinerator events. "One of the most disappointing things was that several people who had influence refused to get involved. They guessed correctly that the proposals would fail to get funding, fail to get fuel, fail to get permitted," says Brugh. "What those people chose to ignore was all the money that was being wasted, and the jobs our community lost because our high electricity rates were not being resolved."
With such forces arrayed against them, incinerator-doubters formed Citizens Alliance for Responsible Energy (CARE), and began a spirited letters-to-the editor campaign, established a Facebook page called "Logansport Power," sponsored informational events (videos still available on YouTube), and created flyers and yard signs. Through it all, it was of utmost importance to keep to the facts and stay polite.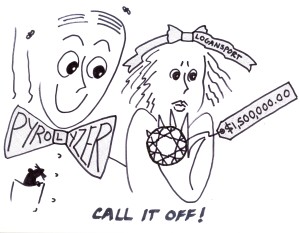 The group relied heavily on the research and expertise of Energy Justice.net and GAIA, invited Mike Ewall from Energy Justice Network and Bradley Angel from GreenAction to speak, as well as an Indiana economist/columnist, a solar power expert, and the vice president of the Municipal Power Association. The Facebook page was closely monitored, and people making personal attacks were warned and any offending post was deleted.   Although every member of the group was not always civil, overall CARE developed a reputation for knowledge and civility.   CARE received secret financial support from citizens who wanted to stay in the background.
CARE stuck to the simple question, "Please show us how this works. Here are examples of where it has not worked. Here are reasons this project will probably not receive funding, execute fuel contracts, or get permitted. Show us how this might work."
When the administration was unable to answer, they attacked CARE's motivations, education, and information. For starters, they insisted that they were not talking about incineration at all. Even after being soundly beaten in the 2015 election, they still pursued an agreement with an incinerator to the last days of their administration.
Citizens and small business people sacrificed their time, money and careers to stop a garbage incinerator in their town. Logansport can now plan for better energy and solid waste management solutions. "It will take us a few years to recover economically from the sacrifices our family made in this campaign. But we had to do it. We had no choice," stated one CARE member.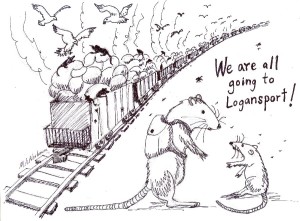 ---
Neil Seldman is senior staff to the Waste to Wealth Initiative of the Institute for Local Self-Reliance, Washington, DC. He is a pioneer in the US recycling, anti incineration and zero waste movements. Seldman was a manufacturer and professor of political science before co-founding ILSR in Washington, DC in 1974. ILSR was founded as a community development organization in the Adams Morgan section of Washington, DC.