The Rumpke Company is a storied history of family entrepreneurship dating back to the Depression years of the early 1930s, when two brothers who raised pigs started collecting food waste for free from neighbors in Cincinnati to feed to their livestock. In the 1940s, they expanded to collecting metal, paper, and rags for the war effort, earning as much as $40 per ton for materials. With new sanitation requirements for handling food waste fed to livestock, Rumpke's business model changed abruptly. The family company charged for pick-ups and tipped waste into a newly acquired landfill. The hog enterprise was sold and the company became a hauling and recycling enterprise that has prospered. The company now owns 14 landfills, 18 transfer stations and 11 recycling processing centers (Materials Recovery Facilities, MRFs) serving Ohio, Kentucky, Indiana, and West Virginia. It has a total of 3,200 employees.
Rumpke takes a long-term view of its landfills. "Not everything can be recycled and landfill space is difficult to secure and extremely valuable," stated Steve Sargent, Director of Recycling. "Because there's value in extending landfill life, not to mention, it's the right thing to do, Rumpke's recycling programs serve as solution for customers who are searching for alternatives to landfilling materials." Since 2011, the company has invested over $50 million in recycling infrastructure.
Rumpke's take on glass makes this company policy clear. While other haulers and processors have dropped glass from single stream recycling, Rumpke refused to 'leave glass on the curb.' Today, the company is the only waste and recycling hauling company that undertakes glass processing.
In 2003, amidst the vagaries of the glass recycling markets, Rumpke decided to become its own glass processor. It built a state of the art facility in Dayton, Ohio that now handles 4,000 tons of glass monthly. With support from the Ohio Department of Natural Resources, Rumpke sold its first processed glass load in 2004 to Johns Manville, an insulation and roofing manufacturer in Defiance, Ohio.  The Rumpke glass operation is a closed loop recycling system that supplies regional glass end users with clean post-consumer feedstock.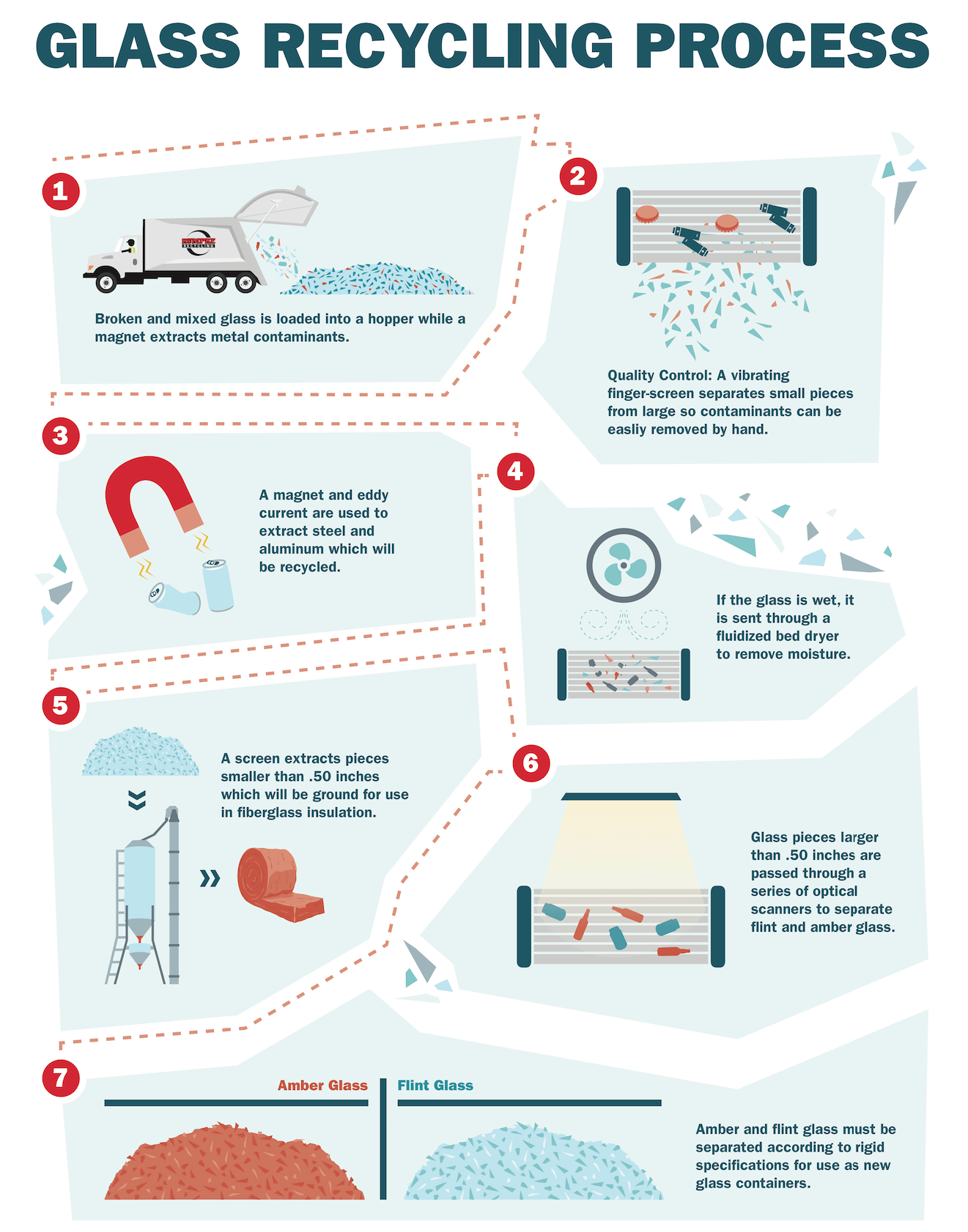 The facility receives 90% of its glass feedstock from Rumpke's MRFs in the region, in which 15%-20% of the single stream mix is glass. About 10% of the intake comes from arrangements with other haulers and local government programs. The Dayton plant produces glass to meet specifications for glass insulation and bottle manufacturing. Two thirds of the processed glass goes to glass insulation plants: Johns Manville in Defiance, Ohio and Richmond, Indiana and Ardagh Glass in Dunkirk, Indiana; one-third of the raw material manufactured by Rumpke goes to Owens Illinois in Zanesville, Ohio for bottle manufacturing. The processed glass products from Rumpke's facility support an estimated 1,000 jobs in the region.