Podcast (buildinglocalpower): Play in new window | Download | Embed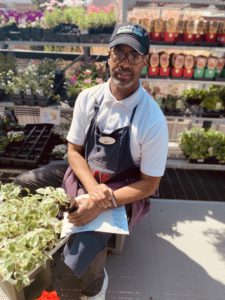 In this episode of the Building Local Power podcast, host Jess Del Fiacco and ILSR Co-Director John Farrell speak with Gina Schaefer, ILSR board member and owner of A Few Cool Hardware Stores in the D.C. area. Gina talks a little about how she and her husband got into the hardware business and explains some of the steps they've taken to safely serve customers during the pandemic, including moving to curbside pick-up and online ordering, changing operating hours and staffing, and adjusting the products they stock.
John, Jess, and Gina also discuss:
How the community, including customers, employees, and neighboring businesses, has responded to the pandemic.
The difficulty of determining safety best practices, and how Gina hopes to help "nonessential" businesses get up to speed as they reopen.
The stipulations involved in accepting aid from the Paycheck Protection Program, and how we should ensure federal aid is helping the small businesses that need it most.
Why Gina remains optimistic, despite the challenges the next few months might entail.
"I think from a big business versus small business perspective, just in the retail world, a lot of customers will have found us because we're small that wouldn't have thought of us before, and hopefully we've won a lot of them over, even with the challenges that we've had about being able to be operational."
| | |
| --- | --- |
| Jess Del Fiacco: | Hello, and welcome to the Building Local Power podcast. I'm Jess Del Fiacco, the communications manager here at the Institute for Local Self Reliance. Today I'm joined by Gina Schaefer, who's the owner of a few cool hardware stores in the DC area, as well as John Farrell, who's the co-director of ILSR. Hi, Gina. Welcome. |
| Gina Schaefer: | Hi, thank you. |
| Jess Del Fiacco: | Yeah, thank you for taking the time to talk to us today. I'm sure this is a kind of chaotic and difficult time for you to be going through as a small business owner. |
| Gina Schaefer: | Slightly. |
| Jess Del Fiacco: | Just a little bit. |
| Gina Schaefer: | Just a little bit. |
| Jess Del Fiacco: | Chaotic for all of us. And before we turn to talking about how the pandemic has impacted you and your businesses, could you tell us a little bit about your stores and how you got into the hardware business? |
| Gina Schaefer: | Sure. I own 13 Ace Hardware stores now, so we're members of the Ace co-op. I own them with my husband Mark, and we opened our first location in Washington, DC in 2003. So we are celebrating 17 years in business this year and we opened pretty much one a year for the first 10 years. And then one year we opened two and then there's this trickle. And then we took a couple of years off, but long story short we ended up with 13. We've closed one that was unsuccessful and of the 14 total, we've purchased three of them and then built the rest from scratch. So that was the start. |
| Gina Schaefer: | We recognized a need in the neighborhood that we're in because it was a neighborhood that had been destroyed in the riots in the sixties and had pretty much sat dormant for decades. And so lots of folks were moving back in and trying to fix up this neighborhood and it was the perfect place for a hardware store. So that's why we ended up here. We have about 240 employees. Fortunately for us, we've been considered essential during the current pandemic situation, so we have been open and mostly fully operational for the last several months. |
| John Farrell: | All right, for folks who don't know, you are on our board as well for the Institute for Local Self Reliance, giving us excellent perspective of the life of an independent business owner, both in normal times and in extraordinary times. |
| Gina Schaefer: | I'm not sure how effective I am now as a board member, but I absolutely am proud to be a member of ILSR. |
| John Farrell: | I would like to ask you Gina, what was your initial reaction when news started coming out about the pandemic or in particular that the response from the government would be to close things down and when did you realize it was going to be this major disruption? |
| Gina Schaefer: | Well, I would say in the very beginning, we were all panicked not knowing what was going on. My initial real stress was whether or not hardware stores would be considered essential. We knew we all could pretty much gather the grocery stores would be, or that food-type stores would be, but we didn't know what would happen with the hardware industry. And so I should know the exact dates, but there were several weeks where we weren't sure. We were waiting for just one state or one city to recognize hardware stores as essential, and then we thought once that happened the rest would follow suit. So that was probably maybe eight weeks ago when we realized that we weren't going to be required to close. And then after that we could pivot to much different things to worry about than whether or not we had to close. |
| Jess Del Fiacco: | Have you adapted your operations since then? I mean, are you doing curbside pickup or shortened hours or juggling new things, trying different things? |
| Gina Schaefer: | Yeah, so I really like this question because I feel like for the next, I don't know, two to three months, we want to really help other businesses reopen because we've gone through what I think they will start to go through. So there's the immediate reaction of everybody should be wearing gloves, and then the store should be cleaning very differently. And then everyone should be wearing masks, Oh, it's mandatory to wear masks in this jurisdiction, but not this one. So we've gone through a lot of those things in our stores, certainly over the last eight weeks. We probably haven't added any new policies in the last three weeks. The cashiers have big plexiglass shields that come down in front of them. We're selling lots and lots of masks and sanitizers and disinfectants, things like that. So we pivoted what our big selling items were to sell cleaning supplies and pandemic-related supplies. |
| Gina Schaefer: | There was a huge shortage of a lot of those things for the first couple weeks, and so we had to really rethink our supply chain. Where we were buying products from what we were paying for them, because our costs went up considerably, which changes our prices to our customers. And so we spent the last eight to 12 weeks really making all of those adjustments, adding curbside pickup, doing many, many more online orders. Probably the thing that surprised me most is, I don't want to say that we were inadequate, but when we put phone systems into a small mom and pop hardware store, we don't plan to handle hundreds and hundreds of calls a day. So our phone systems at all of our stores are woefully inadequate, to be completely honest. And so at some of our higher volume stores, we've had to add a texting component. |
| Gina Schaefer: | Some of our stores have actually turned off the phones, which is a terrible thing to admit as a business owner, but they were so overwhelming that it became more of a stress and more of a unhelpful tool for the team and for the customers. So we're responding much more via email, we're using this text application, we have the curd curbside, we changed how we staffed. So we've had people in some stores who are just sitting at a desk answering a phone, which is also not really normal for a small business like mine. We have limited the number of people who can come in the door so that the store is not packed, particularly because it's spring and all of a sudden people want to buy potting soil and plants and things that aren't essential. I truly believe they're essential for the mental health of a lot of our customers, myself included. We want a project, we want greenery, we want something that's spring related. |
| Gina Schaefer: | But we have limited the number of people that can come in the door, so there might be someone staffed at each store counting, calling in, "Can I send a customer in" That sort of thing. So I think I started my little rambling here with saying we want to help businesses now do this going forward and a local boutique, for example, hasn't had to think about these things because they haven't been allowed to be open. So we've been trying to get the word out now, if you are planning on opening, when you open, these are the things that you need to think about, and Oh, by the way, you might want to buy them in advance because the supply chain was really, really stressed at the beginning of the pandemic. I'm afraid that when everything starts to reopen again, it will get stressed again. So if you're going to put up plexiglass shields, get them ordered now before they there's a shortage of plexiglass. That sort of thing. |
| John Farrell: | Sounds like it might be a good time for me to put some money into investments in plexiglass. |
| Gina Schaefer: | Yeah. And hand sanitizers and plexiglass. So many of the really cool distilleries, and I know there's a local coffee shop chain, they've all pivoted to make hand sanitizers. And you know when a bunch of really cool guys sat around thinking about making beer, or gals sat around thinking about opening their cool brewery, their cool distillery, they never in a million years thought that they would be selling hand sanitizer. But they've been essential. I mean, they have been absolutely critical in this supply chain to get those things faster and to get them, frankly, from a more local source. |
| John Farrell: | What's the community response been like? How are customers responding to what you've had to do in terms of adapting, whether it's at the individual store level? I was just thinking actually, so we have an Ace Hardware less than a mile from my house that we frequently go to and they basically just blocked off the doors and created these desks where you place your order. So folks aren't allowed in this store, so there's a lot of adapting. They'll answer the phone on a weekday, but on the weekend you'll never get through. So there's a lot of changes and kind of how that works. Yeah. What are you hearing from customers? What are you hearing from your managers, from other businesses that are essential? How have they dealt with it and how are their customers dealing with it? |
| Gina Schaefer: | There's a broad range of reactions. The positive answer is that 98% of the customers and the community members are just happy that we're here. And I've frankly been a little surprised with the patients of most folks because a lot of e-commerce sites or online sites have really trained the customer to think that something's going to happen immediate or something will be delivered the next day, and things just don't happen like that in this kind of environment at all, much less with a business like mine that wasn't really set up to do it. So we certainly have folks who are stressed. We have folks who are impatient because they're stressed. So many of our customers are happy with any kind of answer. And we are a nice company and it's a lot easier when you only have 240 people for all of us to be relatively nice. |
| Gina Schaefer: | And so customers get an email personally from me and they think it's a big deal. I don't think I'm a big deal, but they do. "Oh, the owner sent me a response with an exclamation point," and probably a smiling face cause I'm that cheesy. But most of the customers have adapted. It's tough. I mean, nobody ever in a million years expected to wait in line in front of a hardware store to buy a plant or a toilet part or hand sanitizer. So when you show up at your local hardware store and someone says, "It's going to be 20 minutes for you to buy a roll of toilet paper," you're like, "What world am I living in?" But the people waiting in line are really pretty amicable and the folks who leave because they won't wait in line, to be honest, do us a favor because we can't handle the stress of the negativity. And so if I want to be completely honest, it's good that they don't wait. |
| John Farrell: | It's funny because a long time ago I feel like people would have been appalled that they'd have to wait 20 minutes for a roll of toilet paper, but now they're just going to be grateful they can get one at all. |
| Gina Schaefer: | that they can get it. |
| Jess Del Fiacco: | Yeah I was going to say, they're leaving line, but where are they going to go? |
| Gina Schaefer: | Jess, it's funny that you say that because there've been a couple of customers where I've wanted to respond with that answer and I don't, that would be terrible, but that's fine. Or someone's text thread the other day said, "Oh, forget it. I'll find it somewhere else." Okay. Or, "I need it faster." Okay. Good luck. But my team has been super resilient. I would say for the most part they're really helping their own teams survive. I can't go to every store like we used to, and so I'm relying on the managers to really help with morale and lead that charge and almost across the board, they've done that, which has been great. |
| John Farrell: | I know we have some bigger policy questions we want to ask you, but I'm just kind of curious too, have you had a lot of employees who have been sickened by coronavirus and how do you deal with the fact that you're an essential business, you're trying to be open for people who need things that you sell and yet I'm sure your employees are nervous about interacting with customers. You see in the news more lately, there are these tense moments between people about wearing masks in public or wearing masks in stores, that kind of thing. How's that going? |
| Gina Schaefer: | Yeah. There's a really weird balancing act that we have to juggle right now from a health perspective and not being the police. And so just as an easy example, Maryland made masks mandatory everywhere for employees and customers. And so it was very easy in those stores to just say, "Hey, you can't come in unless you have a mask." Now if you're coming into buy one, we'll make some accommodations because we sell a lot of masks, but DC and Virginia did not make those requirements. And so I don't want my team to feel like they have to be the police. It's very stressful for an hourly associate, for any of us, frankly, to say, "You've been here too long. I need you to leave," because a customer doesn't want to be rushed. "There's a line at the door," or, "Your face isn't covered. You're making me nervous, stop getting so close to me." |
| Gina Schaefer: | And so some of the States that have made mandatory rules have made it actually easier for us. As of now, we've actually only had three employees test positive. The first positive test we had was in Montgomery County and we called the Montgomery County health department just to see. This is funny, I'm almost 50. And I shouldn't say that out loud, but I always feel like some adult is going to come in and save the day. Where's the mom that's going to tell me what to do? We're going to call the health department and they're going to say exactly what you have to do when this happens in a retail business. And they had no guidelines. So my first thought was, "Oh my God, where's the adult?" |
| John Farrell: | Do you know what? We're all having that feeling a lot these days. |
| Gina Schaefer: | Okay, good. I'm glad it's not just me. Because my team wants me to be that person, and so we try to be all like, "Oh, we know exactly what's going on." No, because when else have we had to live through this? So we immediately closed the store. Now the one thing to realize is from the time an employee would happen to leave the store, like leave their shift or whatever, feeling ill to when they get tested to when they get the results, could be a week. So during that week, everyone has still worked. Maybe that associate has worked or not worked. And so the protocol kind of kicks in midway through the process if you will, which makes it a little strange. But we close the store, we hire a cleaning company that comes in. This is what we've had to do twice now. And then we've reopened after the cleaning crew has gone through. |
| Gina Schaefer: | Psychologically, I think that helps. From a cleaning perspective, it certainly helps. What the public has to realize though, is that if we have that cleaning company come in and it's thousands of dollars to do that, and then I walk in the store the next day and I have symptoms, I've immediately technically reinfected the store, if that makes sense to explain it that way. So are you throwing good money after bad? Is there something else you should be doing? I don't know. Again, we really don't know, but the protocol is to close the store, have it professionally cleaned and then reopen the next day. |
| John Farrell: | And someday maybe Montgomery County will be willing to help with a different kind of guideline. |
| Gina Schaefer: | Yeah. Well, I think a big part of it is the shifting of blame. Nobody wants the liability and it's not fair that anybody has liability in this situation because nobody really knows what to do. So we're just going to continue to do the best that we can. We actually just purchased, it's called an oxy fog machine and it's a machine that uses ozone essentially to clean a store. So you don't send in a person, you send in the machine. And so we have just purchased one of these machines. It will be shipped to us from Florida and going forward, when a store has a challenge, has a positive test, we will send this machine to clean the store and then hopefully we'll be able to rent it to other businesses who want to do the same thing. But again, we're hoping that that helps with perception, store cleanliness, the trauma, if you will, of knowing that someone on your team got sick. |
| Jess Del Fiacco: | So one other piece that I just want to kind of tease out of here is in not having the guidelines from the county or whoever, and you having just sort of do your best and try to be that adult, have you been talking to other business owners to try and establish some sense of best practices? Have you been hearing the same things from them? |
| Gina Schaefer: | Yes. So we've paid very close attention to what the local grocery stores and big boxes are doing. And right now it sounds like all of them are cleaning overnight and then reopening when they have a positive case. I have a peer group across the country of other ACE hardware store owners and we are in constant contact. I sent out an APB on the text link that we had last night because I was panicked about a store. I'm sorry if I didn't already say this, but we have a story yesterday that lost eight employees, mostly out of fear, taking leave of absences, taking time off to deal with a child because childcare is so difficult right now, but it happened to be eight in a very short period of time. |
| Gina Schaefer: | So this is the group that I rely on, this group of retailers across the country who I immediately sent out, "Give me what your last week's best practices are for dealing with this kind of stuff," and then we'll change. And that store, we immediately changed a bunch of procedures for that store this morning, including shortening its hours. So that's been helpful just to bounce things off of them. It helps that there are different States because different governors have reacted differently. I can't pay attention really to what's going on in the news. It's overwhelming and it's too much anyway, but if I hear from them, what they're hearing, it makes it a little bit easier. |
| Jess Del Fiacco: | Thank you so much for tuning into this episode of Building Local Power. If you enjoy listening to the show, if you share in our vision of thriving, equitable communities, please consider making a donation to the Institute for Local Self Reliance. Not only does your support underwrite this podcast, but it also helps us produce all the resources and research we make available for free on our website. Please take a minute and go to ilsr.org/donate. That's ilsr.org/donate. Thank you for your support. And now back to the show. |
| John Farrell: | I actually had a question for you, Gina, about this notion of essential business. You were talking about that earlier and being in that limbo where you're waiting to find out if hardware stores would be counted. I'm just curious, because you, you just mentioned big boxes in terms of trying to learn some of these best practices, and I keep thinking about Target. I'm from Minnesota, where Target is headquartered, and it's a store that sells groceries for one thing, which is why it's considered essential, but they sell lots of other things that you can buy once you're in there, from electronics to books, to clothes, to baby gear, I mean, you name it. And I feel like this is one of these inherent tensions we have between sort of big companies in the economy and small companies in the economy is that we have all of these independent businesses that serve such an essential role, not just as hardware stores, but all of these other services that they provide. |
| John Farrell: | But if they're a narrow business in terms of the kinds of things they sell and it's not considered essential, they're closed, even though they might actually sell some of the same products that these big box stores that have a slice of their business that's essential would sell otherwise. And I don't really feel like I have any kind of answer to this. I don't know if you've thought about and sort of reflected on this and have anything to share, but it seems like a really difficult policy challenge, but then a really extra burden on independent businesses at this burdensome time that your competitors are allowed to operate and you're not. |
| Gina Schaefer: | Yeah, it's tough. Was it Michigan that said they had to rope off sections of the Targets and Walmarts there that weren't food? I feel like I read that. That was kind of the response to your question, John, or your comments. Yeah, I think it's tough. Obviously we needed the places with food to stay open and while they were open, why not sell the other stuff? I mean, it's all been stressful, but probably about six or seven weeks ago, heading into the spring season, we do lots of advertising of lawn and garden. We throw these big garden parties, we assemble grills and deliver grills and all this other stuff. And what became apparent very quickly is that those things are not essential. I cannot say in business that the only thing that I'm selling our cleaning supplies and toilet parts, which I think are ultimately why we were considered essential. |
| Gina Schaefer: | And I can't keep my entire team paid or all of my rent paid if people can't buy the occasional houseplant. So we just stopped talking about it. We don't advertise that we have those things. People are going to come in for them anyway. We have been concerned that we will be perceived as making money when local business owners, like there's a plant store next door and she had to close. Why am I allowed to sell plant and she's not? Not really answering your question, but it is something that we have absolutely talked about. Target stores keep hundreds and hundreds of people employed, so I guess the benefit is that hundreds of people have been able to stay employed because they were allowed to get away with it. Get away with it. That's a terrible way of putting it, but does that make it fair? |
| John Farrell: | Yeah, I don't know. I didn't expect you to have a cut and dried answer there, but I think it's obviously one of the struggles that we're having this crazy time. |
| Gina Schaefer: | It is. Two days ago I noticed that the pawn shop next to one of my stores had reopened. They had a line out the door at the pawn shop. And my first thought was, "Why is there a line at the pawn shop?" Well, it's because they hadn't been allowed to be open before and obviously someone said, "This is a method of finance, commerce for a certain population in this city. They need to be open." People need pawn shops, which might sound silly to some folks, but I don't know if all of them had decided to close and then reopened at the same time, but it happened all over the city. And I think it's a form of banking for some populations. And so, yeah, I don't know. I'm babbling. We talk about this stuff a lot in the office. Like the cupcake shop we've had some fantastic customers who have had cupcakes delivered and cookies and bagels, and we love those customers, but are cupcakes essential? Mentally, they are absolutely essential in my office right now. |
| John Farrell: | That's going to be the lead quote from this episode. The one that we put right at the front. "Are cupcakes, essential? They are absolutely essential in my office right now." That's good. |
| Gina Schaefer: | Anytime any of you wants to send me a cupcake, I am all for it. |
| Jess Del Fiacco: | So to turn to the policy side a little bit, Gina, could you share your perspective on the split that we see between the inadequate federal aid for small businesses versus just the huge payouts essentially to big businesses? |
| Gina Schaefer: | Probably the first thing I would say is that there has always been this division or inadequacy. Amazon has been allowed to grow for decades at this point by not paying taxes. Monopolies have been allowed to form. Governments in jurisdictions have given subsidies to big boxes to open in their towns, which then forces small businesses to close. And so I guess that point is, none of this is new. We as small business owners have always had to deal with that inequality, so it's always sort of been in the back of our minds that there is something that we've not been given that bigger businesses have been given. That's probably my short answer to that question. It doesn't surprise me that that would be any different in this environment. |
| Jess Del Fiacco: | Do you have any thoughts on how those relief programs could be structured more effectively and actually help small businesses? |
| Gina Schaefer: | So I guess in favor of the PPP, for example, I don't think that anything could have been passed perfectly as quickly as they did it and I really was grateful that it was passed very quickly. Now I know it ran out quickly and there had to be more, and I'm not smart enough to talk about the policy too much except to say that I'm very pleased that everything happened as quickly as it did. And of course that means that there will be loopholes or there will be somebody that gets away with something that they shouldn't have gotten away with. But the big bailouts are interesting. I was talking to a customer about this and he happens to work for a really big utility company. And he said, "We employ thousands of people. So if the government can help us stay open, all of those people save their jobs, and then there's this trickle down effect. They can pay their mortgages." And you're listening to it and you're like, "Yeah, that's completely rational. I want all of those big businesses to get all of this money because that's exactly what's going to happen." |
| John Farrell: | Let me give a specific example that comes to mind for me. So I think what you're saying is obviously one can make a reasoned case for supporting any business that employs people. Keeping people employed allows them to keep paying their bills and there's this, as you said, this sort of trickle down effect across the economy in terms of rent payments, utility payments, whatever, if people stay employed. So anything the government's doing to keep people employed is great. I guess what I see as the big difference though, is unless I'm mistaken, you haven't with your 13 hardware store has been paying dividends and doing share buybacks over the past decade to the tune of billions or even trillions of dollars. |
| John Farrell: | And what I see happening here is that companies that had plenty of money to weather an economic downturn like this, whether it was from coronavirus or anything else, are getting a handout from the federal government to keep their doors open on the heels of having rewarded enormously their shareholders and their executives and other folks, in management, et cetera. And I guess I look at this and I say to myself, what can we do when we do this kind of policy that yes, tries to keep people employed, which I think is the important part, but also has a sense of fairness between businesses that are basically, yes, they're making a profit, but they're doing it in reasonable proportion to the value that they're providing. Airlines asked for a bailout as big as all of the dividends that they've been paying out over the past decade. |
| John Farrell: | I mean, I've heard some interesting ideas such as if we get a payout like this, you can't do a dividend or a share buyback or something like that with this money, or you can't do it for a certain number of years. Although, as I understand it, all of those requirements were basically watered down because they're at the discretion of the treasury secretary or like that. So the oversight's pretty weak, but what I'm hearing is that yes, what you said is true about this notion of fairness in terms of keeping people employed, but it does seem like there's a pretty significant difference in how businesses choose to spend that money and size seems to be a pretty good measure of whether or not they spend it in a way that we would want them to spend it. |
| Gina Schaefer: | And to balance that with the PPP, there are very specific guidelines that we have to follow or it turns into a loan. But when would the money to the airline or in the examples that you're giving, have those stipulations and or turn into a loan? And I don't think those are in there from what I understand. So I am required as a small business taking this money to keep people employed to the tune of the exact same pay and hours as I have for the past year, regardless of how different the work environment is right now, or I have to pay that money back. Now not being able to pay that back I think was a really great way to write it in if I meet the stipulations, but that is not fair. |
| Gina Schaefer: | And you're absolutely right. I think that the publicly traded companies beholden to shareholders have the ability or should be required going forward to change how those dividends happen or to the extent that they do so the other criteria are being met for the money for the money being paid back or for the money being used the way it's supposed to be used. Yes. Every employee who stayed here for the last 12 weeks has received a daily bonus and a paycheck-related bonus just for being here because we're so grateful and we need them. I would imagine that's not happening at a lot of publicly-traded companies that are going to continue to pay off their shareholders who don't need the bonus. In most cases don't need the bonus. |
| John Farrell: | That's actually an interesting question that you raised or that comes up for me in what you said about the PPP loan specifically. So the stipulations are, you keep paying out the same payroll that you did on average over the past year, but as you mentioned earlier, some of the accommodations you've had to make for COVID, first of all, you are going to have employees who are out because they're sick or whatever. You're going to have in place who maybe are reluctant to come to work. You've shortened hours at some of your stores, whether for the logistics of social distancing or in order to manage with the fewer employees you might have available. Are those stipulations too difficult for a lot of businesses to live up to? How do you meet them if your payroll really can't be the same size because of the fact you can't operate the same number of hours? |
| Gina Schaefer: | Yeah, no, those are very valid points John and I think that the thing for me too is thinking 12 weeks down the road, if the economy doesn't start to open back up and people no longer can afford to buy a house plant or to fix their toilet or to replace that light bulb that's burned out, will I stop earning enough money to pay my employees? At which point that PPP loan is going to be ridiculously valuable to us. But then I won't be making any of the stipulations and then it just becomes a financial burden because it will have to be paid back. Now the interest rate is very low. Financial burden is all relative, but that's my concern. It's not the taking the money now and hiding it in the bank account, it's, Oh my gosh, I'm going to need this potentially in 12 weeks because of the very same reasons that you just mentioned. |
| Gina Schaefer: | And if people lose their discretionary income, how will that change how we operate? I don't know. That's the concern. I have to be honest, I haven't paid a ton of attention. In my normal life when we're not in the middle of a pandemic, I am very vocal about and I'm very concerned about the subsidies that go to big business and the monopolies and all of those things. In this particular environment, I've kind of buried my head and just really, it's been, let's go to work and figure out how to take care of the team I have. Let all that other stuff happen, which I wouldn't normally say is right. But it's kind of where my head has been. |
| Jess Del Fiacco: | Well with all the constantly changing guidelines and things to address, I'm impressed that you even have time for this podcast interview, let alone following any kind of policy news. |
| Gina Schaefer: | Thanks. I was fishing for a compliment there. |
| Jess Del Fiacco: | My last question is a little difficult to phrase, I guess, but maybe that's only because I'm naturally kind of a pessimistic person, but do you see any opportunity for optimism as you look ahead? Any kind of light at the end of the tunnel of all this, or is it just kind of continued question marks over the next days and months? |
| Gina Schaefer: | There are a lot of question marks. It's funny you called yourself a pessimist because I made some notes on your questions earlier and I said, "I'm an eternal optimist at heart, so I truly believe everything will be fine." And I do. So let's look at some silver lining. I've had some true leaders emerge that I wouldn't have expected to be true leaders. We've hired some new great employees for a variety of reasons. I hire a lot of folks who are in recovery, which is not a shameless plug for our hiring practices, but I have a lot of folks thank me because I have given them a reason to be out of their houses. And so I truly believe that that is a big silver lining for what we do. I've been really, really impressed with the small businesses especially who have been able to pivot, who have started making masks or the hand sanitizer or just changed how they do business in order to keep their employees employed, serve the communities. |
| Gina Schaefer: | Just a little example for us, we are launching an e-commerce site this week for some of the products that aren't essential that we could sell online. And we are going to include a marketplace for other local makers. And I don't think we would have thought about that if we hadn't been even more concerned now than before for some of the local makers in the community. And so the optimist in me wants to say that it's going to be a long, slow, gradual return, but there are a lot of really cool things that people have had to think about that just could make the business environment a little more interesting. I think from a big business versus small business perspective, just in the retail world, a lot of customers will have found us because we're small that wouldn't have thought of us before, and hopefully we've won a lot of them over, even with the challenges that we've had about being able to be operational. |
| Gina Schaefer: | So if you're used to getting in your car and driving to a big box and that scares you now, so you've found your local retail source, hardware source, you may think of us in the future first instead of second or third. So I think there will be some positives. I just hope that we can all keep it together until it ends because no, nobody really knows what the real end is at this point. There's no adult that's all of a sudden is going to say, "We're clear. We're clean. No one's going to get sick. COVID's dead." I mean, I don't expect that to ever officially be an announcement, so we will just have to figure out how to gradually open back up in whatever is the new norm. |
| John Farrell: | I really liked your mention of the way in which you're going to set up a marketplace to help other local businesses sell and find a way to get to customers. I also had a little bit of a laugh to myself like, "Oh, she wants to be like Amazon. She wants to be the platform," but I have some faith, Gina, that you're not setting out to steal those other businesses in the way that Amazon so ruthlessly does. |
| Gina Schaefer: | I'm not. One of the nice things that ACE hardware did as a co-op for the retailers probably three or four years ago in building our e-commerce platform was to make sure that the retailers got a hundred percent of the profit from the sale versus that profit going back to the co-op or being split in any way. So I benefit from that as a member of the ACE co-op and we've always allowed some small makers to do popups in our stores or on our sidewalks, but I think this will just help us give them some greater visibility. And it makes us feel good to be completely honest, but we've also had the privilege of meeting some really cool people because of this idea and opportunity. So anyway, a little at a time. If everybody just did a little bit, it goes a long way. |
| Jess Del Fiacco: | Well, thank you so much for talking to us again. |
| Gina Schaefer: | Sure. I appreciate being able to have the conversation. I'm sorry I didn't have more knowledge about the policies and all of those things, but- |
| Jess Del Fiacco: | we have knowledge about the policy. What we don't have is experienced on the ground in small businesses. So you shared plenty of that and that is fantastic. |
| Gina Schaefer: | Thanks. Well, we're glad we're here. We're glad that we can help. We'll continue to do what we're doing and tweaking how we do it probably for the foreseeable future. |
| John Farrell: | Good luck, Gina. |
| Gina Schaefer: | Thank you. I appreciate ILSR immensely, so thank you very much. |
| Jess Del Fiacco: | Thank you for tuning into this episode of the Building Local Power podcast from the Institute for Local Self Reliance. You can find links to what we discussed today by going to ilsr.org and clicking on the show page for this episode. That's ilsr.org. While you're there, you can sign up for one of our many newsletters and connect with us on social media. Finally, you can help us out with a gift that helps produce this very podcast and supports the research and resources we make available on our website. You can also help us out by rating this podcast and sharing it with your friends on iTunes or wherever you find your podcasts. This show is produced by Zach Freed, Sushmita Shrestha and me, Jess Del Fiacco. Our theme music is Funk Interlude by Dysfunction_AL. For the Institute for Local Self Reliance, I'm Jess Del Fiacco and I hope you'll join us again in two weeks for the next of Building Local Power. |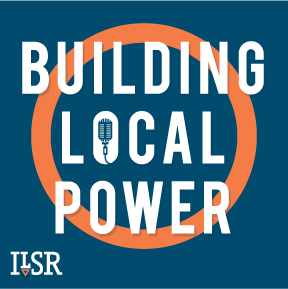 Like this episode? Please help us reach a wider audience by rating Building Local Power on iTunes or wherever you find your podcasts. And please become a subscriber!  If you missed our previous episodes make sure to bookmark our Building Local Power Podcast Homepage. 
If you have show ideas or comments, please email us at info@ilsr.org. Also, join the conversation by talking about #BuildingLocalPower on Twitter and Facebook!
Audio Credit: Funk Interlude by Dysfunction_AL Ft: Fourstones – Scomber (Bonus Track). Copyright 2016 Licensed under a Creative Commons Attribution Noncommercial (3.0) license.
Photos courtesy of Gina Schaefer. 
Follow the Institute for Local Self-Reliance on Twitter and Facebook and, for monthly updates on our work, sign-up for our ILSR general newsletter.