A new ranking of states based on "small business friendliness" was released this week by Thumbtack. Thumbtack, an online directory that helps people find local service providers, surveyed over 6,000 small business owners who list their services on its site and, based on their responses, assigned letter grades to each state.
The survey-takers were asked to rate their state across several measures of small business friendliness. Many of the questions dealt with regulations. Business owners were asked how friendly or unfriendly their state is with regard to environmental, labor, health & safety, licensing, and land use regulations.
In the final results, which you can see in this interactive map, states that have more regulations tend to rank low, while those with fewer and looser rules top the list. The five states deemed least friendly to small businesses are Rhode Island, Vermont, Hawaii, California, and New York. The five most friendly are Idaho, Texas, Oklahoma, Utah, and Louisiana.
In a press release, Thumbtack put a point on the findings by quoting the owner of a roofing business in Texas:  "With comparatively few regulations or government oversight on small businesses, Texas is truly a small-business-friendly state."
The trouble with this analysis, though, is that many of the "unfriendly" states are actually home to much larger numbers of small businesses than the "friendly" states.
Vermont, for example, which earned an "F" in the ranking, in part because of its cumbersome environmental and zoning regulations, has nearly twice as many small businesses per capita as laissez-faire Texas, which scored an "A+." Low-ranking New York and Rhode Island likewise have more small businesses than most states.
Of the five most "friendly" states, only one, Idaho, outperforms the national average on numbers of small businesses. The other four lag behind, with Louisiana ranking 36th and Texas 47th in the nation.
The regional results also don't line up. "The South was the most small business-friendly region of the country, while New England was rated the least small business-friendly," the Thumbtack analysis finds. But, looking at the actual distribution of small businesses, one would conclude that the South is the least hospitable region for small businesses, while New England is one of the most favorable areas.  (Keep reading after the next map…)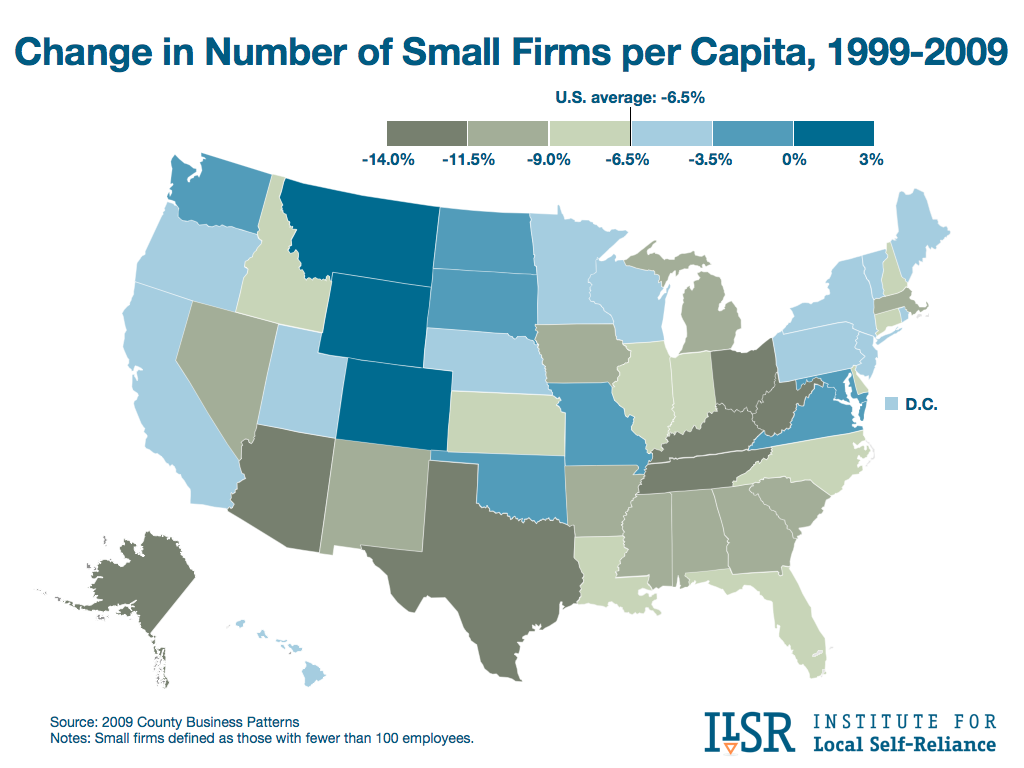 Another way one can evaluate the Thumbtack ranking is to look at which states had stronger small business growth (or slower decline) over the last decade. Here again the "unfriendly" states outperformed the "friendly" ones. Nationally, the number of small firms has fallen 6.5 percent since 1999 (relative to population). Rhode Island, Vermont, Hawaii, California, and New York all beat the national average. In fact, these five states together lost half as many small businesses per capita as the U.S. as a whole.
Meanwhile, Texas saw its small business numbers drop by almost 12%. Idaho and Louisiana likewise lost more small firms than the national average.
Thumbtack also graded 40 metro areas. Again, their results differ from other measures of the robustness of local businesses, notably the Indie City Index published last year by Civic Economics, which rated metro regions based on the share of spending captured by independent retailers.
What does all of this tell us? It's impossible to draw conclusions without an in-depth study that analyzes causality. It may be that regulations have little impact either way on small business vitality and that other factors are much more crucial in fostering entrepreneurship. (Remote, rural states, like Montana and Maine, for example, seem to have a more robust small business sector.)
But it's also possible that some of the regulations small business owners find burdensome are ultimately beneficial. It may be that strong environmental and labor policies can help to create the kinds of healthy, vibrant places that enable local businesses to thrive. It may also be that these rules have a more limiting effect on their big competitors. Vermont's land use policies, for example, have done much to preserve the vitality of the state's downtowns and protect its farmland from sprawl, which has been a boon to local businesses and food producers, while also inhibiting the spread of Walmart and other big-box retailers.
That some regulations might be good for small business is an idea rarely entertained in the public debate over how best to nurture the economy. It runs so counter to the dominant, overriding assumption that public policies that set limits and standards are bad for all businesses, perhaps most especially small ones.
But the evidence to support this conventional wisdom is surprisingly sparse. That one of its main proponents is the U.S. Chamber of Commerce should also give us pause. As I've written elsewhere, the Chamber has a long track record of pushing its big business agenda under the guise of protecting small businesses.
What we may well find over the long-run is that, in an anti-regulatory, race-to-the-bottom environment, big corporations thrive, while small businesses, much like labor unions and endangered species, continue to see their numbers dwindle.