Featured
Article
filed under
Banking
| Written by
Stacy Mitchell
|
No Comments
| Updated on
Sep

1

,

2015
The content that follows was originally published on the Institute for Local Self-Reliance website at https://ilsr.org/map-shows-how-well-the-bank-of-north-dakota-works/

Across the country, people are suffering the consequences of a banking system that's dominated by a handful of giant banks. Local businesses can't get the credit they need to grow. College graduates are stumbling under the weight of student debt with sky-high interest rates. Neighborhoods are being stripped of their assets through predatory mortgages and consumer loans. And taxpayers are on the hook for municipal finance schemes peddled by Wall Street and loaded with hidden costs.
Banking has become untethered from communities, and indeed, from the very economy it is supposed to serve. The nation's biggest banks have managed to invert the natural order of things, so that their profitability is no longer predicated on the health of the broader economy. Instead, as much recent scholarship has shown, the growth of these giant conglomerates is actually harming the rest of the economy.
Remarkably, one state has largely escaped this predicament: North Dakota.
In North Dakota, the banking sector bears little resemblance to that of the rest of the country. North Dakotans do not depend on Wall Street banks to decide the fate of their livelihoods and the future of their communities, and rely instead on locally owned banks and credit unions. With 89 small and mid-sized community banks and 38 credit unions, North Dakota has six times as many locally owned financial institutions per person as the rest of the nation. And these local banks and credit unions control a resounding 83 percent of deposits in the state — more than twice the 30 percent market share that small and mid-sized financial institutions have nationally.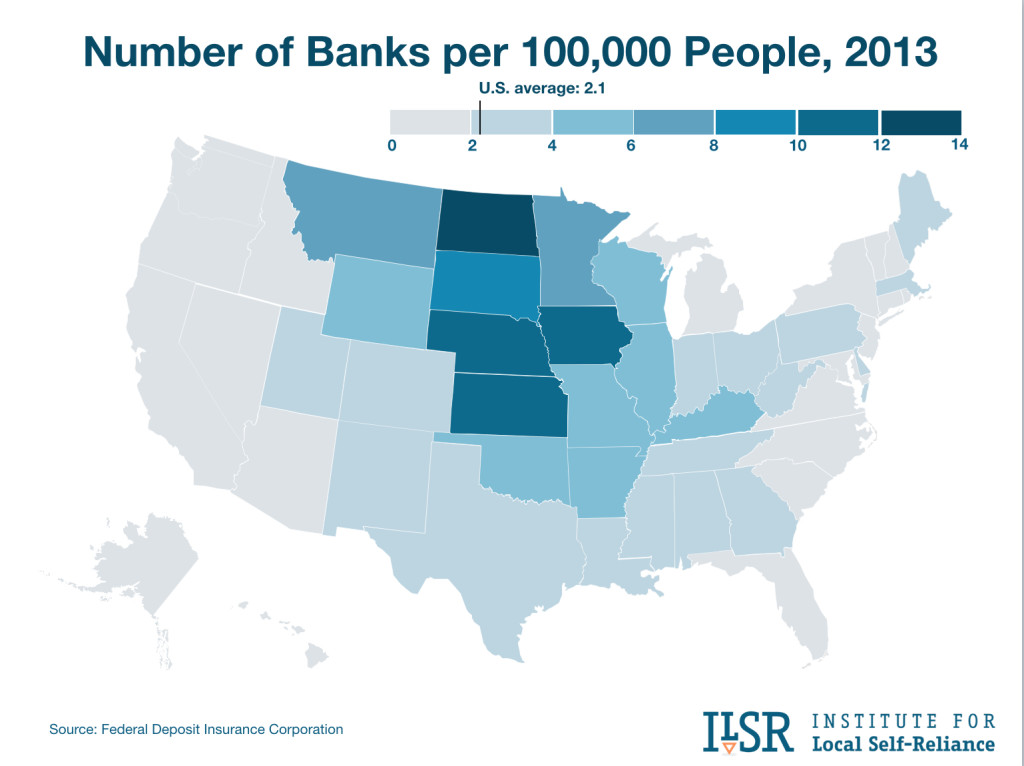 Continue reading