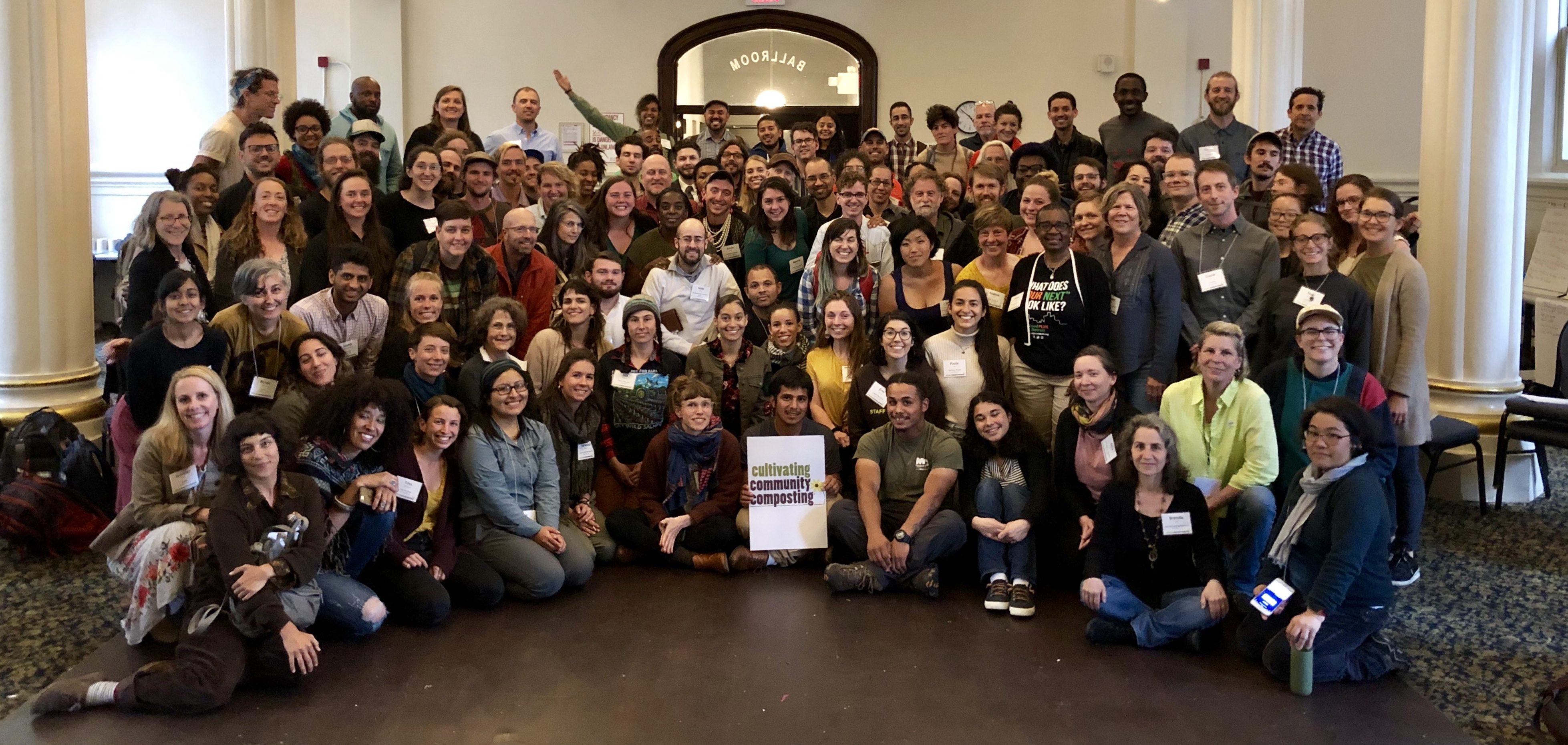 The Community Composter Coalition is a network of community composters that is building the movement by connecting early adopters, spreading lessons learned, and inspiring new operations.
If you're interested in joining the Coalition, please fill out this application form. Note: the Coalition is for organizations/agencies that have active community composting sites, enterprises, or programs.
Members of the coalition can join our Google Group! If you're a member and not in the group, please let us know.
---
Members:
Adirondack Worm Farm — Hudson Falls, NY
AJ's Compost Collective — Richmond, VA
Akron Cooperative Farms — Akron, OH
Annapolis Compost — Annapolis, MD
Annie's Home Farm — Wyanet, IL
Apex Organix — McLean, VA
Apple Rabbit Compost — Jacksonville, FL
Aquidneck Community Table — Newport, RI
Asociación Ambiental EcoGrecia — Grecia, Costa Rica
Back to Earth Compost Crew LLC — Plymouth Meeting, PA
The Backyard and Compost Corner — Prince Albert, Canada
Back2TheDirt LLC — Cincinnati, OH
B.A.D. (Born Again Dirt) Composting — Boone, NC
Baltimore Compost Collective — Baltimore, MD
Barrington Farm School — Barrington, RI
Bennett Compost — Philadelphia, PA
Berkeley Marina Community Compost — Berkeley, CA
Better Bin Compost — Cincinnati, OH
Better Roots Composting — Helena, MT
Big Reuse — Brooklyn, NY
Birmingham Soils — Birmingham, AL
BK ROT — Brooklyn, NY
Bootstrap Compost — Boston, MA
Breathe Free Detroit — Detroit, MI
Brisbane City Council — Brisbane, Queensland, Australia
Brown To Green (B2G) — Winthrop, WA
Bucket Ruckus — Stevens Point, WI
Burlington Area Community Gardens (BACG) — Burlington, VT
Carbon Compost — Pittsburgh, PA
The CarbonCycle Company — Auckland, New Zealand
Carter's Compost — Traverse City, MI
CERO Cooperative — Boston, MA
Chickadee Compost — Sargentville, ME
City of Dickinson — Dickinson, ND
City of Jersey City DPW — Jersey City, NJ
Civic Garden Center of Greater Cincinnati — Cincinnati, OH
CoFood Vancouver Collaborative Garden — Vancouver, Canada
Collective Resource Compost — Evanston, IL
Common Compost — Oakland, CA
Common Good City Farm — Washington, DC
Common Ground Compost — New York City, NY
The Community Compost Depot at Frey Gardens — Providence, RI
Community Compost Company & Hudson Soil Company — New Paltz, NY
Community FoodCycle LLC — Hopewell, NJ
Compost + Co. — New York City, NY
Compost Alex — Alexandria, VA
Compost Baladi — Beirut, Lebanon
Compost Bowling Green — Bowling Green, KY
Compost Cab — Washington, DC
Compost Cache Valley — Logan, UT
Compost Collective KC — Kansas City, MO
Compost Colorado (CoCo) — Denver, Lakewood, Arvada, Broomfield, and Littleton, CO
Compost Community — Tallahassee, FL
The Compost Connection CIC — Birmingham, West Midlands, UK
The Compost Co-operative — Greenfield, MA
Compost Crew — Rockville, MD
Compost Crowd/Sedona Compost — Sedona, AZ
Compost Crusader — Milwaukee, WI
The Compost Education Center — Victoria, Canada
Compost Education Program – Cornell Cooperative Extension Tompkins County — Ithaca, NY
The Compost Exchange — Columbus, OH
Compost for Good/AdkAction — Lake Placid, NY
The Compost Group — Encinitas, CA
Compost Montréal — Montréal, Canada
Compost Queens — San Antonio, TX
Compost Technical Services LLC — Arlington, MA
Compost 'S cool — Edmonton, Alberta
Compost With Me — Falmouth, MA
Composters at Pelican Cove — Sarasota, FL
CompostableLA — Los Angeles, CA
Composting Association of Vermont, Inc. — Hinesburg, VT
CompostNow — Raleigh, NC
Compost Orlando — Orlando, FL
Conscious Compost — Redwood City, CA
Corbin Composting — Flagstaff, AZ
Cornell Cooperative Extension of Broome County — Binghampton, NY
Crown Point Ecology Center — Akron, OH
Crown Town Compost — Houston, TX
Curbside Compost Cooperative (Northfield Curbside Compost) — Northfield, MN
Curbside Composter — Madison, WI
Curb to Compost — Houston, TX
De La Compost — Santa Cruz, CA
Denver Compost Collective, LLC — Denver, CO
Desert Compost — Palm Springs, CA
Down to Earth Composting — Reno, NV
Earth Appliance Organics — Providence, RI
EarthKind Compost — Bronx, NY
Earth Mama Compost — Indianapolis, IN
Earth Matter — New York City, NY
East Flatbush Community Garden — Brooklyn, NY
East New York Farms!  — Brooklyn, NY
East New York 4 Gardens — New York City, NY
E.A.T. South — Montgomery, AL
ECO City Farms — Riverdale, MD
Eco-Cycle — Boulder, CO
Elements Mountain Compost — Salida, CO
Epic Renewal — Los Angeles, CA
Erie County Environment & Planning — Buffalo, NY
Fallon Paiute-Shoshone Tribe — Fallon, NE
Fertile Ground Cooperative — Oklahoma City, OK
Field Culture Compost — Birmingham, AL
Food2Soil — San Diego, CA
FoodCycle KC — Shawnee, KS
Food Cycle Collective — Pomona, CA
Food Loop LLC — Leesburg, VA
FoodPLUS Detroit — Detroit, MI
Food Scraps 360 LLC — Albany, NY
FoodShare Toronto — Toronto, Canada
Garbage to Gardens — Wilmington, NC
Gather New Haven — New Haven, CT
Good Neighbors Compost — Buffalo, NY
GRAS (Green Restaurant Alliance Sacramento) — Sacramento, CA
Greener Bay Compost — Green Bay, WI
Green Box Compost — Sun Prairie, WI
Green City Force — Brooklyn, NY
Green Earth Compost — Indialantic, FL
Green With Indy — Indianapolis, IN
GreenFeen — Bronx, NY
Greening Youth Foundation — Atlanta, GA
Green Umbrella — Cincinnati, OH
Ground Down — Fort Wayne, IN
GrowNYC — New York, NY
Grow Local Greenwood Lake — Greenwood Lake, NY
Harvest Cycle — Providence, RI
Haines Compost — Haines, AK
Happy Trash Can Curbside Compost — Bozeman, MT
Healthy Soils, Healthy Seas Rhode Island — Middletown, RI
Hillsboro-West End Neighborhood & Trinity Presbyterian Church — Nashville, TN
Hidden Harvest Community Farm — Baltimore, MD
Holly Hill Farm — Cohasset, MA
Hot Box Composting/ Open Road of NY — New York, NY
Imani Garden — Brooklyn, NY
Isla Vista Compost Collective — Isla Vista, CA
Java's Compost — West Orange, NJ
Juneau Composts! — Juneau, AK
Justice, Peace, and Integrity of Creation (JPIC) of the Incarnate Word Sisters San Antonio — Alamo Heights, TX
Kauai Compost — Kapaa, HI
KC Can Compost — Kansas City, MO
Key City Compost — Frederick, MD
Kompost Kids — Milwaukee, WI
Kona Compost — Yardley, PA
L.A. Compost — Los Angeles, CA
Lancaster Compost Co-ops — Lancaster, PA
LES Ecology Center — New York City, NY
Let It Rot — Palm Beach, FL
Let Us Compost — Athens, GA
LI Community Compost — Central Islip, NY
Little Green Bucket — Albuquerque, NM
Long Beach Community Compost — Long Beach, CA
Loop Closing — Washington, DC
Michigan Food and Farming Systems (MIFFS) — Flint, MI
Ma`ona Community Garden — Honaunau, HI
Moonshot Compost — Houston, TX
Mother Compost — Wynnewood, PA
Moravian Community Garden — Staten Island, NY
New Britain ROOTS Inc. — New Britain, CT
New Earth Farm — Saint Louis, MO
NewTerra Compost — Wildwood, GA
New Hanover County Arboretum — Wilmington, NC
New York Compost Box Project — New York City, NY
NYC Compost Project — New York City, NY
The Ohio State University — Wooster, OH
Oracle Community Learning Garden — Oracle, AZ
O-Town Compost — Orlando, FL
OffBeet Compost — Lowell, MA
The O Zone — Red Hook, NY
Park City Compost Initiative Inc. — Bridgeport, CT
Peels & Wheels Composting — New Haven, CT
Pinellas Community Composting Alliance — Clearwater, FL
Plastic Free Delaware — DE
Plate to Plant — Grinnell, IA
Pleasant Village Community Garden — New York City, NY
Potato House Sustainability Project — Williams Lake, British Columbia
Princeton University S.C.R.A.P. Lab — Princeton, NJ
Prospect Farm — Brooklyn, NY
Prospect Heights Community Farm — Brooklyn, NY
Queen City Commons — Cincinnati, OH
Queens Botanical Garden — Queens, NY
RE317 — Carmel, Westfield, Fishers, and Noblesville, IN
Red Hook Farms — Brooklyn, NY
Renewable Community Composting Program — Hollywood, FL
Rezarekt — Denver, CO
Rising Sand Organics — Stevens Point, WI
Riverside-Inwood Neighborhood Garden (RING) — New York, NY
Roots Compost — Lawrence, MA
Rubber City Reuse — Akron, OH
Rust Belt Riders — Cleveland, OH
Sanctuary Farms — Detroit, MI
San Mateo County Office of Sustainability — Redwood City, CA
Schmelly's Dirt Farm — New Orleans, LA
ScrapDogs Community Compost — Rockland, ME
Scraps — Denver, CO
Shepherd Village Cohousing —Shepherdstown, W. VA
Small Farmz LLC — Atlanta, GA
Smiling Hogshead Ranch — Queens, NY
Snug Harbor Cultural Center & Botanical Garden — Staten Island, NY
Social Justice Coop of Newfoundland and Labrador & Planeet Consulting — St. John's, Newfoundland and Labrador
Soil Cycle / Colorado Springs Food Rescue — Colorado Springs, CO
Soil Cycle Missoula — Missoula, MT
Soil Cycle Monterey Bay — Marina, CA
Soilful City — Washington, DC
South Carolina Coastal Conservation League — Charleston, SC
South Hill Compost — McGraw, NY
South Seneca Community Services Center, Inc. — Lodi, NY
Springfield Compost Collective — Springfield, MO
Black Dirt Farm — Stannard, VT
St. Mary's Oak Ridge — Oak Ridge, TN
Suncoast Compost — Riverview, FL
Sunshine Community Compost — Sarasota, FL
Sure We Can — Brooklyn, NY
Sustainable Community Farms — Detroit, MI
Sustainable Economies Law Center — Oakland, CA
Table to Farm Compost — Durango, CO
TAIS —San Juan, Puerto Rico
Tampa Bay Farm 2 School — Tampa, FL
Teegen Compost services — Mt. Prospect, IL
Terra Nova Compost Cooperative — Atlanta, GA
Tidewater Compost — Virginia Beach, VA
Tommy's Compost Service — Pittsfield, MA
Transition Town Port Washington — Port Washington, NY
Truly Living Well Center for Natural Urban Agriculture — Atlanta, GA
Turn Compost — Dallas, TX
Un-Waste — Brick, NJ
The Urban Food Loop — Little Rock, AK
Urban Worm Company — Plymouth Meeting, PA
VINES (Volunteers Improving Neighborhood Environments) — Binghamton, NY
Vokashi — New York City, NY
Walnut Hills Redevelopment Foundation — Cincinnati, OH
Waste Free Austell — Austell, GA
Waste Loop — Leavenworth, WA
WasteWell — Chadds Ford, PA
WeRadiate — New York City, NY
Westford Community Composting — Westford, MA
The Which House — Nashville, TN
weCompost2 — Irvine, CA
Worms Are Aliens — Elysburg, PA
Worm Works LLC — Sterling, VA
Wompost Coop — Aurora, CO
YES Compost LLC — Bozeman, MT
Zaminma — Shiraz, Iran
Zero Waste Circle — Greenbelt, MD
45TH ST/ Resistance is Fertile — Sunnyside, NY
---
For community composting resources and content, check out our Community Composters homepage.