FOR IMMEDIATE RELEASE
Contact: Stacy Mitchell, smitchell@ilsr.org
ILSR's new report examines how high rents are shuttering businesses and stunting entrepreneurship, and explores 6 strategies that cities are using to create an affordable built environment where local businesses can thrive.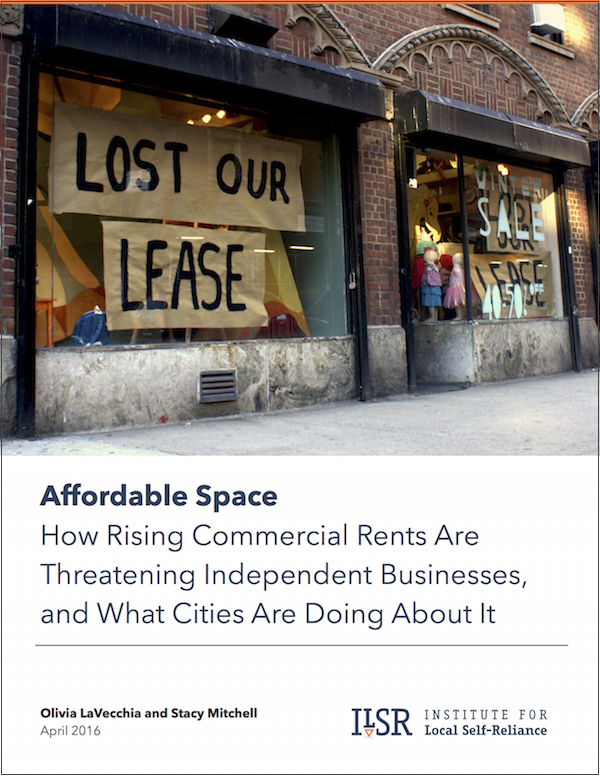 Minneapolis, MN — The cost of leasing commercial space is soaring in many cities, threatening the future of independent businesses, finds a report released today from the Institute for Local Self-Reliance (ILSR). In cities as diverse as Oakland and Nashville, Milwaukee and Portland, Maine, retail rents have shot up by double-digit percentages over the last year alone. As the cost of space rises, local businesses are being displaced by national chains and urban neighborhoods that have long provided the kind of dense and varied environment in which entrepreneurs thrive are becoming increasingly inhospitable to them.
ILSR's new report examines what's causing commercial rents to skyrocket and explores six broad policy strategies that elected officials and community leaders are proposing to address it. A one-page factsheet on the findings, a map of rising rents, and the full report, "Affordable Space: How Rising Commercial Rents Are Threatening Independent Businesses, and What Cities Are Doing About It," are available at https://ilsr.org/affordable-space/.
The report finds that the sharp rise in rents isn't limited to affluent neighborhoods. It's happening across a range of communities, with some of the most intense pressure falling on businesses in lower income neighborhoods. The trend also isn't limited to retailers. The price of industrial space is rising rapidly too, jeopardizing a budding renaissance in urban manufacturing.
A complex web of causes lies behind rapidly growing and increasingly unaffordable commercial rents, the report finds. These include a speculative run-up in urban commercial real estate prices, growing demand from national chains seeking city locations, a limited and declining supply of the small spaces most suitable to local businesses, and a preference for national companies over independent businesses in commercial real estate financing.
The report outlines six broad policy solutions, highlighting a range of ideas that elected officials, business owners, and community leaders have come up with for keeping space affordable and ensuring that entrepreneurs continue to thrive. Among the examples in the report are Salt Lake City's investigation into creating a "Buy Your Building" program to help local businesses purchase their property, New York City's efforts to give small business owners certain rights when it comes time to renew their leases, San Francisco's ordinance encouraging commercial diversity, and Seattle's plans to lease city-owned property to local businesses with favorable terms.
"Cities have a strong public interest in maintaining affordable commercial space," said Stacy Mitchell, ILSR's co-director.  "By creating a built environment that enables local businesses to thrive and offers plenty of room for new entrepreneurs, cities can advance several important policy objectives, including expanding jobs, reducing inequality, and strengthening the social fabric of neighborhoods."
###
The Institute for Local Self-Reliance (ILSR) is a 42-year-old national nonprofit research and educational organization. ILSR's mission is to provide innovative strategies, working models, and timely information to support strong, community rooted, environmentally sound, and equitable local economies.