A new report released by BioCycle — with research led by the Institute for Local Self-Reliance — details the growth of residential access to food scrap collection services, both through curbside and drop-off programs. Food scrap recovery is increasingly recognized as a key to reaching high waste diversion levels, protecting the climate, and feeding the soil.
For communities with trash collection, weekly curbside collection of food scraps is necessary to achieve high household participation and provide an equivalent level of service and convenience. Drop-off collection is a good entry point for local government to support food waste recovery and a viable option for rural areas with no curbside trash collection. After initiating drop-off access at seasonal farmers markets, for example, several communities have established permanent sites and then curbside programs. (Note: In the food waste recovery hierarchy, avoiding food waste in the first place and rescuing edible food are priorities over collection.)
The report, BioCycle Residential Food Waste Collection Access Study, includes data from 148 curbside collection programs and 67 drop-off programs throughout the country. Curbside programs in the U.S. are serving 326 communities, providing access to 5.1 million households, and drop-off programs serve 318 communities, giving access to 6.7 million households. Only government-supported programs are covered by the survey. With the growth in private subscription services around the country (including many bike-powered operators), the total number of households with access in the U.S. exceeds 5.1 million.
This is the first year that BioCycle has included drop-off programs in its study.
Links:
Local government looking to replicate the success of early adopters have much to consider: which materials to accept, what type of containers to provide, whether to offer starter kits, whom to provide service, and whether households can opt in or not. The most successful curbside programs provide containers to facilitate participation.
The full report (accessible with a subscription to BioCycle) includes data on materials accepted, service providers, type and scale of programs, BPI-certification requirements, and more, as well as case studies of programs in Falls Church, Va. and Washington, D.C.
We've developed a GIF that demonstrates the growth in households with access to curbside food scraps  from 2007 to the current survey.
View report preview from BioCycle Magazine article: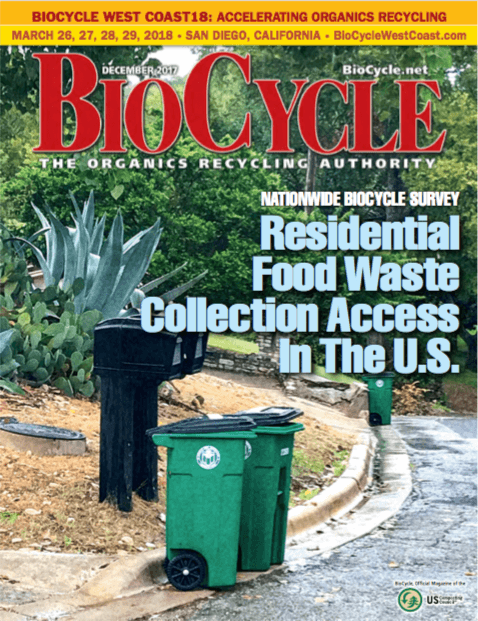 Follow the Institute for Local Self-Reliance on Twitter and Facebook and, for monthly updates on our work, sign-up for our ILSR general newsletter.