Contact: Nick Stumo-Langer, Institute for Local Self-Reliance
E: stumolanger@ilsr.org
P: 612-844-1330
Stacy Mitchell, co-director of the Institute for Local Self-Reliance, issued the following statement in response to Amazon's "Small Business Impact Report":
"Amazon is framing itself as a boon for entrepreneurs, but in fact the company's increasing dominance of the consumer goods market is having a profoundly negative impact on the nation's small and mid-sized businesses," said Mitchell. "This impact is twofold. First, tens of thousands of small businesses have closed their doors in recent years and many cite Amazon's growing market dominance as a primary factor in their decline.  And second, as Amazon has become a gatekeeper to online shoppers — more than half of online shopping searches start on Amazon's platform — an increasing number of small and mid-sized businesses have been compelled to join Amazon's Marketplace in order to reach consumers."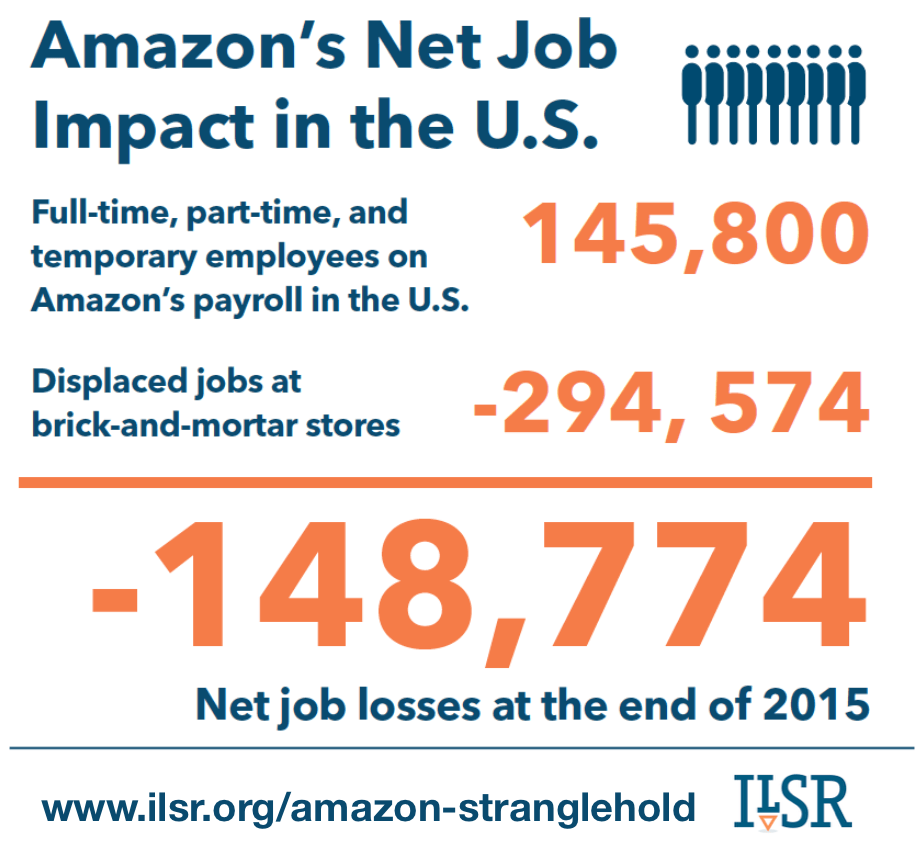 "As Amazon's own release today makes clear, many small businesses now must depend on an aggressive competitor for the infrastructure they need to get to market," Mitchell continued. "In the absence of meaningful competition in online retail platforms or federal regulation of Amazon's platform as a common carrier, this dependence means that Amazon controls the fates of these small businesses. It can abruptly change the terms by which they are allowed to operate, demote them in search results, suspend their accounts, or use the knowledge it gleans from them to compete directly against them with its own offerings."
Key facts about Amazon's impact on small and mid-sized businesses:
Between 2005 and 2015, the number of small retail businesses in the U.S. fell by 85,000, according to U.S. Census data.
Small retail businesses cite Amazon as the top cause of their declining sales. In a survey of more than 850 small independent businesses conducted last fall, 90% of businesses reported that Amazon is having a negative impact on their revenue. Twenty-eight percent described the degree of negative impact as "significant."
In interviews we conducted with a wide range of small and mid-sized manufacturers for ILSR's 2016 report, Amazon's Stranglehold, manufacturers described how Amazon is using its market dominance to extract concessions from them, reducing their ability to invest in new products. They also described how, by reducing retail competition and driving independent retailers out of the market, Amazon has made it increasingly difficult for these small and mid-sized manufacturers to successfully introduce new products and growth their sales.
Amazon routinely uses the information it gleans from sellers on its platform to compete against them, according to both studies and reporting. Harvard Business School researchers found, for example, that when third-party sellers post new products, Amazon starts selling many of their most popular items itself.
Amazon has repeatedly increased the fees it charges sellers. This year, Amazon increased it fulfillment fees by as much as 14 percent for standard-size items (and more for oversize goods), on top of similar increases in 2017. Because there's no meaningful competition in online retail platforms, sellers have no real options but to accept these fee increases.
Stacy Mitchell is available for interviews. For additional information, please see:
###
The Institute for Local Self-Reliance (ILSR) is a 42-year-old national nonprofit research and educational organization. ILSR's mission is to provide innovative strategies, working models and timely information to support strong, community rooted, environmentally sound and equitable local economies. www.ilsr.org – Email stumolanger@ilsr.org for press inquiries.