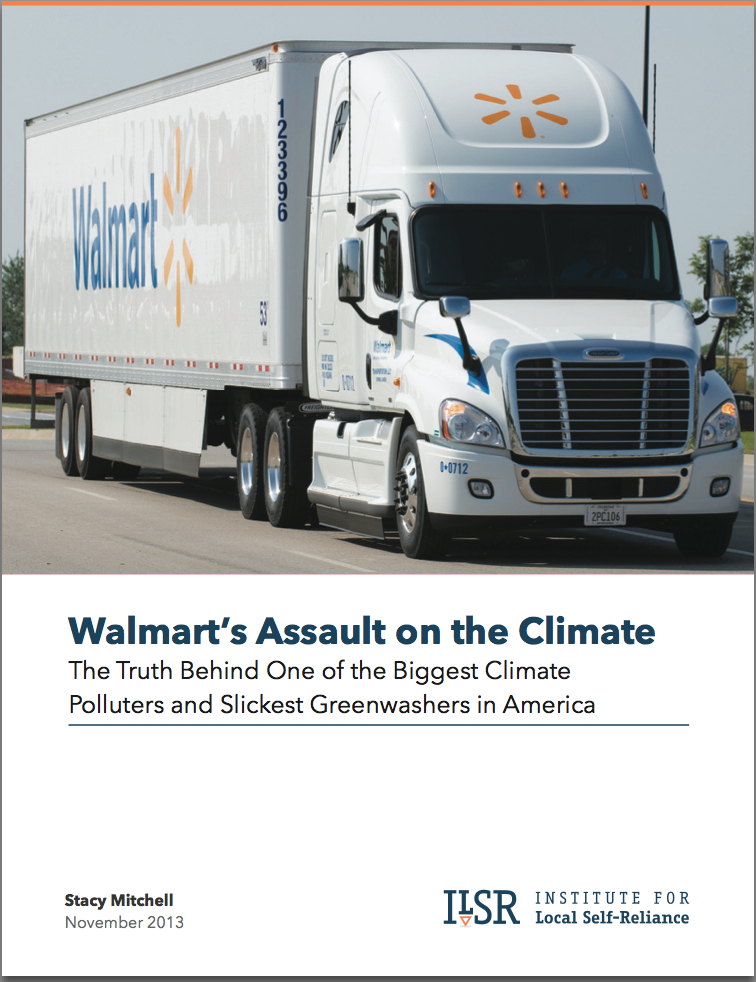 Today, ILSR issued a report on Walmart's rapidly expanding climate pollution and joined with leading environmental organizations in calling for change.
The new report, Walmart's Assault on the Climate: The Truth Behind One of the Biggest Climate Polluters and Slickest Greenwashers in America, finds:
Nearly a decade after launching its sustainability campaign, Walmart's greenhouse gas emissions have grown substantially and continue to rise.
When calculating its emissions, Walmart fails to account for major, fast-growing sources of pollution in its operations, including those from international shipping, new store construction and product manufacturing.
Despite its many media announcements about solar and wind projects, Walmart lags competing chains and many independent retailers in making the switch to renewable power.
Walmart is a major contributor to the campaigns of lawmakers who are blocking action to address the climate crisis.
"A closer examination of what Walmart is actually doing behind all of its climate announcements shows the company continues to externalize its costs on people and the environment," said Stacy Mitchell, ILSR Senior Researcher and author of the report.
The report comes as leading environmental organizations call for change.  In an open letter to the company, several organizations, including Sierra Club, Rainforest Action Network, Friends of the Earth, and Energy Action Coalition, call on Walmart to implement a publicly verifiable, accurate tracking of all of their climate change emissions, make an overall 20 percent reduction in emissions, and stop funding the campaigns of those who oppose legislation to address the climate crisis.
Download:  Report  |  Press Release   |  Open Letter
The Sierra Club made the following statement, which was delivered by Michael Marx, Director of the Sierra Club's Beyond Oil Campaign:
"Walmart is failing on climate exactly like it is failing on worker's rights. The company's carbon pollution is up 14 percent while it pours millions of dollars into a misleading PR campaign around sustainability and anti-environmental public officials who obstruct solutions to climate disruption. If Walmart wants us to live better it can start by treating its workers with the dignity and respect they deserve and taking real steps to cut carbon pollution."
Philip D. Radford, executive director of Greenpeace USA, said:
"As the nation's largest employer, and the largest company in the world, Walmart has an obligation to match its clean energy commitments with a greater commitment to reducing its global warming pollution and improve how it treats its employees."