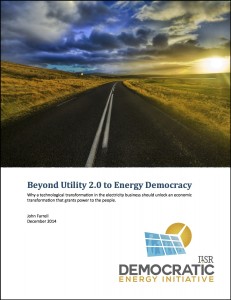 2014 marked the year that solar energy, energy storage and electric vehicles – hallmarks of a decentralized electricity grid – got big enough to threaten the electric utilities, exposing their 100-year-old business model as out-of-date.
In nearly 20 states, utilities are fighting back, proposing new fees and rules to minimize the competition from customer generated power. Many energy experts have proposed an adaptation to the utility business model – called "Utility 2.0" – to allow electric utilities to stay financially solvent as their customers power up. But this new model falls short if it cuts off customers from the enormous economic opportunity.
ILSR's newest report – Beyond Utility 2.0 to Energy Democracy: Why a technological transformation in the electricity business should unlock an economic transformation that grants power to the people – addresses the need for a Utility 3.0 model, outlining the principles and policies for "energy democracy."
Want to learn more?
John Farrell explains the basic concept of energy democracy, and why we need this new model to maximize the amount of power owned by the customer.
 "Just yesterday, a new analysis suggested that energy efficiency and local solar power could save U.S. electric customers up to $48 billion," says report author John Farrell, "the new utility business model must be one that prioritizes the economic opportunities for customers to own and control their energy future."

"The technology now exists to move beyond a utility-centered energy future, to make electricity an equitable economic engine," says Farrell. "The new model of the electricity system should do no less."
Click Here to Read the Full Report.
#EnergyDemocracy By the Numbers:
130– Age in years of our current U.S. electricity system.
500,000– number of households today that have on-site power plants.
364 billion– amount of money up for grabs in annual electricity sales.
Inside the report:
Rooftop solar, smartphones, and widespread energy storage threaten to make the utility business unprofitable. We explain how to fix the system to benefit everyone, not just utilities.
There's widespread agreement that the 21st century electricity business will mean cleaner power, better efficiency, and more flexibility. We explain why that's not enough, and how local control and access for everyone can democratize the benefits from the electricity system.
We identify the leading policies for transforming the utility system and how energy democracy is already being implemented.
REPORT HIGHLIGHTS:
Rooftop solar, smartphones, and widespread energy storage threaten to make the utility business unprofitable. We explain how to fix the system to benefit everyone, not just utilities.
There's widespread agreement that the 21st century electricity business will mean cleaner power, better efficiency, and more flexibility. We explain why that's not enough, and how local control and access to everyone can democratize the benefits from the electricity system.
We identify the leading policies for transforming the utility system and how energy democracy is already being implemented. 
Photo credit: Trey Ratcliff