The growth of solar has continued at a furious pace, with a new record of 6.2 gigawatts installed in the United States in 2014. But the bigger tale may be the persistent growth of small-scale solar, on residential and non-residential rooftops (and property).  These projects, a megawatt or smaller, contributed 13% of new power plant capacity in 2014, also a new record.
The following chart shows the 2014 data.
It's not just 2014 that's newsworthy, however. The next chart shows that this continues a trend toward renewable energy, generally, and toward distributed renewable energy. And these smaller scale power plants create more opportunities for local ownership, directing more of the economic value of new power plants into local economies.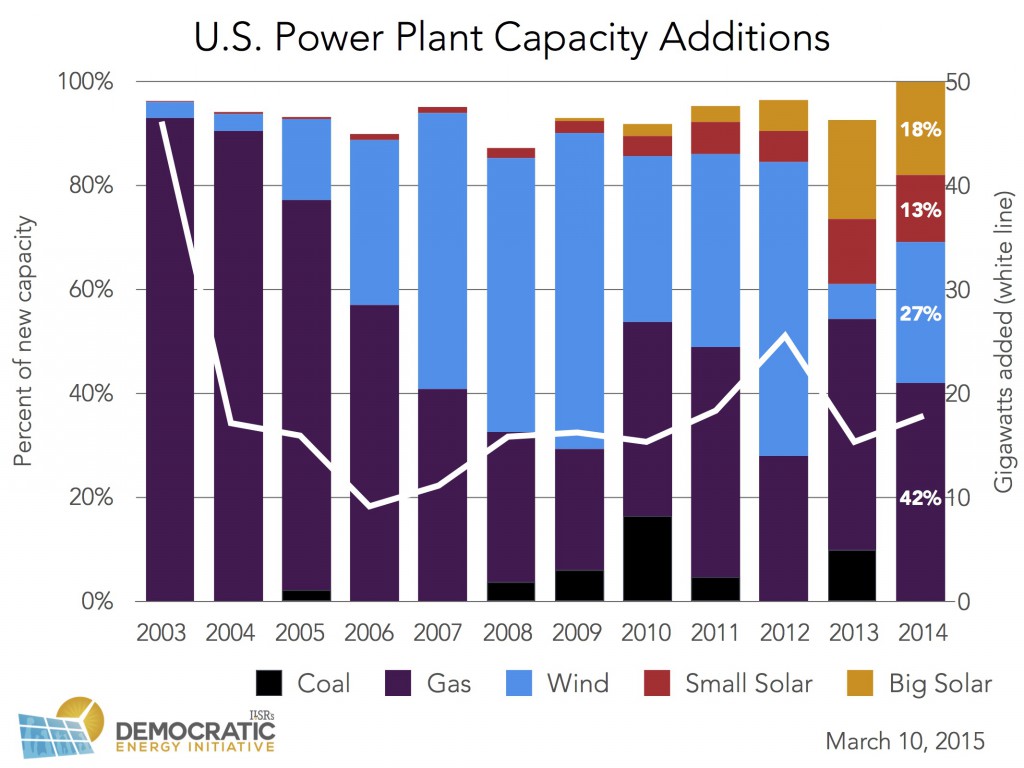 The sustained growth of small scale solar continues the unraveling of the utility's un-natural monopoly. It also brings a sharper focus on the $48 billion opportunity for U.S. electricity customers in energy efficiency and distributed renewable energy development.
The opportunity may only grow. The Solar Energy Industries Association estimates that residential solar alone will represent 45% of the solar market from 2017-2020. Combined with non-residential small-scale solar, distributed solar is expected to be nearly 75% of the solar market!
What's the takeaway from the impressive showing of small-scale solar in 2014?
We're nearing the turning point toward a more democratic energy system.
This article originally posted at ilsr.org. For timely updates, follow John Farrell on Twitter or get the Democratic Energy weekly update.