Electric cooperatives, member-owned organizations that sell electricity to those within their service area, are perhaps the nation's largest group of utilities that could champion clean, local power. They tend to cover enormous swaths of the most rural territory, often with excellent wind and solar resources.
In one manner of renewable energy, cooperatives are leading the fray: community solar.
78 different electric cooperatives allow their members to buy into a collectively owned solar project. The total is small— just 92 megawatts (MW), equivalent to only 0.18% of their overall power generation—but these cooperatively-owned utilities are much more likely to experiment with customer-owned generation than their municipal and for-profit peers.
The Solar Opportunity
Electric cooperatives serve an estimated 42 million people in 47 states, but their member-ownership structure is what makes them unique. While for-profit, monopoly utilities tend to limit the ability of communities to invest in their own energy, electric cooperatives allow each member to own a stake in their renewable energy future.
Cooperatives have a history of serving local needs. In the New Deal era, thanks to the establishment of the Rural Electrification Administration (REA), community cooperatives were essential in bringing electricity to all parts of the country. If these cooperatives hadn't stepped up and large power companies had had their way, these rural areas' economies could, according to the National Rural Electric Cooperative Association, still be "entirely and exclusively dependent on agriculture."
Community solar follows naturally from the cooperatives' historical democratization of the electric system.
The benefits from community solar include savings on your energy bill and a chance to own a slice of the sun whether or not you own a sunny rooftop. This option is a popular one, with many community solar arrays "selling out" within a few weeks.
Below is a map identifying the 78 community solar projects throughout the country separated by ownership structure. The lion's share are owned by electric cooperatives.
The Trico Community Sun Farm in Marana, Arizona allows individuals to purchase solar panels in quarter, half, or full panel increments, ensuring that the all of the members can make clean energy commitment that works best for them. The credit structure also works in exactly the same way as net metering for a residential rooftop solar system would, reducing members bills on a per-kilowatt-hour basis for every kilowatt-hour generated by their share of the community solar array.
Meanwhile, the Yampa Valley Electric Association markets their Community Solar Garden in Colorado is a renewable energy option for members who "want the benefits of solar ownership without the research, construction and maintenance of a stand-alone system." They are also committed to flexibility for their members, allowing them to take their energy credits with them if they move within a different utilities' service area.
Finally, in Michigan, Cherryland Electric Cooperative's Solar Up North Alliance explicitly utilizes its electric cooperative history when setting up their community solar project: "Today, solar energy is out of reach for a lot of people – it can be expensive to set up, and there's a lot of maintenance involved. So we thought, why not do something about it?" Hailed as Michigan's first community solar project, the Solar Up North Alliance allows Cherryland members to purchase solar shares for a one-time investment fee (they can bring the price down via state-based clean energy rebates). Their project is currently fully subscribed.
When the cost benefits to members and the cooperative are paired with a lighter load on the electric grid, relief from volatile fossil fuel pricing, and the sustainability of local energy production, community solar is a win for the subscribers and the entire cooperative.
Potential to Grow?
Although electric cooperatives are dabbling in community solar, it's not making a large dent in their power generation mix, for a big reason. Currently, many cooperatives purchase power from outside their service area via long-term contracts in an attempt to keep costs low. Coal power accounts for 59% of rural electric cooperative power purchases, more so than any other kind of utility (public or investor-owned). These deals have powered the cooperatives' past, but with the rising price of coal and growing grassroots support for distributed generation of renewable energy, this continued coal commitment is unsustainable.
Now may be a good time for electric cooperatives to change their practices. The Federal Energy Regulatory Commission recently ruled that some cooperatives with long-term contracts with large-scale, dirty energy producers could — despite those contracts — invest in local, renewable energy. This could include purchases from third parties, but also purchases from local power generators or community solar.
The key for cooperatives is self-determination and collective ownership. Most electric cooperatives are regulated far less than their for-profit counterparts, giving them the potential to fulfill member interest in solar energy.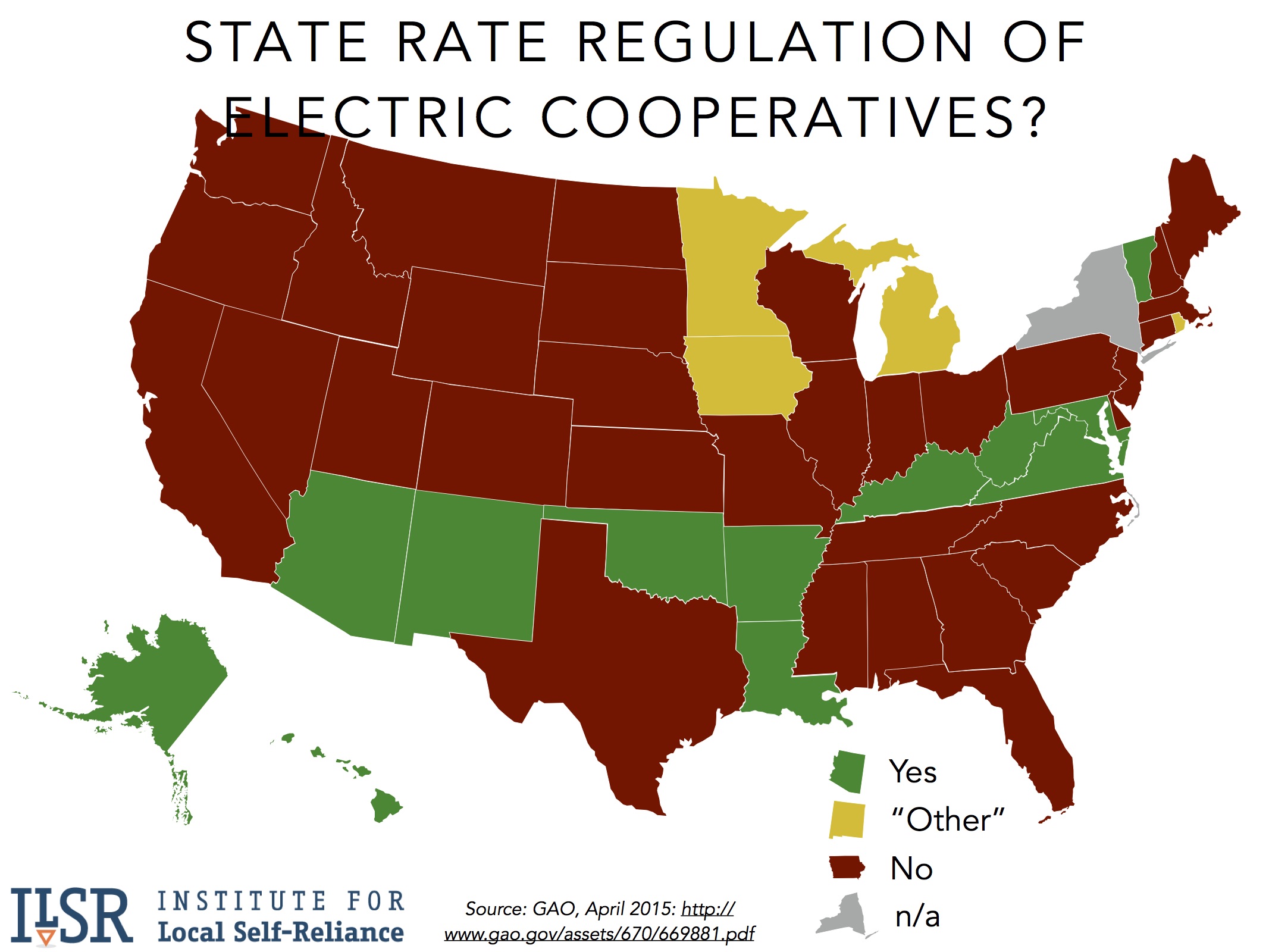 Community solar is one tool, but since cooperatives are collectively owned, any purchase of local solar generation distributes the benefits to all members. Community solar in particular allows for voluntary participation and a new way to raise capital from the cooperative members for new power generation capacity.
Community Solar or Bust?
There was a saying among cooperatives in the 1930s: "if we don't do it, no one will." Now it's the opposite: "if we don't do it, someone else will." Like most Americans, cooperative members want their electricity to come from non-polluting resources, and for their utility to seize the free solar resource falling on their community for their benefit. In many states, third parties are serving this need by offering those with sunny rooftops a low-cost solar lease, dramatically reducing the customer's need for utility electricity.
Developing local, clean energy is about proving the cooperative's relevance in the 21st century. Electric cooperatives are operating a disproportionate number of community solar projects, but these pilot projects are serving only a fraction of their power needs and member-owners.
Cooperatives that provide a community solar option can wean themselves off of dirty power, broaden the opportunities for members to invest in clean energy, and show that they're committed to making a renewable energy future of benefit to all their members.
For more information, see ILSR's other posts on rural electric cooperatives:
This article originally posted at ilsr.org. For timely updates, follow John Farrell on Twitter or get the Democratic Energy weekly update.
Image credit: User:OgreBot/Uploads by new users/2015 January 15 12:00