Colorado Voters Once Again Reject Monopolies in Internet Service at the Ballot Box
All 18 voting communities opt out of restrictive state law, Fort Collins ensures municipal utility can provide broadband service
Contact:
​Christopher Mitchell
612-545-5185​
MINNEAPOLIS, MINN. — Voters across the state of Colorado have, once again, rejected big telecom by opting out of a restrictive state law. SB 152, which limits the ability of Coloradoans to explore high-speed municipal broadband has been in place since 2005, thanks to big telecom's political heft.
As of Wednesday morning, we are prepared to announce that all 18 communities, plus Fort Collins have passed their measures by an average margin of 82.72%, and we are confirming and monitoring these results.
"We have seen overwhelming support for local Internet choice in Colorado" says Christopher Mitchell, director of the Community Broadband Networks initiative at the Institute for Local Self-Reliance. "These cities and counties recognize that they cannot count on Comcast and CenturyLink alone to meet local needs, which is why you see overwhelming support even in an off-year election."
The 18 communities who voted to opt out of SB 152 join approximately 100 other Colorado communities that have, over the past few years, asserted their own local authority over Internet service. Now these communities have the option to improve their Internet service, allowing for a crucial economic development activity. (See our detailed map below, available for republication with attribution – just email stumolanger@ilsr.org)
In Fort Collins yesterday, a high margin of voters supported an amendment to their city charter which will ease the way for their municipal utility to offer high-speed telecommunications service. This comes despite the factthat the state's telecommunications association spent almost half a million dollars to stop competition to the region's main provider, Comcast.
Local Internet success stories are numerous in Colorado, including rural Rio Blanco County,  NextLight in urban Longmont, and the open access Cortez Community Network in southwest Colorado.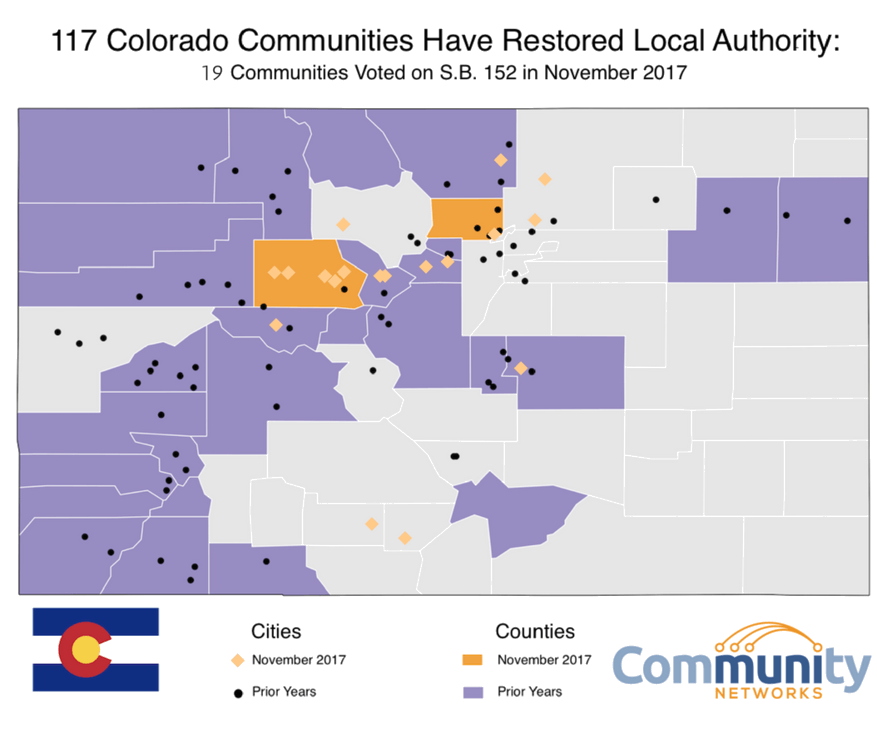 (If you are interested in republishing this map, please email stumolanger@ilsr.org for original file & attribution)
To gain national and local perspective on communities asserting their local Internet authority from Christopher Mitchell, please email back here or schedule an interview through Nick Stumo-Langer at 612-844-1330.
About Christopher Mitchell:
Christopher Mitchell is the Director of the Community Broadband Networks initiative with the Institute for Local Self-Reliance. Mitchell leads the acclaimed MuniNetworks.org as part of ILSR's effort to ensure broadband networks are directly accountable to the communities that depend upon them. He is a leading national expert on community networks, advising high-ranking broadband decision-makers and speaking on radio and television programs across the United States.
FOR MORE INFORMATION and to schedule an interview with Christopher, call Nick Stumo-Langer at 612-844-1330 or email stumolanger@ilsr.org.