Personnel appointments play a crucial role in policymaking. President Biden has the opportunity to appoint the right individuals to key positions in the Federal Trade Commission (FTC) and Department of Justice (DOJ). We need people who know and are willing to use the tools in our possession to challenge monopoly power, which is the leading threat to small, independent businesses.
Fifteen independent business associations, representing over 60,000 independent businesses across the country, have submitted a letter to President Biden urging him to appoint personnel who are committed to restoring competition, ensuring small businesses have a fair shot, and willing to use the full extent of their legal authority granted by Congress.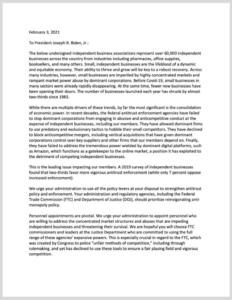 Independent business owners from industries including pharmacies, office supplies, booksellers, and more urged President Biden to appoint personnel who are experienced litigators or public servants and who, in their careers, have "recognized the dangers of, rather than helped to exacerbate, these corporations' market power." New appointments should be willing to address the concentrated market structures and abuses that are threatening the survival of small businesses. It is imperative to not appoint individuals who have served as lawyers, lobbyists, or consultants for Amazon, Apple, Facebook, and Google to key antitrust enforcement positions.
Small businesses are the lifeblood of a dynamic and equitable economy, as well as central to the nation's economic recovery. To achieve that, we must revive antitrust enforcement by appointing personnel who have the know-how and track record to use all the tools in the FTC and DOJ's tool box.
For news coverage of this action, check out The Hill's reporting: Independent Business Groups Push Biden Against FTC, DOJ Appointees with Ties to Big Tech.
Photo Credit: Wikimedia Commons via Washington Monthly
---
If you like this content, be sure to sign up for the monthly Hometown Advantage newsletter for our latest reporting and research.
---