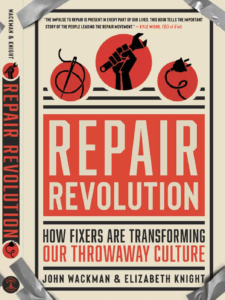 One of my chores as a youngster growing up in Brooklyn in the 1950s was a regular trip to the "shirt hospital" 10 blocks from my house. The shop bustled with tailors who would put on new collars and cuffs to extend the life of the garment and save the cost of a new shirt. On the way, I would pass several other "fix it shops" where various household goods were regularly taken for repair.
Back then, every commercial strip had these stores. Yet by the 1960s, even a tiny switch needed to repair a hair dryer was not available from the manufacturer. Almost all repair shops are gone now, victims of changing times and attitudes and a  post-war cultural shift that Life Magazine dubbed the "Throw Away Society" in a 1955 cover feature. Up until then, fixing things was a cultural attribute of a population that went through 25 years of hardships following a depression and war. One night's meal would be made into soup for the next day; shards of soap would be gathered in wire cages for dishwashing; clothes would be handed down to family and neighbors. Household items were used and then used up. The War Time Guide Book, published by Popular Science in 1942, provided detailed ways to fix things, make things and recycle for the war effort. "If we don't learn to make things for ourselves, we will have to do without. To do without is not the American Way," the publishers proclaimed.
Readers in our day will appreciate the "impulse to repair" as regenerative not wasteful, as circular not linear, as a promoter of good habits in a consumption based economy.
John Wackman and Elizabeth Knight present The Repair Revolution: How Fixers are Transforming our Throw Away Culture, the first book documenting the recent rebirth of the repair phenomenon as necessary for economic, environment and social progress. The book appears as the Right to Repair Movement is gaining political and legal clout, often led by farmers and computer and auto repair businesses demanding access to repair manuals, tools and legal legitimacy to repair machinery.
"There is something about the act of repairing that motivates and satisfies deeply felt parts of our nature," they write. Indeed, repair enterprises have been thriving for decades in the United States. Saint Vincent De Paul of Lane County, OR, is perhaps the poster child in this sector. In 1985, the collapse of the lumber industry in the region forced the social service agency to look to the waste stream for economic growth. The organization now operates a series of repair businesses focused on appliances, e scrap, mattresses, furniture and cars providing 600 good jobs as repair specialists, truck drivers and sales staff. Repaired items are sold through thrift stores from Portland, Oregon, to San Francisco. Another 100 workers in 10 separate repair enterprises have been established from Massachusetts to Florida on the East Coast.
The authors conceptualized their work to be both the why and the how-to of the repair movement. The Repair Revolution introduces the renewed revival of individual repair efforts at the street level — curbside, church, library, theater lobby, museum — sharing information and techniques, adding value, saving money, making friends and building networks of specialized experts. People are becoming more than consumers. They are helping to fix the world. The book contains exemplary stories of the individuals and organizations which lead the repair revolution, including fascinating anecdotes about repair cafes from around the world. Every community can have its own repair network. There is no economy of scale.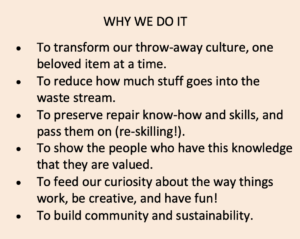 Their effort is deeply researched and includes the voices and experiences of dozens of repair practitioners and organizers from around the world. It is rich with the personal stories of innovators, including the challenges they overcame, the models they created to sustain the movement. The reach of the book extends to accomplishments of the Open Repair Alliance and Right to Repair movements in North America and Europe.
In addition, the Repair Revolution is eminently timely, incorporating aspects of repair that will be surprising to many, for example: the particular appeal of repair to the millennial generation and the remarkable affinity for repair experienced by people with autism.
There is an afterword from Martine Postma, the founder of the first Repair Café in Amsterdam in 2009, and the place where, after a local design exhibit, the concept flourished. The appendices include a bibliography, programs for young people, sample organizing letters, lists of supplies, online sources for parts, and instructions on how to organize repair events and ongoing programs.[1]
Repair Cafes
The first US repair café appeared in 2012 in Palo Alto, CA and proved to be eminently replicable. There are now 150 spread throughout the US, with concentrations in New England, the Midwest and the West Coast. Worldwide there are 2,000 repair cafes in 33 countries, with 330 new cafes opened in 2019 alone. The US programs spread throughout their regions. In one relatively small region, the Hudson Valley of New York State, there were over 120 events in 2019, encompassing 40 communities involving no less than 600 volunteers. Lamps were the single most common item brought in for repair, but the list of items includes every household item imaginable; from appliances, bikes, teddy bears and stuffed unicorns, to zippers. The heroes of the system are the repair experts who undertake the repairs and train future specialists. There are sewing teams, digital device teams, each with sub networks of their own. Repair cafes feature refreshments and a "kids take it apart" table. The check-in team provides forms to speed things along – "what's wrong with it?" questionnaires, liability statements.  Local volunteer activists oversee logistics for weekly gatherings and special events.
In addition to technical advice on how to set up, operate and maintain repair cafés, Wackman and Knight also provide a review of reuse and repair philosophy and practice in US history, reminding us that the throw-away economy does not have to be our destiny. The description of Pete Seeger's efforts to reclaim the Hudson River from toxic pollution serves as an example of how citizen-based actions and policies can redeem a wasteful past. "Repair is a radical act of resistance to our unmaking of our environment and world." Repair becomes a political action, as fixing items is often discouraged by manufacturers. Home and neighborhoods are the foci of repair actions and a checklist of what citizens can do is provided.
"Apparently people worldwide are ready for change, ready to say goodbye to our throw-away society and move toward a more sustainable way of living, with less waste and more care — for products, for the environment, and for each other," writes Martine Postma, director of the Repair Café International Foundation in her afterword. "In a genuine repair society, people should always be able to go somewhere for a repair…. All of these options should be available for everyone, every day, just like new products are."
Postma proposed policies that can change minds and habits so that, "the normal reaction when something breaks is not 'I need to get a new one,' but 'I need to fix this,' or 'I need to have this repaired.'" "One repair at a time" is a pathway to a sustainable way of living that is within our reach.
Her policy recommendations to usher in a repair society:
Repair cafes are only part of the solution
Public support for circular craft centers as practiced in Netherlands
Legal requirement for manufacturers to start producing products to fit into the circular economy that are repairable as well as share manuals openly
"Repair is in the zeitgeist," write Wackman and Knight. The goal is to grow the dynamic repair café phenomenon movement from the curbside, to workshops, into a, "fast moving global community, sharing news and ideas constantly on social media."
This is a future that we all want and need.
Publishers Note: The publication date for Repair Revolution is October 2020. The book is available for preorder at this time from the publisher New World Books.
Photo via Flickr. 
---
[1] Right to Repair Organization, https://repair.org.