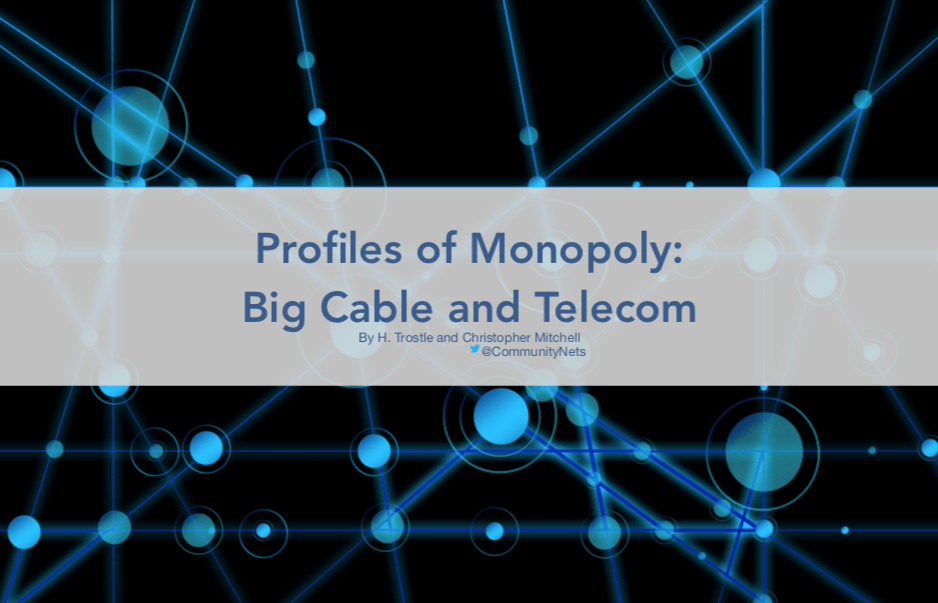 For years, national cable and telecom companies have complained that they work in a tough industry because "there's too much broadband competition." Such a subjective statement has created confusion among subscribers, policy makers, and elected officials. Many people, especially those in rural areas, have little or no choice. We wanted to dive deeper into the realities of their claim, so we decided to look at the data and map out what the large carriers offer and where they offer it. In order to share our findings with policy makers, local elected officials, and the general public, we've created a report that includes series of maps to illustrate our findings and our analysis, Profiles of Monopoly: Big Cable and Telecom.
Choice: The Ultimate Prize
Whether it's a brand of breakfast cereal, a model of car, or an Internet Service Provider (ISP), those who purchase a good or service know that when they have more options, the options they have are better. The FCC defines "broadband" as connectivity that provides speeds of at least 25 Megabits per second (Mbps) download and 3 Mbps upload; our report fouces on service where ISPs claim to offer this minimum threshold.
When it comes to ISPs, subscribers often have a faux choice between unequal services, such as one telephone company offering slow DSL and one cable company that offers faster cable Internet access. People in rural America often have even slimmer options because cable ISPs don't provide broadband in less populated rural areas. In other words, the market has spoken and the market is broken.
In this analysis, we examined Form 477 Data from ISPs and submitted to the FCC. While the data paints a grim picture of where competition truly exists, those who read the report should remember that Form 477 Data breaks down information into census blocks. As a result, the Form 477 overstates broadband service availability and the size of coverage areas. With this in mind, we believe the reality on the ground is even worse than what FCC data shows.
In the report, we shared our thoughts on the data from the FCC:
We have deep hesitations about using this data because of its many inaccuracies, but there is no other feasible option. In any event, this provides a conservative baseline for the problems in the market – though we believe the true level of competition is worse than this analysis shows, neither is tolerable in a country that claims to support a market-driven solution for supplying broadband Internet access.
Important Findings
We broke down data from some of the largest ISPs by the numbers they serve and the areas where they serve. The report provides insight into where each company has a lock on the market, even while they claim that there is "too much competition." With maps and related sources to help explain how a small number of ISPs are capturing large swaths of subscribers, the report will help clarify confusion and dispel misinformation.
Three important factors rose to the top as we conducted our analysis. From the Conclusion:
Real Competition Drives Investment
: The telecom companies have invested in Fiber-to-the-Home in areas where they face competition, which are generally more urban areas. The advent of Google Fiber in 2011 further increased the competition in urban markets. Efforts to increase investment from the largest firms in more rural areas have largely failed. Though states have varied regulations, the same trend results in every state — investment by the large ISPs is correlated to competition rather than the regulatory environment. This reality does not suggest that competition between a cable monopoly and a telephone monopoly is sufficient for high-quality Internet access, but it clearly helps to ensure connections at the minimum definition of broadband.

Big Cable Companies Dominate: 
These networks are capable of delivering high-speed broadband to everyone within their service area, a legacy of the local franchising requirements that often required universal service or at least service to all areas with a specified density of housing. More than half of the states have since removed local authority to negotiate such provisions but they bear some responsibility for the far-reaching cable networks.

Big Cable and Telecom Focus on Urban Markets
: The big cable and telecom companies fight over urban customers, not rural customers. About 98 percent of the urban population (254 million people) have access to broadband. About 5 million urban residents, however, remain without broadband access. In rural areas, only 69 percent of the population (43.6 million people) have broadband access, leaving 19.3 million rural residents without high-speed Internet access.
Download Profiles of Monopoly: Big Cable and Telecom to learn more about the realities of competition in today's broken market. We encourage you to share the report and spread the word about the state of America's broadband monopolies.
Photo Credit: Jlhopgood via Flickr (CC 2.0).