Each Summer, we invite interns to work with our team to help write articles, research projects, and produce multimedia content for our audiences. Here's a look at the excellent work they've accomplished here and where their education and careers will take them next!
---
Waste-to-Wealth
Jess Wachtler writes articles for the Waste-to-Wealth initiative about reuse, recycling, the digital right to repair, and extended producer responsibility. Wachtler is a rising junior attending Wesleyan University. She chose to be an intern at ILSR because she has been a fan since she used it as a source in a high school research paper. In the future, she hopes to be involved in urban design.
Recent work: Technology Industry Kills Right to Repair Bill in New York State Senate
Nora Holzinger is collaborating with the Baltimore Office of Sustainability to draft a comprehensive organics recycling plan for the City of Baltimore. Holzinger is also collaborating with the Chesapeake Center for Youth Development to develop a youth-led bike-powered food scrap collection service in the Brooklyn/Curtis Bay area of Baltimore. Holzinger is finishing up her undergraduate degree in anthropology and Spanish language at Towson University.
Colton Fagundes is researching backyard/home composting programs around the county, and writing summaries on his findings for best practices. Fagundes is currently working on an M.A. degree in Global Environmental Policy at American University. His academic and work interests include sustainable agriculture, food security, environmental justice, and creating more equitable economies.
Lynn Brinkley is a compost policy research intern with ILSR. She just finished her Master's in Global Environmental Policy at American University this past May. She chiefly focuses on updating the Waste-to-Wealth website, writing and revamping policy summaries in the Rule Archive to reflect changes in the state of composting law and quantify their impact. She has also provided research support for other issues, including: economic incentives, landfill gas capture, and recent developments in Maryland composting.
Recent work: Rhode Island Food Waste Recycling Requirements
ENERGY Democracy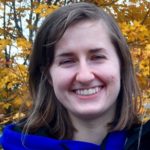 McKenna Eckerline spent a significant amount of time researching Community Choice Aggregations this summer for the upcoming Community Power Toolkit. She also compiled information on electric cooperatives that employ On-Bill Repayment, another cost-cutting program that promotes investing in solar technology. Eckerline is studying economics and history at Smith College in Northampton, MA where she runs an environmental club and helps lead the campaign to divest Smith's endowment from fossil fuels.
Recent work: California Weighs Fair Pricing for Distributed, Centralized Energy
COMMUNITY BROADBAND NETWORKS
Kate Svitavsky is interning with the Community Networks initiative. This fall she will pursue her Master's in Public Policy at the Humphrey School of Public Affairs in Minneapolis. Over the summer, Kate has researched low-income household access to broadband. Outside of ILSR, Kate also works at a shelter for families and children experiencing homelessness, so learning and writing about low income access has been a perfect fit for her interests.
Recent work: Comments Wanted: Proposed HUD Rule to Expand Low Income Residential Internet Access
David Odusanya is the video editor for our Community Networks initiative. Outside of work he enjoys sleeping. Odusanya is responsible for all of the great explainer videos you've seen on MuniNetworks.org, including our "Why a Gig" video that will help you explain to all of your friends why Internet speeds are so important to economic development. Odusanya is an art and technology major at Allegheny College in Meadville, Pennsylvania.
Recent work: Why a Gig: The Video Response You've Been Waiting For
Alexander Dangel writes for the Community Broadband Networks initiative and is working on a report about the indirect economic benefits from community-owned networks. In the fall, he will pursue his Masters in Economics at the University of Heidelberg in Germany.
Recent work: Tullahoma's LighTUBe Connects 3,500th Customer