Podcast (buildinglocalpower): Play in new window | Download | Embed
On this episode of the Building Local Power podcast, host Jess Del Fiacco is joined by two members of ILSR's Community Broadband Networks initiative: Sean Gonsalves and Emma Gautier. They discuss new research the team has been working on, including tracking how communities are spending federal infrastructure money on broadband projects and explaining why shopping for a new Internet service is such a frustrating process.
Highlights of their conversation include:
"This problem, providers not being transparent, might kind of seem like something that's annoying or inconvenient, but it's actually a really big problem beyond that because we know, especially in the context of the pandemic, that broadband is a very important thing to a household. So a household or a person's ability to make informed decisions about what kind of service they're going to subscribe to is really important."
"When a community network is built and operated and maintained by the people in your community, that in and of itself brings a level of accountability that is unmatched. You're bumping into those people in the grocery store. Your kids play sports together… And one of the things that is tough to quantify, but I hear anecdotally all the time in talking to folks in various communities, is the difference between before they had a municipal network and they had to rely on the monopoly provider, and then after they got one is the difference in the customer service experience. And that is hard to quantify, but it's something that's huge for people."
| | |
| --- | --- |
| Jess Del Fiacco: | Hello, and welcome to Building Local Power, a podcast dedicated to thought provoking conversations about how we can challenge corporate monopolies and expand the power of people to shape their own future. I'm Jess Del Fiacco, the host of Building Local Power and communications manager here at The Institute for Local Self Reliance. For more than 45 years, ILSR has worked to build thriving, equitable communities where power, wealth, and accountability remain in local hands. |
| Jess Del Fiacco: | Hello, everybody. Today I am joined by two of my colleagues, both from ILSR's community broadband initiative. We've got Sean Gonsalves, you've heard on the show before, he's a reporter and editor with the team, as well as a newbie to Building Local Power, it's Emma Gotye, and she is on the community broadband team. Welcome to the show, guys. |
| Sean Gonsalves: | Top of the morning. How are you doing? |
| Emma Gautier : | Good to be here. Thanks, Jess. |
| Jess Del Fiacco: | Yeah. As you all might expect, we're going to be talking about community broadband today. And per usual, there's a lot going on. We're going to talk about how communities are using new federal funding. We're also going to take a look at a new scorecard we've put together that grades different internet service providers based on how transparent they are about the services that they offer. But we're going to start with a question for Sean, which is something the whole team's been working on, but I know you've done a lot of work on this specifically. Looking at what communities are doing with American Rescue Plan funding to invest that in community broadband projects. Basically first, why'd you guys decide to track this information? |
| Sean Gonsalves: | Yeah, no. That's a great question. I mean, we're tracking it because the American Rescue Plan funding is really an unprecedented massive federal investment being made available. And a considerable portion of the funds can be used in communities that are not rural. And also, the rules for how the money can be spent are pretty good in terms of investing in municipal networks and community driven solutions. So we thought it was important to track this large chunk of money that's being made available to, in some instances, directly to counties and municipalities, but also as in the form of block grants to the states. And particularly because the rules in some of how that funding can be spent, there's different pots of money, so there's this $350 billion pot that can be spent on infrastructure related to sewer, or water, or broadband. |
| Sean Gonsalves: | Best we can tell, the bulk of that money is not going to broadband, but there is a specific pot of money called The Capital Projects Fund, $10 billion that can be spent on broadband. And the rules as to how you can spend that are pretty cool because there's a lot of flexibility there in terms of how state and local governments can decide how to spend the money. So for example, the rules give applicants the authority to decide what is deemed affordable, reliable, and un=served in their respective communities. Prior to this, those things were pretty rigidly defined. In this instance, with these rules, the program expands the definition of un-served to take into account whether, for example, internet service in a region is affordable. That's a big issue with accessibility. |
| Sean Gonsalves: | There's the issue of: Is the infrastructure in place and therefore, is it accessible? But even if it is, if it's not affordable, it's not accessible. So the rules take into consideration that and allow communities to essentially define what un-served means if a particular locale is found to be, a service exists, but it's not affordable by and large. That can be taken as a factor as to what's considered to be un-served. |
| Sean Gonsalves: | And then also, there's a new emphasis on funding scalable fiber projects, elevating investment in historically disadvantaged communities, and things of that nature, prioritizing investment in infrastructure that's owned by local communities, or nonprofits, or cooperatives. So there's a lot of good stuff in these new rules. And frankly, it's real new territory in terms of how it was with past federal policy around funding and supporting expanding broadband access, which has historically been directed pretty much towards rural America. So in this pot of money, there's a lot more communities have access to this money to do some interesting and creative things with. |
| Jess Del Fiacco: | Right, so fewer restrictions, a lot more communities doing things. And the form that these projects are taking is much more diverse too. Right? It's not all fiber to the home networks. |
| Sean Gonsalves: | Well, it certainly doesn't have to be. But I would expect that most of these projects will probably be fiber to the home projects. And that's generally because the capacity is essentially limitless in terms of future needs, bandwidth, speeds, fiber can handle it all. It's the most reliable technology out there in terms of internet connectivity. Although high capacity wireless networks certainly may be the answer for certain communities and the pathway that certain communities may want to take. So federal policy tends to try to be what they call technology neutral. But they also are recognizing what pretty much everyone in the space knows, which is fiber to the home is the gold standard in terms of reliable internet connectivity. |
| Jess Del Fiacco: | So I realize I've said a bunch of communities quite a few times. You're like, "Quite a few of them." Can you give us a sense of, is it 10 communities? Is it 200 communities? How many projects are on this big list that you guys are tracking? |
| Sean Gonsalves: | Right, right, right. We call it the big list. And so we're tracking individual community project. And right now, that list has 132 community led projects on it, as well as about 17 states have announced significant grant programs for new infrastructure projects. So most of those 132 communities are in those states, although there's some outliers as well, but it's 132. So it's quite a bit of activity going on. |
| Jess Del Fiacco: | Yeah. Speaking of states, I know that's a whole nother factor. You guys have analyzed how states are spending this money. Could you talk about what different states are doing differently and who's kind of setting the standard for how we would like to see them spend this money? |
| Sean Gonsalves: | Right. Well, prior to this, the federal government would give out investments. Well, there was the RDOF funding that happened, which was this big reverse auction. Had a lot of problems. And our position was that the closer this money and these investments are made to the local community, the better. And that's because local communities actually have the best sense of where there's real connectivity challenges of where coverage really exists and how good it is or not. And so this is sort of like the halfway house. The money is going, instead of this reverse auction that the FCC runs, let's send the money to the states, which is closer to the local community, so that's an improvement. |
| Sean Gonsalves: | And as we expected, every state is kind of doing their own thing, so it's like … What's that phrase? Laboratory … What do they say? Laboratories of democracy, each state. Right? And so it's sort of like that. It's like laboratories of broadband-ification. Each state is kind of doing their own thing. And of the 17 states that have allocated a portion of their rescue plan funds for broadband deployment and programs, it totals about $7.6 billion across the states, although California makes up about half that amount. In fact, in California, the governor and state lawmakers agreed to invest $3.25 billion to build statewide open access middle mile network. Open access means we're going to build the infrastructure and then we're going to invite private internet service providers to use that to deliver retail internet service to households and businesses. |
| Sean Gonsalves: | They've also put another $522 million of their rescue plan funds to support last mile projects for communities. That's going to be doled out by the State Public Utilities Commission. So California's doing a lot in making massive investments. Arkansas is another interesting state. Now Arkansas was a state that had preemption laws that really it very difficult for municipalities to build municipal broadband networks. So earlier this year, the state legislature unanimously removed those barriers, and so now there's all kinds of excitement and buzz around many communities. And so the Arkansas legislative council has approved $120 million of rescue plan funds so far. They may approve more. And that's going to 34 shovel ready projects in the state. And there's another $27 million that they've provisionally approved for 12 other projects, assuming they pass a technical review. So they're doing some really cool stuff in Maine, a state that is very friendly to community driven solutions, and they've created this Connect Maine Authority, which is the lead agency that's tasked with reaching the state's goal of connecting pretty much everybody in the state to high speed internet service by 2025. |
| Sean Gonsalves: | Now unlike in other states, that kind of limit or outright ban local communities from building their own networks, Maine's broadband action plan puts, and they call it community driven broadband projects, it's right at the forefront of their plans. Maryland, we have to mention Maryland because Maryland is another state that's really putting a lot of money into this. They're putting $300 million of their rescue plan funds. The bulk of that is, $97 million is going for the deployment of physical infrastructure. They've earmarked $45 million specifically for municipal broadband grants, so that makes Maryland a state that is investing more money in municipal broadband than any other state in the nation, so Maryland is doing some really cool things. |
| Sean Gonsalves: | And in Vermont, again, another state that's well poised to take advantage of this money because in Vermont, they've got these communication union districts, which are essentially these public entities. It allows for two or more towns to come together to form a telecommunication utility, essentially. So there's nine of those in the state of Vermont that covers pretty much the entirety of the state. There's a handful of scattered towns that have either not joined one or haven't formed one of their own. So they're well poised to move forward. And then Washington, the state of Washington that is, like Arkansas, they had a preemption law on the books there in Washington. Public entities could build open access infrastructure, but they couldn't provide retail service. Well, they got rid of that barrier in Washington. |
| Sean Gonsalves: | And so again, it sort of released the floodgates, and so that state has allocated $260 million of its rescue plan funds. And now that means the public utility districts there, some of whom have already built fiber to the home infrastructure, are now going to be able to get into the retail side of things, and so there's a lot of activity in the state of Washington as well. So generally speaking, those are kind of the highlights of the states that we consider to be out front as it relates to being real supportive and putting their money where their mouth is in terms of supporting community broadband networks, as opposed to just shoveling millions or billions of dollars to the incumbent providers that have happily taken subsidies in the past and don't ever quite seem to connect everybody with that money. Sometimes they just pocket it. |
| Jess Del Fiacco: | You might not have an answer to this question, or maybe you do. But curious if you can explain. I mean, why does Maine get it? Why are they saying, "Go. Communities, here you go. You should be leading the way on this effort"? Whereas, other states are still very reliant on those incumbent providers, like the big guys, to solve this problem. Is it political influence? Is it just a status quo thing? |
| Sean Gonsalves: | It's a great question. And I'm not going to pretend to have on the ground inside intel on this, although they do have some great community broadband leaders in that state, Peggy Schaffer, the Connect Maine Authority is terrific. But I think part of what drives that is the reality of the fact that Maine is one of the most rural states in the country. And in rural areas, it's not very enticing for private providers to provide robust telecommunication infrastructure because the short-term return on investment just really isn't there in rural communities. And so I think what's probably driving it is the reality of when you live in a mostly rural state, and you're not attracting big players to the market, you're kind of in a situation where if we're going to have it, we're going to have to build it ourselves. I think that's probably one of the driving reasons behind why Maine is friendly to community broadband. |
| Jess Del Fiacco: | Thanks for that. I think that makes sense. So related, I was wondering if there was any states you can point to that have been kind of bringing up the rear. |
| Sean Gonsalves: | I hate to bring up the state because it's definitely one of the most beautiful states in the nation. My brother lives there with his family. I would love to vacation there and lay on the beaches. But Hawaii, as it relates to American Rescue Plan funds, it's a sad situation. We gave them a dishonorable mention in the story we had on this because basically, they decided to only spend $5 million of our their rescue plan funds on broadband expansion. But the real reason why we singled out Hawaii was because in order to access that paltry allocation, it could only be awarded to what they call a nongovernmental entity, which is code for they're leaving it up to the dominant monopoly providers to just solve their connectivity challenges. And as we write and talk about pretty relentlessly, those incumbent providers don't have a good track record when it comes to ensuring universal access to broadband. |
| Sean Gonsalves: | But in fairness, it's not really their job to make sure everyone's connected. I mean, we don't look to Sears and be like, "How come everybody doesn't have a refrigerator?" You know what I mean? So in fairness to the incumbent providers, it's not really their job per se. However, if you're going to rely on incumbent providers and the goal is for everyone, or if you're recognizing that everyone should have access, I mean, if you use electricity as an analogy, it would be almost like saying, "Yeah, electricity's important. And most homes can light up all of their appliances. But we're cool with there being a chunk of homes that only have a light bulb. And we're going to call them being served, as having electricity." |
| Jess Del Fiacco: | And we're going to actively shut the door on the other solutions that like, "Well, yeah. They're there. But we're not going to try those." |
| Sean Gonsalves: | Right. And it's not because Hawaii's way out there. I mean, Hawaii itself, the islands of Hawaii are relatively well connected in terms of infrastructure. But again, as in any state, there are large pockets of people who can't access that, and largely around affordability and so forth. But nevertheless, Hawaii gets that dubious distinction. It's probably the only dubious distinction that we can think of about Hawaii, but it's true. |
| Jess Del Fiacco: | I think they'll probably still let us visit, Sean. |
| Sean Gonsalves: | I hope so. |
| Jess Del Fiacco: | So next question, and Emma, I'd be curious if you have anything to answer to this one as well. But if we just did some magical thinking, if we imagined a world without the pandemic, and the last two years were whatever normal may have looked like without that, and somehow local entities still got this bucket of funding to use on infrastructure, do you think we still would've seen as much investment in broadband? Or do you think the level of investment we're seeing in communities on broadband solutions is because of the experience of the pandemic? |
| Sean Gonsalves: | I love your magical thinking, and I wish it were true that we could've lived in a world without a pandemic these past few years. And I'd like to think that at least a handful of states, if there had not been a pandemic, would've done some interesting things with the American Rescue Plan money. But I think the truth is that the pandemic really is the motivating factor. And I think it's because it exposed the digital divide in such a way that it made everyone realize that high speed internet connectivity is essential to participate in modern society. And I think the pandemic … That had been the case prior to the pandemic, but I think the pandemic, because of remote work and distance learning and telehealth opportunities or not being able to access healthcare in certain ways, I think it made everybody realize. Oh, my goodness, the internet or internet connectivity is a utility at this point. |
| Sean Gonsalves: | It may not be as important as water or electricity, but it's close. And one other thing, I mean, when you're a town or a city, and all of a sudden you have thousands of kids that are forced to go to school remotely, and they don't have home internet connection, that's a problem in that community. |
| Jess Del Fiacco: | Yeah. The pressure is on. You can't ignore that. |
| Sean Gonsalves: | The pressure is on. We have to figure this out yesterday. And then if you're a business that can't operate, or if you're a business that can operate with a remote workforce, you need reliable connectivity. And if you're a community and your economic development is something that's really important, and you're seeing businesses move elsewhere because the internet sucks in that area, that's a problem. And then there's the telehealth piece. So I think that all of those things kind of came together, and the pandemic just exacerbated what had already existed and made it clear to everyone that this is something that we need to have universal access to broadband if we're going to be serious about equity even rhetorically, even sort of nominally. If people are going to participate in modern society, whether that's looking for jobs, or participating in the economy, or civic functions, or entertainment functions, you need a high speed internet connection. |
| Emma Gautier : | Yeah. I would definitely agree with that. I joined the institute a few months ago, and I wasn't working on visual equity in broadband specifically before that, so my entire experience in this issue area is in the context of the pandemic. And obviously, the urgency and importance of good connectivity was really apparent to a lot of people working in this area before the pandemic. But I think my own experience is also pretty representative of a lot of people who are interested in equity in general, and this pandemic has shown the importance of good connectivity. And now I see it totally as a utility and something that's really key to equity. And that's why I'm here working on this, because I see it as super central. And I think that's probably representative of the way a lot of people have kind of shifted their mindset in the context of the pandemic. |
| Jess Del Fiacco: | Right, solving the digital divide, bridging the digital divide, however you want to phrase that went from being maybe a less prioritized aspect of pursuing equity in cities and became suddenly the thing that everything else … The thing that was needed for everything else to happen. |
| Sean Gonsalves: | Right. It went from this aspirational vision to an ASAP goal almost overnight. |
| Jess Del Fiacco: | So that brings me to my next question, actually, which is: What happened on November 2nd? Did we see this show up in any particular way in local elections? What was up with the broadband were people voting on? |
| Sean Gonsalves: | We did. We did. We actually saw in a number of different states, there were some local elections that had broadband on the ballot, so to speak, or broadband related things on the ballot in terms of candidates and their positions. In Colorado, there were three communities that opted out of the state law that they have I Colorado that bans local governments from establishing municipal broadband service. But fortunately, that law does allow for local communities to opt out. They have to have a referendum vote. And so three communities did that on election day in Colorado, Windsor, Milliken, and Mesa County. In Windsor, they're looking at pursuing a public private partnership. And Milliken and Mesa, they're not quite exactly sure what they're going to do, but they want to have that freedom. And so those three communities have reclaimed local internet choice in those communities. |
| Sean Gonsalves: | And then in Maine, some interesting things happened. In Bangor, you had a city counselor who her central plank was we need to bring municipal broadband to Bangor. We're seeing it pop up in these small towns in Maine. There's no reason why we shouldn't have it here in Bangor. And that's message resonated. She won reelection easily. But then in two communities, community broadband kind of took a hit. But an interesting lesson comes out of one of those. So in Hampden and in China, not the country, but there's a small town in Maine called China. And in both of those communities, there was a proposal on the ballot to fund municipal broadband network. And voters in both of those communities, in China and in Hampden, rejected those proposals. In Hampden, it was resoundingly rejected. But something kind of ominous happened that actually I think is a good lesson for other communities to keep in mind. |
| Sean Gonsalves: | So two things happened, one was that the two dominant incumbent internet service providers in that town promised to expand their network in town. Now they promised, they didn't sign anything. They didn't unveil plans. They just said, "Hey, we're going to do this." The other thing that happened is that there is this conservative leaning think tank, and I put think tank in air quotes because really, I think of some of these groups as fronts for industry. But there's a conservative leaning think tank out of Portland, Maine, that funded a big opposition campaign. And these kind of opposition campaigns are fairly typical in communities that are thinking about that because as you can imagine, if you're the dominant monopoly provider, you don't want competition. So you have these kind of campaigns, and so it was sort of the typical bogeyman. It's a waste of taxpayer dollars, unity networks don't work. Just nevermind the hundreds that exist all over the country. |
| Sean Gonsalves: | But here's the thing. These well funded opposition campaigns, and by the way, this one in Hampden happened mostly through Facebook, of course, and incredibly, the town did zilch to counter that campaign. And so it really underscores the importance for community broadband advocates if they're in the process of engaging local leaders on moving forward with the project and engaging folks in the community. It's a reminder of the importance of a robust public education campaign on behalf of community broadband networks. That cannot be overlooked because if you overlook it, you leave that room open for these opposition campaigns to come in and really scare folks and make folks think that it's just going to be some giant boondoggle. |
| Jess Del Fiacco: | Right. Yeah. And even if those are groundless claims more or less, if that's all you hear is scary stuff and multiple voices telling you that, that's probably what you're going to bring into the voting booth with you. Right? |
| Sean Gonsalves: | That's right, that's right. Yeah. So I just wanted to highlight that. But there's some other election stuff that happened. Right, Emma? |
| Emma Gautier : | Yeah. I mean, another place we saw some interesting results was Edison Township in New Jersey. And Edison just elected Sam Joshi as mayor. And Joshi's campaign, essential part of Joshi's campaign was a pledge for municipal broadband. And the reasons he gave for centering municipal broadband are things that we're pretty familiar with on the community broadband network's team, like Joshi understands municipal broadband is something that's going to do things like increase property values and that kind of thing, and just sees it as a really valuable community investment. So it's hopeful to see things happening in communities like that too. |
| Sean Gonsalves: | And we'll see if he delivers. I mean, the thing of it, Edison Township is the fifth largest municipality in the state. About 100,000 people live there, so it's a big community. |
| Jess Del Fiacco: | Right. Very cool. Glad to hear the good news and the lessons learned, very important to know as well. We'll continue with this conversation after a very short break. Thanks for listening to our show. If you're enjoying my conversation with Sean and Emma, I hope you consider heading over to ilsr.org/donate. I know we're getting towards the end of the year and you're going to be hearing a lot of these asks in other podcasts and your email inbox, and every nonprofit website you visit, and your mailbox. But your support really is a game changer for us here at ILSR. We couldn't do what we do with the research that you've heard about today, you make all of that possible. Please visit ilsr.org/donate to make a contribution today. Any amount is sincerely appreciated. With that, we can go back to the show. |
| Jess Del Fiacco: | So I want to switch gears a little bit to ask some questions to Emma about the new scorecard you've put together. And I'm guessing most of our listeners have experienced the delight of shopping for a new internet service, perhaps going on Comcast's website, or Century Link, and trying to figure out what it is they are trying to sell you. I mean, even now, I have had the same internet service for almost four years, and finding out if I wanted to find out what my upload speed is, which I've tried to do before, it's layers and layers of searching in the website to figure out what I pay them for. So clearly, it's not great. Do you want to talk about why that lack of transparency has gotten so bad, especially from the big companies? |
| Emma Gautier : | Yeah, definitely. I'll start by backing up a little bit. So the internet transparency rule is something that was passed by the FCC in 2015. And it as part of the open internet order. And basically what it did was just require providers to give their potential subscribers information about the services they might be getting, so pretty basic. Right? The rule was designed to give customers the information they needed to make decisions. And the thing about the rule is it was intended to be something that was very empowering for customers. And it requires providers to disclose things like speed, pricing, any fees that customers might be paying, among other important information that's key to decision making. |
| Emma Gautier : | And the rule mandates that this information that providers need to publish this information either on a website that's publicly accessible, or on portal, the FCC internet transparency disclosures portal, which is searchable to the public. So there's that, but what becomes pretty clear either when you're trying to purchase internet, or you're trying to collect data like I was, or as you mentioned, you're just trying to figure out what the service that you already pay for is about, it becomes pretty clear that the transparency rule just isn't enforced in any real way. So that's why there's so many information gaps, it's because providers aren't facing real consequences for failing to provide information. And we also know that the furthest that the FCC has really gone to reprimand providers that are violating the transparency rule is sending them a series of noncompliance notices, which is just like a warning letter. And that's a big reason. |
| Sean Gonsalves: | A furrowed eyebrow and a strongly worded letter. |
| Jess Del Fiacco: | I imagine them going into the junk folder on some CEO's email inbox, super effective. |
| Emma Gautier : | Exactly, yeah. So that's a big reason that there's such major information gaps. But what we find in this report is that actually isn't the only problem beyond just not being enforced, the transparency rule as it is designed, we argue in this report leaves room for providers to mislead customers by making information either hard to find or hard to understand. So in other words, there are providers that will technically comply with the disclosure requirements, but don't really uphold the spirit of the rule, so to speak, and the spirit of the rule being to empower customers with information. |
| Emma Gautier : | So what we're seeing is a bunch of fine print statements, as I'm sure many of us are familiar with. And these find print statements are really designed by the providers to satisfy the disclosure requirements rather than empower customers with the information they need to make decisions, which we know the rule was designed to do. So again, what we find is just, one, the transparency rule isn't really being enforced. But two, there's that other problem of accessibility. That information might be out there, it's just not accessible to people. |
| Jess Del Fiacco: | So are there any specific consequences of this lack of transparency besides just general frustration on the consumer's part, trying to figure out what they're buying? |
| Emma Gautier : | Yeah. This problem, providers not being transparent might kind of seem like something that's annoying or inconvenient, but it's actually a really big problem beyond that because we know especially in the context of the pandemic that broadband is a very important thing to a household. So a household or a person's ability to make informed decisions about what kind of service they're going to subscribe to is really important. And things like knowing what you're going to get, knowing how much you're going to pay for it, knowing if there are going to be huge fees that are going to come up, either in installation or monthly fees, that's important to selecting the service, but it's also really important to budgeting for the service. Information obviously is just really important to budgeting. And because we know affordability is a huge barrier for a lot of people, we just have to pay attention to this kind of stuff, making sure people have the information they need to budget. And obviously, information isn't the only thing that's going to help with the problem of affordability and access, but it is an important part. |
| Jess Del Fiacco: | Can you talk a little bit about how you approached this report, kind of what you looked at for different providers, and then how different types of internet service providers, and by that I mean, could be one of the big cable companies like Comcast, or it could be a municipal network that your own town owns, how do those different types of providers compare to each other? |
| Emma Gautier : | Overall, what we've found in collecting data for this scorecard was that municipal and cooperatively run networks score the highest, while private fiber and cable providers scored kind of somewhere in the middle. And then private fixed wireless providers scored pretty low. And but there were a couple specific things that we were able to draw from that data. And the first, which seems pretty obvious, is that smaller, more locally run networks score higher than large providers. And these large providers are in many cases not based in the communities that they're serving. And we believe that's related, that's a big deal. Right? |
| Emma Gautier : | So we talk all the time at the Institute for Local Self Reliance about the importance of decision making happening close to the people who are being affected by those decisions. We talk about just the importance of local accountability and that kind of thing. And we find that local providers are more accountable to their customers, so they're more transparent with them. They're closer to the people that they're serving. And what this report really does is it just adds evidence to the claim that government policy should encourage networks that are locally accountable. And the second conclusion that we kind of drew was while there are providers that completely omit information from their websites, there are also others that do publish information. It's just really hard to access. And obviously, this is something that I touched on before when I was explaining the transparency rule. |
| Emma Gautier : | So what we did for this report was design the scorecard in a way that shows both providers that omit information and providers that provide poor quality information because we believe that there's a difference there. And it's important to kind of make that distinction when we're trying to solve the transparency issue. So taking upload speeds, for example, which is the speed at which you can upload something to the internet. If a provider did not list upload speeds anywhere online, that provider received a zero. If its upload speeds were super clear and easy to find, they received a two. But if upload speeds were buried somewhere in the fine print, they received a one. So you can see on the scorecard the difference between good information, poor quality information, and missing information. And we found that cable providers in particular had a lot of poor quality information. |
| Emma Gautier : | And what this tells us is that cable providers care about complying with the transparency rule. But they don't necessarily care about providing potential customers with the information they need in a way that's actually accessible to them and easy for them to understand. So what we need in terms of policy is something that addresses the accessibility problem, not just the omission problem, omission of information. |
| Jess Del Fiacco: | So we've already got the transparency law on the books though. So do we need to just enforce that? Is there specific policy additions that we need? Or is that still kind of up in the air? |
| Emma Gautier : | Yeah. So what we point to in the report is something called the broadband nutrition label, which was proposed by New America's Open Technology Institute a few years back. And New America has also been doing some really great work on the transparency problem, so I encourage everyone to check out their work. But the label is based on the nutrition label that you see on the back of packaged food in grocery stores. And it's designed to make it basically a lot easier for customers to make decisions about internet service. |
| Emma Gautier : | So what it does is it requires providers to disclose things like speed and price. A lot of what we see in the transparency rule, it also requires providers to make disclosures about what the price will be before the promotional period ends, so the promotional price and the price after that promotional period ends, which is really important because a lot of providers say, "Hey, look. This is the price," just to get someone in the door. And six months later, it'll be a much higher price. And that's kind of another example of something that's pretty hard to budget for, like I mentioned. |
| Emma Gautier : | So because it's a very standardized format, it doesn't leave room really for fine print and that kind of thing. It's also something that is very accessible. The standardized format makes it a lot more accessible than the information laws that currently exist across a bunch of providers' websites. And the broadband nutrition label is actually something that is currently written into the infrastructure bill, which is formally known as the Infrastructure Investments and Job Act, which is currently held up in the House, so this is a timely conversation. And we hope it passes soon. We hope it contains the broadband nutrition label because we believe that it's a policy solution, it's a simple policy solution to addressing this problem of accessibility and just making internet market much easier to navigate. |
| Emma Gautier : | And what I'll say too is just the fact is that information is part of what makes a market function properly. And we just don't have good information in the broadband market right now. And a lack of transparency also means that entrepreneurs don't have the information they need to make decisions about whether to enter the market, or whether to make adjustments in their own offerings. And entrepreneurship is such an important part of competition and the development of the broadband market. |
| Jess Del Fiacco: | You're talking specifically internet service providers. |
| Emma Gautier : | Yeah. |
| Jess Del Fiacco: | Entrepreneurs who are getting into that business. Okay. Just wanted to make sure you didn't mean someone opening a coffee shop. |
| Emma Gautier : | Right, yeah. Entrepreneurship. |
| Sean Gonsalves: | Well, they need to know if they can get an affordable … Coffee shops need to know if they- |
| Jess Del Fiacco: | Yeah. That's true. That's true. |
| Sean Gonsalves: | Affordable connections that offer free wifi, that's an important draw for their customers. They need to know those things. |
| Emma Gautier : | True, yeah. We know that just entrepreneurship is really important to the broadband market specifically. And I think that information gaps are likely to stifle innovation happening in the broadband market. And that just has the potential to harm the market, which is not at all what we want to see. But what our policy recommendations really come down to is just making sure people have the information they need to make decisions. That's what it's really about, so we hope that all works out in Congress. |
| Jess Del Fiacco: | Yeah. Don't we all? I've had a lot of conversations that land on that note lately. So I just want to remind listeners that they will be able to find both that report that you've been talking about, Emma, as well as our big list of community broadband projects and Sean's research linked in the show notes for this episode. So you can go check that out on our website. But I wanted to bring it back to Sean for a minute before we wrap up. Is there anything, any thoughts that you wanted to share about the scorecard or otherwise? |
| Sean Gonsalves: | No. I mean, there's a lot of moving pieces. There's a lot of activity. There's a lot of politics though that's involved, particularly on the federal level and that whole [inaudible 00:38:31] making process. But it's exciting and it's encouraging to see more and more communities looking at taking this challenge on themselves and realizing after a long time, you know what, if we're going to really get what we want, we're going to have to build it ourselves. And I say this all the time, but it's so obvious that it's painfully obvious, but if it exists, it's possible. And there's hundreds of communities that have either already built municipal broadband networks, some that are extremely successful, some of the fastest ISPs in the country are municipal networks. |
| Sean Gonsalves: | And to that local accountability piece, that's the other thing that's so key. And sometimes it's hard to quantify. But I think people can understand that when a community network is built and operated and maintained by the people in your community, that in and of itself brings a level of accountability that is unmatched. You're bumping into those people in the grocery store. Your kids play sports together. So there's that level of accountability. And one of the things that is tough to quantify, but I hear anecdotally all the time in talking to folks in various communities, is the difference between before they had a municipal network and they had to rely on the monopoly provider, and then after they got one is the difference in the customer service experience. And that is hard to quantify, but it's something that's huge for people. |
| Sean Gonsalves: | It means a lot for folks to not call a help desk in a foreign country and be on hold for two hours, and then be given an appointment two or three weeks down the line between the hours of 9:00 and 5:00. It's a huge difference, and to be able to call somebody, they answer the phone, they're a local person. And your problem is fixed relatively quickly. Those kind of things matter a lot to people and I hear it all the time. And there's just so … We can obviously go on for days and days talking about this, but it's actually a lot going on in this space, and there is a widespread movement across the country, kind of flies under the radar, but of communities who have said, "You know what, we can do this, and we're going to do this." And thankfully, the federal government is not adjusting policies to help make that happen and invest some real dollars and support behind those efforts. |
| Jess Del Fiacco: | Wow, I think you just gave us a very good note to end on, Sean. Thank you for that. Thank you for joining me and thank you, Emma. This was really great. Appreciate having you guys on. |
| Sean Gonsalves: | Thank you. |
| Emma Gautier : | Thank you. |
| Jess Del Fiacco: | Actually, before we let you go, Emma and I do have a very brief update to share with you. |
| Emma Gautier : | Yeah, so since this episode of the podcast was recorded, Congress actually passed the $1.2 trillion Infrastructure Investment and Jobs Act, which contains the broadband nutrition label. And we're really excited to see that this passed. We hope to see it enforced, and we'll have more information on this in the report itself. |
| Jess Del Fiacco: | As we mentioned before, that report is linked in the show notes for this episode, and you can find it on our website. All right, thanks, all. Thank you for tuning into this episode of The Building Local Power Podcast from The Institute for Local Self Reliance. You can find links to everything discussed today by going to ilsr.org and clicking on the show page for this episode. That's ilsr.org. While you're there, you can sign up for one of our many newsletters and connect with us on social media. We hope you'll also take the opportunity to help us out with a gift that helps produce this very podcast and supports the research and resources we make available for free on our website. |
| Jess Del Fiacco: | Finally, we ask that you let us know how we're doing with a rating or review on Apple Podcasts, or wherever you listen to your podcasts. The show is produced by me, Jess Del Fiacco, and edited by Drew Birschbach. Our theme music is Funk Interlude by Dysfunctional. For The Institute for Local Self Reliance, I'm Jess Del Fiacco, and I hope you join us again in two weeks for the next episode of Building Local Power. |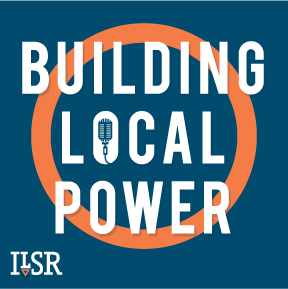 Like this episode? Please help us reach a wider audience by rating Building Local Power on Apple Podcasts or wherever you find your podcasts. And please become a subscriber! If you missed our previous episodes make sure to bookmark our Building Local Power Podcast Homepage. 
If you have show ideas or comments, please email us at info@ilsr.org. Also, join the conversation by talking about #BuildingLocalPower on Twitter and Facebook!
Audio Credit: Funk Interlude by Dysfunction_AL Ft: Fourstones – Scomber (Bonus Track). Copyright 2016 Licensed under a Creative Commons Attribution Noncommercial (3.0) license.
Photo Credit: istock.com 
Follow the Institute for Local Self-Reliance on Twitter and Facebook and, for monthly updates on our work, sign-up for our ILSR general newsletter.