Podcast (localenergyrules): Play in new window | Download | Embed
It's no secret that electric vehicles have gone mainstream. From quarter to quarter, U.S. sales numbers consistently hover near or above record levels. Cities are trading in their gas-powered fleet vehicles and buses. And major auto manufacturers are planning for an electrified future.
But the shift toward electric vehicles means more than cleaner, greener transportation. It offers an opportunity to build out new infrastructure in a way that supports local economies and a pathway to bolstering local renewable energy, all while generating meaningful cost savings for drivers nationwide.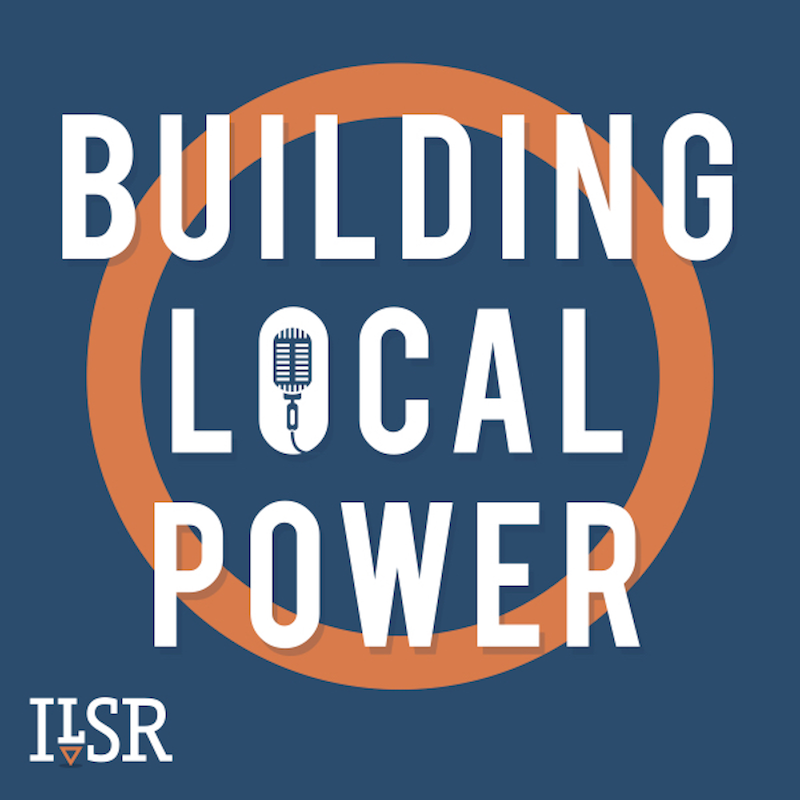 "Electric vehicles are really part of what we call the democratization of energy or energy democracy, which is to say that we are seeing a transformation. Because technology, energy generation is becoming localized," said John Farrell, who leads the Energy Democracy Initiative at the Institute for Local Self-Reliance.
In a recent appearance on ILSR's Building Local Power podcast, featured here as part of Local Energy Rules, Farrell and research associate Karlee Weinmann outlined the opportunities that come with widespread vehicle electrification and the barriers that remain despite significant economic and environmental benefits. (For a deep dive and the source of most data in this post, check out their report Choosing the Electric Avenue — Unlocking Savings, Emissions Reductions, and Community Benefits of Electric Vehicles.)
The Price is Right
A key factor driving the rapid adoption of electric vehicles is price. Federal and state incentives have nudged the trend along in recent years, but falling sticker prices will continue to put electric models within reach of more drivers — even as those incentives expire. Greater-than-expected declines in battery prices, coupled with improved technology, mean electric vehicles can do a lot more even as they cost significantly less.
Plus, the savings continue after buyers drive off the dealer's lot. In part because electric models have 100 times fewer drivetrain components than their gas-powered counterparts, they tend to require less maintenance. Combining reduced maintenance obligations with fuel savings, electric vehicles save drivers an estimated $1,000 per year.
What Range Anxiety?
The common misconception that electric vehicles can't travel adequate distance for most drivers becomes less and less true as battery technology improves. In fact, today's electric vehicles already satisfy the daily driving needs of a vast majority of Americans. The popular Nissan Leaf for years has held enough juice to cover the daily distance traveled by 83% of Americans on a single charge.
"A lot of people have thought about electric vehicles and their battery range as being too limited, and I think we really need to turn that around and let people understand that electric vehicles can get you where you need to go already," Farrell said.
The Infrastructure Challenge
Widespread charging infrastructure is an electrified transportation system. It's necessary to ease range anxiety and make electric vehicles as convenient as gas-powered ones. Still, there is no set formula for building out charging networks, which need to extend to homes, workplaces, and highway rest stops.
There has been some movement in recent years toward massive charging networks, including by the Obama administration and state regulators, as well as in the private sector by electric vehicle powerhouse Tesla. In addition, some cities have made electric vehicle infrastructure a priority in their long-range planning. But there's still work to do.
"There is definitely a recognition that this is a key component of ensuring that Americans are embracing electric vehicles, in order to capture their benefits to the greatest extent possible," Weinmann said. "But obviously today an EV charger is not as commonplace as a gas station, so ultimately this is going to require a sort of cultural shift in how we think about driving and what infrastructure is available and how we're investing in that."
In addition, some enterprising utilities have spearheaded efforts to implement time-of-use pricing that encourages electric vehicle owners to charge when the grid faces little strain — in areas with lots of wind power, drivers see lower prices for charging overnight, when wind floods the grid. In areas with high solar penetration, drivers would see similar pricing for daytime charging. Such a pricing model dovetails well with local clean energy generation, like rooftop solar.
"We now have the option to not only do the refueling process at home but to generate the actual energy that goes into it at home, and that's just a fundamental change from the long-distance supply chains that we have for oil and gasoline for our fossil fuel vehicles that have had enormous geopolitical consequences," Farrell said. "Now, all of a sudden, we can talk about [how] literally individuals can be energy-independent in a way they might not have been able to before."
Automakers Bet on EVs
Amid wide-reaching consumer appetite for electric vehicles, automakers are embracing the shift.
General Motors said this year it envisions an all-electric future, and would introduce nearly two dozen new electric models by 2023. Likewise, Ford announced it will invest $4.5 billion over the next half-decade in its work to develop new electric cars. Volvo, for its part, will only produce electric or hybrid vehicles as soon as 2019.
"We're already seeing auto manufacturers making long-range commitments to this technology," Weinmann said. "One thing to remember is that this is the future and the industry has already decided on that."
Cities Leading the Charge
Dozens of municipalities have publicly committed to promoting clean energy, and many of them are taking concrete steps toward a more sustainable future. When cities lead by example, it's easier for residents and business owners to follow. Fleet electrification offers a compelling value proposition for cities, moving them toward their goals while at the same time saving taxpayer money.
In Texas, Austin and Houston have emerged as frontrunners. Over the next 10 years, Austin plans to add 330 electric vehicles to its fleet, phasing them in as gas-powered models need to be replaced. The city expects the move to save $3.5 million annually in fuel and maintenance costs — money that can support other priorities. When Houston added 27 Nissan Leafs in 2014, it predicted $100,000 in annual savings.
"These stories really illustrate the power of fleet electrification to save cities money and to build capacity that way, and to really reinforce commitments to electric vehicles and the fact that this technology isn't going anywhere — and it really bears out," Weinmann said.
Austin goes one step further with a municipal utility that is actively building out public charging infrastructure and offering residents unlimited access for about $4 per month. The city's high-voltage chargers enable drivers to quickly top off their batteries, designed to make it as easy as possible to refuel. (Hear our conversation with Austin Energy's Karl Popham here.)
Pairing more expansive charging infrastructure with intentional policies will enable drivers to have more options, and local energy economies to flourish — especially where locally generated renewables can power vehicles.
"It gives us a lot more flexibility on the grid both to generate more energy locally — so, to put more solar on the local grid — but also just to have more flexibility in how we operate the grid," Farrell said. "That's going to be very important for integrating more renewable energy as the system continues to change."
Find all Local Energy Rules podcast episodes here.
This article originally posted at ilsr.org. For timely updates, follow John Farrell or Karlee Weinmann on Twitter or get the Energy Democracy weekly update.