Here at the Institute for Local Self-Reliance, we advocate for independence in a variety of forms. From strengthening the status of independent businesses in the economy to encouraging local governments to break free from monopoly Internet Service Providers and invest in their communities' connectivity, independence is vital for small-scale, local economies. That's why, in honor of Independence Day 2017, we've gathered resources from across our work that you can delve into during this long weekend.
We have a number of podcasts, articles, and infographics from all of our initiatives that discuss the vital role independence plays in the local economy. We know that you need some fodder for conversations during BBQs, travel to be with loved ones, and fireworks shows.
Let's get started:
Building Local Power Podcast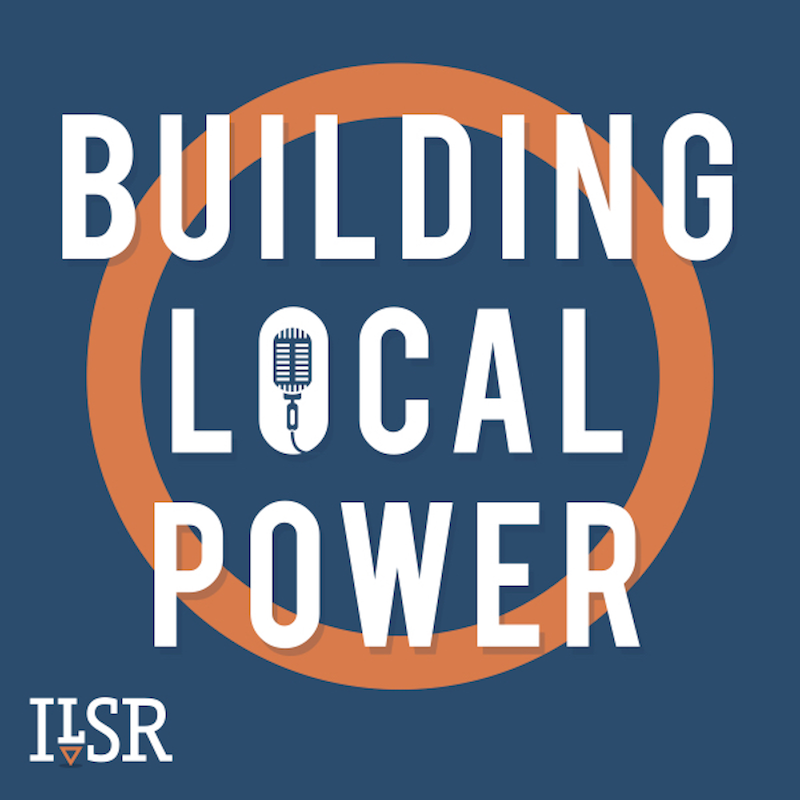 A number of our Building Local Power podcasts directly discuss independence in its various forms.
In Mayors Take on Preemption to Defend Local Solutions, Tallahassee, Florida Mayor Andrew Gillum argues that the state level preemption policies of states like Florida, Pennsylvania, and Minnesota are harming city governments' independence. These policies impact a number of issues, including:
municipal broadband
minimum wage increases
plastic bag bans
tax and expenditure limitations
Mayor Gillum spoke intensely against this level of control by the state government: "There's a nimbleness to local governments that I think people have an appreciation for. …The legislatures are trying to] exclude us from being able to make any investments in that space for the greater good."
Another great episode discussed how curbing partisanship in our politics by focusing on local issues: Breaking Through Partisanship: Left-Right-Local. The group discusses the nature of local policies and politics versus the national-level fights and hyper-partisanship.
By focusing on local issues rather than partisanship, the group argues, local governments can be more responsive to citizens and claim authority for their constituents. "Talking about economics is one way to get there, but also, there are these shared values that we have around democracy, local control, liberty," says Stacy Mitchell of organizing for better local solutions to national problems. "Those are things that are widely all American. I think, also, going back to those basic values and motivations are really helpful in getting past being trapped in an unhealthy partisan conversation."
Community-Scaled Economies Initiative
Written by Stacy Mitchell | June 25, 2017
Companies that want to reach the market increasingly have no choice but to ride Amazon's rails.
This article was first published in VICE's Motherboard.
We often talk about Amazon as though it were a retailer. It's an understandable mistake. After all, Amazon sells more clothing, electronics, toys, and books than any other company. Last year, Amazon captured nearly $1 of every $2 Americans spent online. As recently as 2015, most people looking to buy something online started at a search engine. Today, a majority go straight to Amazon.
---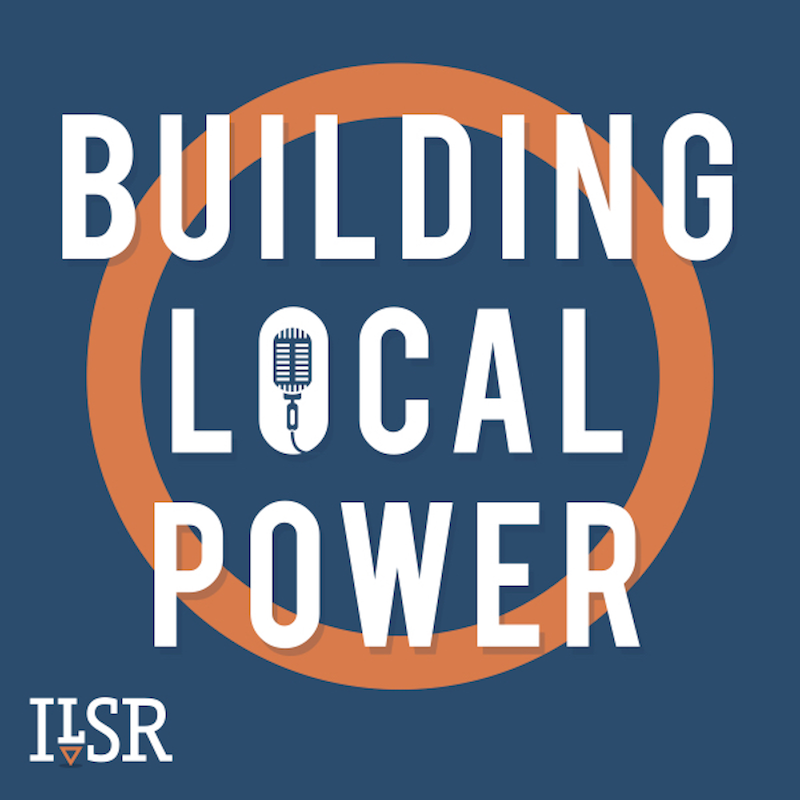 Written by Nick Stumo-Langer | May 18, 2017
This week in Building Local Power, we're discussing independent businesses and the communities that support them. Host Christopher Mitchell and ILSR co-director and Community-Scaled Economies initiative director Stacy Mitchell interview Katrina Scotto di Carlo from Portland, Oregon. di Carlo is the co-founder of Supportland (now called Placemaker), which work to bolster independent businesses by offering new marketing and technological solutions.
Katrina Scotto di Carlo started Supportland and Placemaker as tech companies aimed at bolstering the power of independent businesses not only in Portland but now in British Columbia (Canada), Florida, and Massachusetts. Placemaker knits the independent businesses of these communities together, in order for them to better retain and gain customers in the face of big-box retail and online platforms such as Amazon.
Full transcript is available here.
"[Independent businesses] keep more money local. There's more local character because we have all these funky businesses [that] also increase the amount of choice that you have when you go to purchase something," says di Carlo of the power of independent businesses. "[These] ancillary studies are interesting, like the overall health of everyone in the community is better."
---
Written by Olivia LaVecchia | April 4, 2017
Download this article as a PDF that you can print and share with your local officials, and head to the end to see 5 things you can do right now.

Wathen co-owns an independent bookstore, Chapter One, in Hamilton, Mont., a 4,500-person town nestled in the Bitterroot Mountains an hour south of Missoula. Wathen has seen a lot of stores come and go from downtown Hamilton in recent years, but Chapter One has kept on, along with the local newspaper and the office supply store, the toy store and the drug store, that are the bookstore's neighbors on the same block of Main Street.When Shawn Wathen decided to see how much his county was spending on purchases from Amazon, he wasn't sure what he would find.
Amazon doesn't have a physical presence near the town — no warehouse for storing goods and packing boxes, no sortation center or delivery station or one of its new brick-and-mortar bookstores — or, in fact, anywhere in Montana, but Wathen's been increasingly impacted by its growth in recent years. After reading the Institute for Local Self-Reliance's recent report on the company, and talking about it with the Hamilton Downtown Association, Wathen started wondering if his local officials were buying from Amazon for any county purchases. He got in touch with the Ravalli County treasurer to find out.
---
Written by Stacy Mitchell | June 20, 2017
For several decades, the term was a fixture of newspaper headlines and campaign speeches. Then something changed.
This article was first published in  The Atlantic.
If "monopoly" sounds like a word from another era, that's because, until recently, it was. Throughout the middle of the 20th century, the term was frequently used in newspaper headlines, campaign speeches, and State of the Union addresses delivered by Republican and Democratic presidents alike. Breaking up too-powerful companies was a bipartisan goal and on the minds of many voters. But, starting in the 1970s, the word retreated from the public consciousness. Not coincidentally, at the same time, the enforcement of anti-monopoly policy grew increasingly toothless.
The story of why the word and the movement dropped off the map in tandem carries lessons about how an economic policy's effectiveness can be its own undoing, and about how people are thinking about corporate power today. Because monopoly is back. As concentration has soared to levels not seen in decades, economists are talking about monopoly again; recent scholarship has linked consolidation with rising inequality and other economic ills. Politicians on both the left and right are talking about it, too—the announcement last week that Amazon is planning to buy Whole Foods has refocused some politicians' attention on the subject.
---
Community Broadband Networks
New Infographic: The Market Has Spoken. The Market Is Broken.
Written by Lisa Gonzalez | April 3, 2017
"Monopoly" may be a fun family night activity, but if you live in a place where you have little or no choice for Internet access, it's not fun and it's not a game.
According to FCC data, most families don't have a choice in Internet access providers, especially providers they like. Nevertheless, the biggest companies keep reporting increasing revenues every year. People aren't happy with the service they're receiving, but companies like AT&T and Comcast continue to thrive. What's going on?
In a recent State Scoop piece, Christopher wrote:
[
T]he market is not providing a check to AT&T or Comcast power. They are effectively monopolies — and as we just saw — can translate their market power into political power to wipe out regulations they find annoying.
At the Institute for Local Self-Reliance, where we work to support local economies, this broken market is a major problem. Cable monopolies are bad for local businesses, which become less competitive from paying too much for unreliable Internet access. Communities cannot thrive without high quality Internet access today. 
---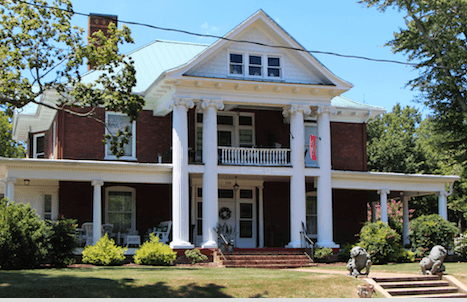 Greeneville, TN: Electric Utility Powers Up School Connectivity
Written by Lisa Gonzalez | February 23, 2017
Schools in Greeneville, Tennessee, are about to save on Internet connectivity to the tune of $50,000 per year, thanks to a partnership with the municipal electric utility.
Local Utility, Local Solution
Greeneville City Schools (GCS), which obtains Internet access via the state's Education Networks of America (ENA), used to obtain cable connections from big providers that worked with ENA. Comcast and CenturyLink are two of the local providers that lease lines to the schools with ENA as the entity that arranged the connections. Not anymore.
GCS, ENA, and the Greeneville Light & Power System (GLPS) have entered into a new partnership to use GLPS fiber-optic infrastructure to bring Internet access to school facilities. As a result, the school will cut telecommunications costs by approximately $50,000 per year and double their capacity.
---
Energy Democracy
Written by John Farrell | January 17, 2017
It's simple to promote solar power as a money saver and clean alternative to fossil fuel generation. But it sells solar short to focus only on savings, when it also gives Americans the freedom to generate their own energy and to challenge the economic and political power of big corporations.
Individual Freedom
If individuals want to invest their money, or pay someone else, to put solar on their rooftop, who is the government or the utility to tell them no? Americans should be free to decide how best to spend their money, and rooftop solar is one of the few ways they can spend it that pays back by cutting their use of electricity.
Competition
In more than 30 states, utilities operate as monopolies. The monopolies serving most customers are a private companies that receive a generous rate of return (10% or more) on money they invest in the grid system. Utilities suggest their monopoly is "natural," and that the grid operates most efficiently in their clutches. But if that's the case, why are utilities across the country scrambling to cut compensation for solar producers, add fees to the bills of solar owners, and modify electric bills so people who use less energy can't avoid paying the utility less money?
The truth is that technology from solar to smartphones undermines the rationale for a utility monopoly, and customers should be able to compete with their utility to get the best deal.
---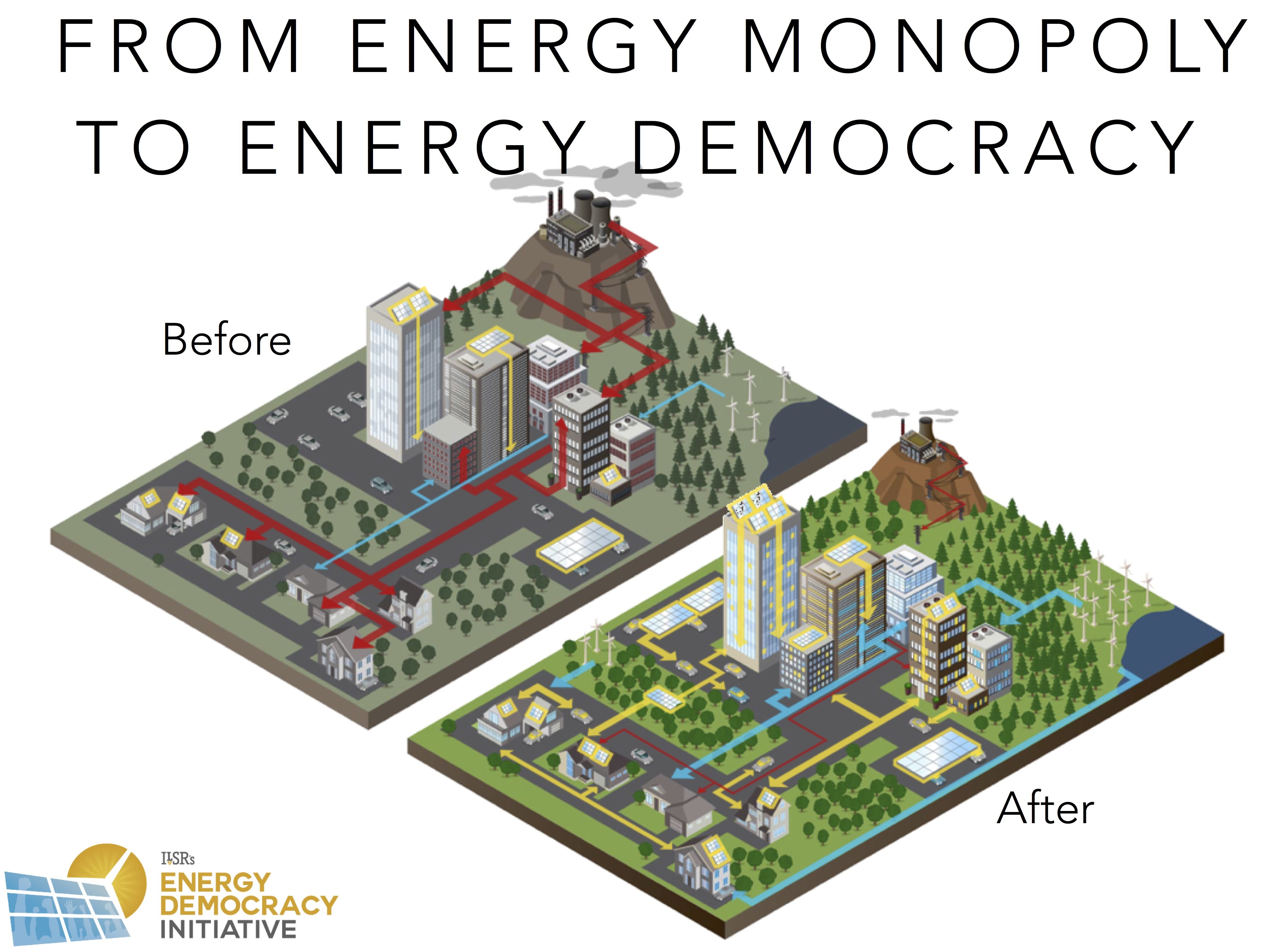 Written by John Farrell  March 1, 2017
There's no question that the energy system is undergoing change. One need look no further than the 1 million solar rooftops in the U.S. or — for the wonky — the source of new power capacity in the U.S. over the past 15 years. In 2003, just 20% of new electric capacity came from renewable power plants. In the last eight years, it's been at or over 60% almost every year. In the first three quarters of 2016, 16% of our new power capacity came from distributed solar alone (such as home rooftop solar arrays).
But few people realize that the change from fossil fuels to renewable sources is just a harbinger for a phase of massive disruption in energy markets. The disruption will remake how the energy system serves its users and offer unprecedented choices for customers. It may go further than choice.  As the energy system shifts away from the outdated utility monopoly model, the four Ds of energy democracy — distributed power, decentralization, democracy from ownership, and disruptive technology — have the potential to put those users in charge and allow them to reap the economic benefits.
---
Written by Karlee Weinmann | March 15, 2017
It seems counter-intuitive that a conservative farming community in southeastern Iowa is home to some of the most expansive solar generation in the U.S. But that's exactly what's happening in the area served by Farmers Electric Cooperative, the rural utility whose enterprising leader, Warren McKenna, saw renewables as a gateway to economic vitality.
Last summer, ILSR spent some time experiencing firsthand the solar explosion in this Iowa community and learning how Farmers Electric made it happen. See it for yourself.
---
Public Good
Written by David Morris | July 5, 2016
On June 14th, North Dakotans voted to overrule their government's decision to allow corporate ownership of farms. That they had the power to do so was a result of a political revolution that occurred almost exactly a century before, a revolution that may hold lessons for those like Bernie Sanders' supporters who seek to establish a bottom-up political movement in the face of hostile political parties today.
Here's the story. In the early 1900s North Dakota was effectively an economic colony of Minneapolis/Saint Paul. A Saint Paul based railroad tycoon controlled its freight prices. Minnesota companies owned many of the grain elevators that sat next to the rail lines and often cheated farmers by giving their wheat a lower grade than deserved. Since the flour mills were in Minneapolis, shipping costs reduced the price wheat farmers received. Minneapolis banks held farmers' mortgages and their operating loans to farmers carried a higher interest than they charged at home.
Farmers, who represented a majority of the population, tried to free themselves from bondage by making the political system more responsive. In 1913 they gained an important victory when the legislature gave them the right, by petition, to initiate a law or constitutional amendment as well as to overturn a law passed by the legislature.
But this was a limited victory for while the people could enable they could not compel.
---
Waste to Wealth
Written by Neil Seldman | April 3, 2017
The report was prepared to inform city agencies, City Council and Mayor's Office about the immediate opportunities for increased recycling and its potential economic impact on the city. The Office of Sustainability, Department of Planning and the Department of Public Works were all generous with their data and insights in helping prepare the report. ILSR also relied on input from environmental organizations and recycling and composting businesses. What follows is the introduction of the report, the full report is available for download here.
There are two primary reasons why Baltimore should invest in more recycling. Establishing high recycling levels will position the city's residents and businesses for the future, when the costs of incineration and landfill will be more expensive. The city could save citizens and businesses hundreds of millions of dollars by shrinking its waste stream for the next generation.
More immediately, increased recycling means more jobs. Within three years, based on the experiences of other cities, Baltimore could have 500 new direct jobs in this sector of the city's economy. In general, for every 10,000 tons of materials incinerated, one job is created. For every 10,000 tons of materials processed for recycling and composting, five to 10 jobs are created. Hundreds more jobs are created when processed materials are used in industry and agriculture. Oakland, CA created 1,000 jobs in the recycling sector in the last 10 years. Based on the results of a recent business report on recycling and jobs in South Carolina, if just one percent of Baltimore residents recycled eight more newspapers per month, it would add $304,000 to the local economy.
---
Written by Linda Bilsens | April 19, 2017
The Neighborhood Soil Rebuilders Composter Training Program is a composter training program with a community-scale focus and a community service component. This program was developed by the Institute for Local Self-Reliance and ECO City Farms and builds on the Master Composter model. The course involves ~20 hours of classroom instruction and ~20 hours of hands-on fieldwork and covers Composting Science, Soil Science, Compost Testing, Pile and Bin Building, Community Engagement, and more. Each participant commits to 30 hours of community service and to completing a "capstone" composting project.
Community leaders are needed to install and operate small-scale sites, teach other community leaders, share lessons learned, and spread enthusiasm for composting. But to succeed, they need training, exposure to best practices and systems, and on-the-ground technical support. These new generation of "master composters" are essential to create an army of volunteers who understand composting and its benefits, and who will push for policies and programs to expand food scrap composting. The Neighborhood Soil Rebuilder composter training program was designed to meet this need.
---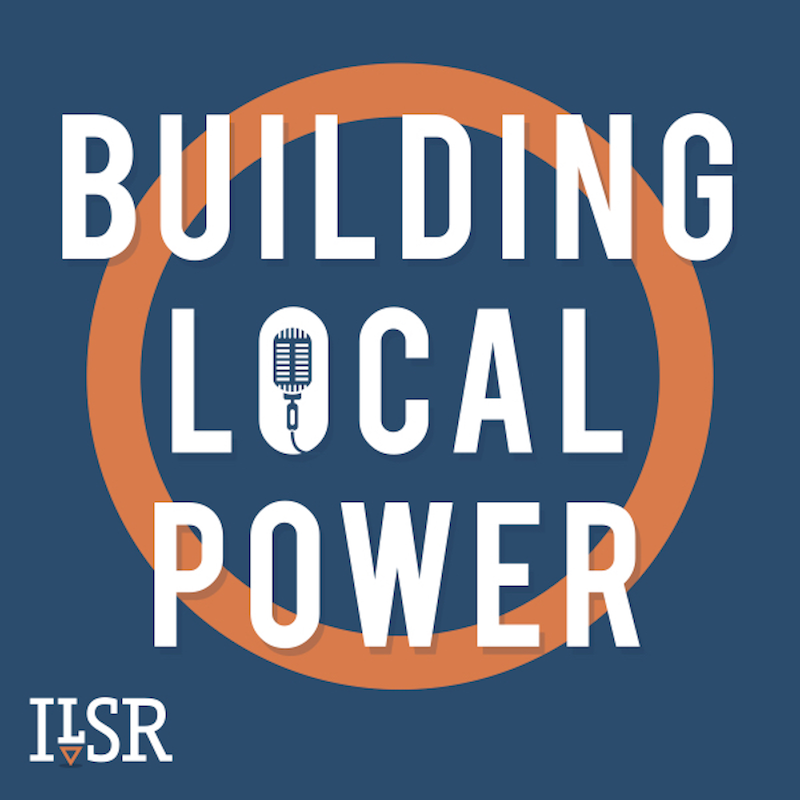 Written by Nick Stumo-Langer | May 4, 2017
In Building Local Power this week, we're delving into the potential community-based composting holds to empower historically marginalized communities in cities across the United States. Host Christopher Mitchell and ILSR's Project Manager for the Composting for Community initiative, Linda Bilsens, sit down with composters Sophia Hosain and Guy Schaffer to discuss how their composting projects are both engaging and serving their communities. Also, be sure to check back all next week for our celebration of International Compost Awareness Week from May 7th-13th.
Sophia Hosain works with ILSR partner Civic Works' Real Food Farm and Guy Schaffer volunteers for the youth‐powered, bike‐based composting service, BK ROT.
Linda, Sophia, and Guy are all part of the larger community composting movement that is growing throughout the United States. This movement is made up of composters working in diverse communities—ranging from urban, suburban, and rural—with common goals such as revitalizing degraded soils, diverting organic materials from the waste stream, and building community wealth in underserved, food insecure areas. Read more about this movement and how ILSR and other partners convened the Cultivating Community Composting Forum in Los Angeles earlier this year.
Full transcript is available here.
"That wealth that we're creating from food waste and food scraps needs to be recycled within our communities in order to truly make a wealthy and healthy community. And a sustainable one at that," says Sophia Hosain of the benefits of community composting in communities across the United States.
---
If you loved this content (and you made it this far in the article), we'd encourage you to sign-up for all of ILSR's newsletters and follow us on Twitter or Facebook.
Photo Credit: Vito Palmisano [Public domain], via Wikimedia Commons.