Five years ago, I launched ILSR's first program blog, 
Energy Self-Reliant States
, to provide regular analysis and perspective on the opportunities to enrich local economies in the changing energy landscape. At the time, the big discussions in energy were about state renewable portfolio standards, wind power, and big transmission lines as the
only
 reasonable and cost-effective strategy to meet ambitious climate and energy goals.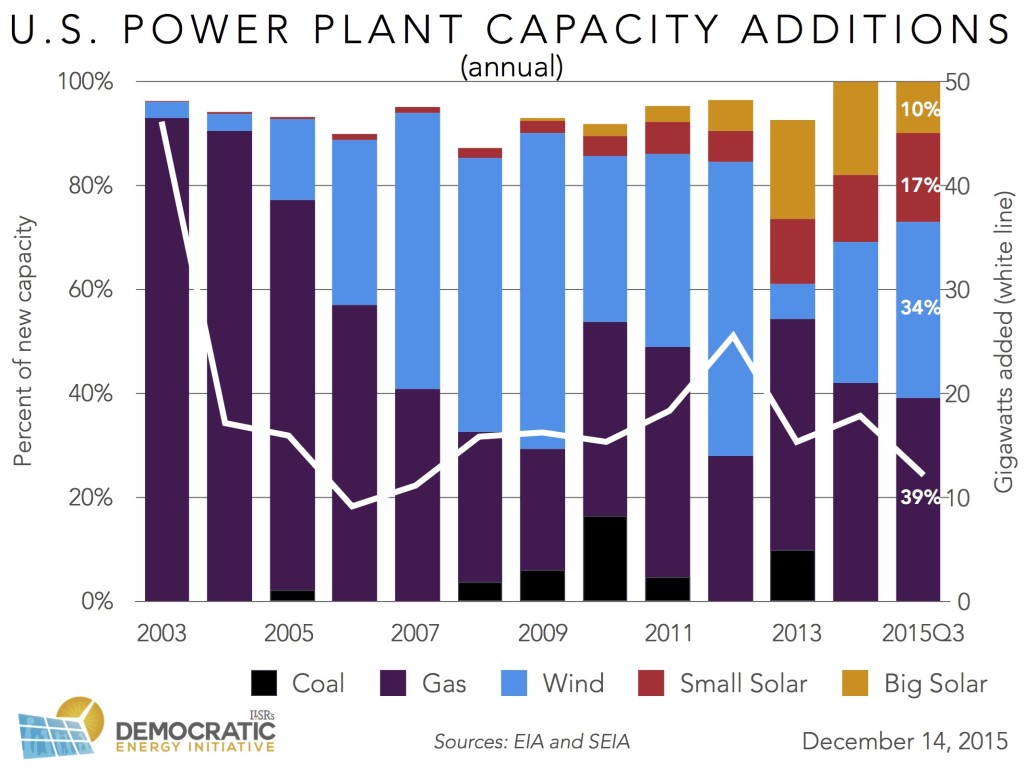 My, how the discourse has changed.
Solar energy has increased from providing 5% to 30% of new power plant capacity, with installed capacity growing 7 times over. Distributed solar alone accounts for half this surge, and the cost of solar has fallen by two-thirds. The combination of rapidly falling solar costs, rising electricity rates, and widely distributed smart technology has the utility industry fearing a "death spiral" from customers dramatically reducing their energy consumption. The electric company monopoly no longer seems quite so "
natural
."
Back then we had about 150 weekly views on our site, mostly me refreshing the page, no doubt. And my daughter, now 4.5,
was born that summer
causing quite a dip in content. We started with about 15 email subscribers and 40 twitter followers.
A Lot Changes in 5 Years
So, to celebrate five years on the internets, here are a few Top 5 lists of our first five years:
Content Top 5 (most read, shared, commented)
1. Ultimate Solar Calculator "App" Helps You Choose: To Own or Lease? by John Farrell – September 4th, 2014
2. Mapping Solar Grid Parity by John Farrell – December 14th, 2011
3. Rooftop Revolution by John Farrell – December 14th, 2012
4. Why We Pay Double for Solar in America (But Won't Forever) by John Farrell – July 10th, 2012
5. Germany Has More Solar Power Because Everyone Wins by John Farrell – February 8th, 2013
Twitter Top 5
Residential solar was 7.7% of new power plant capacity in U.S. last year. Rooftop revolution is here. pic.twitter.com/m7m3Cn6TOi

— John Farrell (@johnffarrell) September 3, 2014
Only 14 states DO NOT have active efforts to undermine distributed power. #WarOnSolar https://t.co/zpUIkbgMxw pic.twitter.com/KepUWQYXNY

— John Farrell (@johnffarrell) October 21, 2015
Solar pays much more than fossil fuels to rent public land. #bassackwards https://t.co/5i24sR8tqV

— John Farrell (@johnffarrell) November 30, 2015
Utility Solar May Cost Less, But It's Also Worth Less: http://t.co/0hyqa547IT pic.twitter.com/C5jMjH87Pv

— John Farrell (@johnffarrell) July 20, 2015
Get a bottle of water in an hour from Amazon…cities need to advertise this @bslotterback https://t.co/U6jNi4gjom pic.twitter.com/IPsR6qNc4l

— John Farrell (@johnffarrell) November 4, 2015
Top 5 Media Hits
November 15th, 2015
October 8th, 2013
August 19th, 2013
February 10th, 2015
February 22nd, 2014