Podcast (buildinglocalpower): Play in new window | Download | Embed
Imagine sitting in a remote region of the Sahara desert. The sun is scorching hot, the dry air is stifling, and there are no trees, no water, and no living creatures as far as the eye can see. What would you wish you had? 
One night in 2020, Aaron Johnson, founder and owner of Oasis Fresh Market, was up late working on a marketing plan for his new grocery store when he imagined himself in this very scenario. Then, it hit him. "In my mind, I [thought of an] oasis," he recalled. "I remember opening my laptop and Googling the definition … it means refuge, safe place, and shelter." 
For years, Aaron had lived in a different kind of desert, one common to many urban and rural areas across the U.S.: a food desert. According to the U.S. Department of Agriculture, an urban area becomes a food desert when residents live further than a mile from a full-service grocery store; in rural areas, the range stretches to 10 miles. North Tulsa, Oklahoma had been a food desert for fourteen years. It was also, Aaron adds, a food swamp, inundated with dollar stores and fast food restaurants. Aaron knew that there was a need in his community – not only for fresh and nutritious food, but for a business that valued people over profits. 
With the support and aid of his family and community, Aaron officially opened Oasis Fresh Market in May of 2021. In the years since, it's grown into a thriving independent business and nonprofit organization. Aaron thinks that Oasis can be a blueprint for other cities, mayors, and governors looking to support truly community-centric businesses. Oasis – and its associated nonprofit organization, The Oasis Projects – combines a grocery store with wraparound services, including employment, public health, and education. Together, they nurture a safe place and a refuge that only small, independent, locally-owned businesses are nimble enough to foster. 
In the second half of this episode, Stacy Mitchell, Co-Director of the Institute for Local Self-Reliance, expands on the policy decisions that have wiped out independent grocery stores and led to an increasingly consolidated grocery sector. She also points to smart policy decisions that some communities have implemented to preserve independent grocery stores. Pennsylvania, for example, created the Pennsylvania Fresh Food Financing Initiative, which allocated capital for grants and loans for people interested in starting and expanding grocery stores in low-income and underserved areas. This program ultimately financed nearly 100 grocery stores in urban and rural areas. But policymakers and elected officials must create the pathway to make opportunities like this available to all communities, including by enforcing antitrust laws and returning power to the people. 
Listen to the episode on your favorite podcast platform.
| | |
| --- | --- |
| Reggie Rucker: | Hello and welcome to Building Local Power. I'm your co-host, Reggie Rucker. We are back with episode two of this season. We are highlighting frontline stories in the fight against monopoly power by talking with people from all over the country who are actively engaging in building more equitable, thriving local economies. In the last episode, Dr. Perryman and Kennedy Smith chronicled how dollar stores are preying on communities and what these communities can and are doing to stop them. |
| | In this episode, we flip to the other side of the coin to hear about what happens when you create space for local independent grocery stores to take root and create strong, vibrant communities where the dollar stores and the big box chain retail stores simply can't or just won't. To get into today's episode, let me kick it over to my co-host and Building Local Power's oasis of eternal enthusiasm and optimism. Luke Gannon. What's up, Luke? |
| Luke Gannon: | Thank you, Reggie. I am Luke Gannon, and today Aaron Johnson, who is the owner and founder of Oasis Fresh Market, a thriving local, independently-owned grocery store in Tulsa, Oklahoma is telling his story. So let's start from the beginning. |
| Aaron Johnson: | I'm originally from Milwaukee, Wisconsin, but I moved to Tulsa after my parents divorced when I was nine, and so I'm what, 37 now? But I'm the youngest of three of two older sisters. Growing up, there were moments where there were at times disconnect notices on our door, or I went to school without having a breakfast or a lunch. My mom, as a single parent, worked extremely hard, had multiple jobs. I worked all the way through middle school and high school in order to help support my mom as well, and was fortunate enough to go to a private school. |
| | But even in going to a private school, there was this great divide. A lot of kids pulled up in their moms and dads vehicles, and you knew when the Johnsons were pulling up by the sound of the car a few miles away. And so I was fortunate enough to almost be in the middle, and I hate to use that description, but obviously I'm black and come from African American roots and challenges, but at the same time lived in what many call a white man's world, because of my athletic abilities that opened up doors that may not have otherwise been open, was able to go to college playing football at the University of Tulsa. |
| | And so growing up in Tulsa, there at times and still to this day is a great divide. Not knowing at the time, when I was got my license and driving and got pulled over in a super nice neighborhood that I was leaving my friend's house, that was my first time as a young teenager experiencing the racial divide. I guess I lived in a bubble up until that point. I didn't know about the Tulsa Race massacre really until college in my African American Studies class. So didn't know too much of the history, even in my own city that I lived in, but yet was experiencing racial tension and didn't even know that word as a kid and the trauma that's associated with that. Fast-forward to being in a community that was once called Black Wall Street here in Tulsa, Oklahoma before the Race massacre back in 1921. |
| | And as we approached the centennial of that, I was at another company doing some nonprofit work focused right here in North Tulsa, and I knew that the pandemic was going to cause thus a further divide, disparities, gaps between the upper class, the middle class, and the lower class, between those living on the other side of the tracks and those that weren't. |
| | And so I really kind of felt this righteous burden to take some of my grocery past experience, which I didn't have much of, and take a step of faith really in the middle of a food desert here in North Tulsa. There hadn't been a grocery store in 14 years, and so we took a step. My wife of nine years, she's Asian, I'm black obviously. We got Blasian daughters, so black and Asian, and so we took baby diapers, baby funds, 401k, and put it all on the line to play our role in trying to be the answer. |
| Luke Gannon: | For 14 years, the community of North Tulsa was forced to reckon with the destructive consequences of this lack of access to quality food on people's health and livelihoods. |
| Aaron Johnson: | The life expectancy rate in North Tulsa is 11 years shorter than any other community in Tulsa. But for me, it kind of felt like, man, the stories that we're hearing of individuals and the challenges they're facing are pretty heavy, but how do we take it one step further? It's great to have a free medical clinic, it's great to give away free food, but that can only last someone so long in underserved communities. |
| | And so with there being $10 generals, but yet not fresh and healthy access, and people are dying 11 years shorter in North Tulsa, in my mind, and I didn't go to school for this, but in my mind one day I felt like there's got to be a correlation, there's a connection there. And fortunately for us, our city counselor, Vanessa Harper and Rose Washington, Tulsa economic development, and our mayor, GT Bynum really felt, "Hey, how can we come up with an answer?" There had been no grocery store in 14 years, and the city had allocated some federal dollars to build this grocery store, and there was still a gap. |
| | And so I felt like throughout the pandemic, I don't know if it was bad pizza or COVID, but it caused me to say, "I think now's a great time to build a $6.5 brand new grocery store, $6.5 million, 16,000 square feet and to start a business and a nonprofit at the same time. I definitely probably had COVID, but I felt like our motto is More Than Just Groceries, Equipping For Life. Food is great, but if we're not helping to transform the community in financial literacy, in education, in workforce development and medical, and really food is a systemic issue in black communities. I love Cheetos and french fries. I have since I was a kid. I didn't know about zucchini and squash until I was an adult. And so how can we break that generational divide within our kids and the kids of our communities A across the country. |
| | One in six people in America today, one in six, live in food deserts in America, almost 54 million people. And so most food deserts also are food swamps. There's a difference. A food desert is a lack of access to fresh and healthy food. In an urban area, it's within nine miles and in a rural area, I believe it's within 14 or 15 miles. But in most of these food deserts, lack of fresh and healthy access, there's also food swamps, so your McDonald's, your Wendy's, your Burger Kings, your Taco Bells, and your gas stations that people are spending maybe their food stamps or even their regular dollars in order to buy food. |
| | So imagine for 14 years, North Tulsa residents had to shop at Dollar Generals, had to shop at gas stations in order to survive, in order to live. And so if one in six people, how many boys and girls is that affecting? Then how is that affecting their stomachs in school? Then how is that affecting their brain? How is that affecting what they absorb? How's that affecting their behavior? And all of a sudden, you have a classroom full of kids, and the teacher goes, "These kids are all bad." No, actually these kids are hungry. These kids are vitamin deficient. These kids are raising kids, the trauma. And that's why we felt that it was important to provide more than just groceries. |
| Luke Gannon: | Aaron decided that his community needed a long-term solution and a big investment, so Aaron and his family took a leap of faith to fill a dire need. He had an idea, a vision, and he was ready to turn it into a reality, but he needed a name. |
| Aaron Johnson: | I remember one night sitting at my laptop, it was about 11:45 or so, leaving the job at the time, and I was working nights to get answers to the architects and the designers for Oasis. At the time, I didn't have a name, and I remember the marketing firm had sent all these amazing names. And I remember shutting my laptop and closing my eyes and saying, "If I was physically in a desert, because North Tulsa was considered a food desert and had been for many years, if I was physically in the Sahara Desert, and I was closing my eyes in this exercise and I said, 'Man, I would want water, I would want food. Of course, I would want shade. But if I was there for a long time, I would probably have hallucinations that we see on the movies, Indiana Jones and all these other movies. And if I was having a hallucination, what would I see?'" |
| | And I said, "I would probably see Hawaii," this kind of picture of the beach and palm trees and blue water. And in my mind, I felt Oasis. And I remember opening my laptop and Googling the definition of Oasis, and it means refuge, safe place, shelter. And if we can go one step further in an underserved community, what's a refuge? A refuge is a building or it's a covering, while a covering protects us against the wind, the rain, and the ailments that exist outside of that building. |
| | Well, North Tulsa where there's so much racial issues and lack of fresh and healthy access, lack of broadband issues, lack of transportation, man, we said, "How can we build a refuge that protects our community, that protects families and boys and girls and senior citizens?" And so we did that and started our for-profit Oasis Fresh Market and started our nonprofit at the same time, the Oasis Projects, with the goal of providing fresh and healthy access, but also wraparound services. |
| Luke Gannon: | In 2021, Oasis Fresh Market officially opened, providing the community of North Tulsa and beyond with isles of fresh produce and, as Aaron admits, some crunchy Cheetos. But Oasis soon became emblematic of the kinds of spaces that are necessary to foster community and help people who might be in need of more than groceries. |
| Aaron Johnson: | Where an individual that just came into our store, beautiful, beautiful mom of five, her name is India, she came into the store and sat down at the table and put her head down. And one of our community coordinators, Brittany, went over to her and started talking to her. And she just put her head up and she was weeping. And we had for a season, a rental and utility assistance program to meet the needs of underserved renters. |
| | And that program ended not too long ago, and she thought we were still in that program. So here she comes to a refuge, a safe place, a shelter, not in need of apples or oranges or anything that she has for her five kids, but she needed help with her utilities. She has five kids. One of her kids has severe asthma, and she has no electric. So how do you plug in? |
| | And I grew up with severe asthma as a kid, almost died twice, would go to the hospital every single winter with a massive asthma attack, so I know the effects. And she was $400 behind, and they had cut it off and she said, "I don't know what I'm going to do with my son." And we just felt the need to pay that bill for her. And where in the world do you go to a for-profit entity in a dark moment in your life, in an underserved community, not to buy groceries, but to get utility assistance to help your young boy with asthma? |
| | I can relate. We all can relate. And so it is hard work. It does come at a heavy cost, and I don't think there's a week that goes by that myself or any of my team members just don't cry from the stories that we hear. But what an amazing community we have here in Tulsa, Oklahoma that businesses and individuals and families come together and say, "We want to partner with Oasis. We want to partner with a nonprofit, not just with finances, but with resources and influence to break that systemic divide and heal North Tulsa." |
| Luke Gannon: | India's story is one of many. Not only is Oasis serving their customer base with a philosophy grounded in community values, but the employees themselves create a supportive environment that fosters strong relationships. |
| Aaron Johnson: | Oasis is a lifestyle, whether you're rich or poor, whether you have all your needs met or some of your needs met or none of your needs met, we all need a refuge. We all want to be seen. We all want to feel safe, and we all want to be heard. That is the basic need of every person that we believe. And so that's why we want to try to meet the need right where people are at. And most of the time, we learn that it doesn't take much. Sometimes people just want someone to know that they're listening to them. Sometimes people want you to apologize. I probably apologize a hundred times a week for things that have nothing to do with me or the grocery industry, and our staff does the same way. But we have an incredible group of people that have said that we want to all be a part of something that's bigger than us. |
| | And I think that's a human need. Where can I find purpose? Where can I find destiny? What's my unique gift, but also what's my unique calling? Because we believe everyone was put on earth for something. Whether it's an artist or a designer or a chef, whatever it is, or podcast host or writer, whatever it is, everyone was put on the earth for something, and we want to help people find their unique gift. |
| | We had a former employee come in today, her name is Bam, we call her Bam-Bam. Every morning at 9:30, we do a team rally and we go over our core values and who we are. We're a refuge, safe place, shelter. We want people to be seen safe and heard. And she came in this morning. When she started this job, her goal was always to be a medical phlebotomist, like an assistant. That was one of her goals, and she was open about that when she came on staff. |
| | And the way that we kind of lead is we lead with open hands. The employees don't belong to Oasis. They're not mine, even though as the owner. They may be here for six months. We've got high school students. They may be here for a year. Maybe some for a lifetime, but whatever the season is, we want them to be able to say I was better as a result of Oasis. And so we helped her while she's on staff, we helped her find an apartment, we helped her fix her resume. We helped her get the job that she wanted to via connections. |
| | And so she missed the morning rally. We call it a team huddle, and she missed that morning rally, that sense of community, so she came, no longer as an employee, but really just as a participant. She said, "I just miss being a part of these meetings." And we allow everyone to go around at the end, "Hey, let's do a check-in. How are you? Anything on your heart?" And we have people that say, "Man, my dairy manager, his uncle just passed away." We have staff that used to be homeless. |
| | And so to give them, us all a space to say, "I'm grateful to be here," or "You know what? I feel crappy today. Sorry if I'm in a bad mood." Hey, we would rather you say that in this place so we know how to support you in this circle versus treating customers bad or trash in the store. So we provide, even within our staff, a safe place for you to just share quickly, "Hey, is there anything you're going through or anything on your heart? Anything we can do to serve you?" |
| Luke Gannon: | This kind of space that Aaron refers to is one of the many benefits that small, local, independent businesses provide that large national and international chains rarely cultivate. North Tulsa has affirmed that Aaron's vision for Oasis was exactly what they needed. |
| Aaron Johnson: | I think about October, November and December were some of the biggest outreaches that we've had this past year, where all these kids dressed up, and even adults, myself, I dressed up. I was of course Black Panther, Wakanda, remember who you are. And we had blacks and Hispanics and whites, Native Americans, all different races coming together around the common cause of community. And we have banks that help people get bank accounts, we have home ownership programs, we have medical clinics, so anywhere between 13 to 15 vendors that come and provide resources for free. |
| | At that time, it was in our parking lot. And so it comes at a cost to essentially for three hours. Not very many people come to grocery shop and spend money, but they come to be a part of a community outreach, and we're giving away gift cards and groceries for free. But those experiences, Christmastime, there was a mom that spent Thanksgiving in her car and didn't know what she was going to do for Christmas and Christmas meal. And so we were able to give her a $50 gift card, and she said, "I don't know what I would do without these groceries." And so you hear those kind of stories, and it makes you think people matter more than profit. |
| | Sure, we are for-profit. Sure, we have a nonprofit. But the nucleus of them both is people. And we believe the most important thing anyone can hear at the end of their lives is not well done, not good and faithful, communications director or associate or CEO or founder, but its servant. |
| Luke Gannon: | Oasis fresh Market has now been open for two years, and in just those two years, it has provided thousands of families with fresh produce, as well as supported families in need of housing, bill payment, and general assistance. Aaron sees Oasis Fresh Market and the Oasis Project as the foundation for creating the living embodiment of community values. |
| Aaron Johnson: | We really believe that this is the blueprint, that this is the model that other cities, other mayors, other governors can catch onto the power of for-profit and nonprofit coming together with amazing organizations, like you all, that provide amazing data and research and help amplify the power of local. Because on one aspect, we're not a Walmart, we're not a Sam's Club. We can't get 30,000 pallets of water for $1 because of the sheer volume. The bulk buying is a real thing. Being a business owner, especially in a world today where supply and demand are so few, it's so little, and inflation is on the rise across the board. |
| | In underserved communities, that power of partnership to help, man, eggs may be almost $7, $8 right now. And people are deciding what do I buy? But if we can also help them go, "Man, I need help with my kids. Is there a family and children's service organization that we can get mental health services? Or I started a new job and I don't have transportation, but I need a bank account." How can we help lift the burden off of families that already possibly are up against so many other challenges? How can we remove those barriers? |
| | And so what does Tulsa look like? Man, what does Oasis look like? It looks like more than just groceries. Whether it's got Oasis in front of it or another, if we can help other organizations do this, other companies do this, that power of local that you guys do so well, that's how we change the game. I don't know if big organizations and institutions can move as quick or be as nimble as we have today. Let's meet the needs of the real people, and I believe together we can do that. |
| Luke Gannon: | How, as an individual, an organization into society, do we meet the needs of real people? I know all of our regular listeners might be wondering, "Where is this book library?" It is coming, we promise, and we are continuing to build it out with guest recommendations. So let's hear Aaron's. |
| Aaron Johnson: | This may be, this isn't out of the box, but there's a book by Dr. Henry Cloud that is called Necessary Endings. Wherever there is an ending, there's also a beginning. And so for us, ending of a 14-year food desert was necessary, but it's the beginning of a new dawn and, at times, a new set of problems that wasn't budgeted, wasn't scripted, or we weren't prepared to see. But there is a new beginning, and in our world today in the social climate, I believe that there are millions of people across the world that are ready for something different. And we hope to play a small part in being a spark, in being a light that shows the power of partnership and how we can truly together make a tremendous difference. |
| Luke Gannon: | Aaron is making a difference right now as I speak, providing groceries and aid to his community. It was truly a pleasure to have Aaron Johnson on the show. Thank you, Aaron. For the second half of this episode, we invited the co-director of the Institute for Local Self-Reliance, Stacy Mitchell, who will dive into what's causing small, independent grocery stores to be wiped out and the policy decisions that led us here. But before that, I'm going to hand it over to the voice I know you've been missing, Reggie Rucker. |
| Reggie Rucker: | Wow, the voice people have been missing, huh? I feel like I need to turn on my very white, slow down to that nine voice or something now. But anyways, that's not why people are here. This is why we're here. Take a minute. |
| | Think about what an oasis looks like to you. If it's where the planet is thriving and people are living happy, healthy, and sustainable lives, consider heading over to ilsr.org/donate. In our modern economy, corporate concentration is threatening communities everywhere, jeopardizing the very existence of stories like the one we just heard of Aaron and North Tulsa. You can probably see it in your own community, but ILSR has a different vision, and we need your help. |
| | So if you can, even if it's just $5, $10, whatever you can, please head over to ilsr.org/donate and support our work to fight corporate power and build thriving equitable communities. And if you're looking for additional ways to support, we will always accept a kind review wherever you get your podcast. These reviews make a huge difference in helping us reach a wider audience. Okay, that's a break. Thank you so much for listening. And now back to the show. |
| | Yeah, thank you so much for joining us, Stacy. I think the first thing I wanted to do with you is there's a lot of people out there who are just trying to grocery shop. They're trying to stock their fridge and their cabinets with food that nourishes their family, fits within a budget, and at a store that's convenient to get to. They're just not overthinking this thing. So what do you say to people that have this as their calculation, why should, whether or not this grocery store is locally owned outweigh any of those other factors or even just be a serious consideration? What do you say to those people who are just trying to do grocery shopping? That's it. |
| Stacy Mitchell: | Yeah. There are a lot of factors that go into grocery shopping, and everybody's got different circumstances and different options that may or may not be available to them. So I'm definitely not a person who's going to mandate, "Oh, you should only shop at these stores." That's not my game. But I do think it's worth reflecting on it. I think in the interview with Aaron, we heard a lot about the ways in which locally owned businesses are fundamentally different from national chains. We tend to talk about these things, "Oh, they're all grocery stores. Oh, they're all banks. Oh, they're all toy stores," or other kinds of businesses as though they're exactly the same. But when you really look at it, you have a business that, by virtue of being locally owned, is operated in a completely different way. |
| | When he talked about what his goal is, what he and his employees are trying to do, a lot of it was about this mission around the community, around what it is that his customers need in order to have whole and fulfilling lives, what it is that his employees need and their own personal development. It's a store that has this mission. It's driven by something that's bigger than just selling groceries, although that's an integral part of it. And that's just not the case when you're talking about a big chain supermarket. Walmart probably has more than a dozen stores in the greater Tulsa area, and when Walmart from a distance is looking at those stores, the only thing it cares about is how much revenue is coming in per square foot. There is no other, "How do we channel dollars to shareholders?" That's the only thing that drives that business. |
| Luke Gannon: | So Stacy, can you talk a little bit more, expand a little bit more on how Aaron's story in North Tulsa stacks up against other stories you've either heard or read about across the US in this big endeavor to start your own grocery store? |
| Stacy Mitchell: | It reminds me of a lot of the stories I've heard from lots of locally owned businesses that have started up where what's driving them is something bigger than the store. It's usually a combination of a commitment and a relationship to the place and to the people that live there. I heard from him so many of the things that I've heard from other businesses that have started up. |
| | Usually there's two things that really drive a business owner in getting started. One is this deep connection to the place and really having a vested interest in the people in that place. And then the other is having a real commitment and interest in the thing that they're doing or selling, in this case, fresh food and talking about the gap in life expectancy and the role of food in that and that sort of commitment to what it is a grocery store really is. |
| | He talked about the notion of an oasis, of a safe and secure place, and the idea that grocery stores are part of our week to week and even day-to-day routines. They're an integral part of our daily life and our sustenance. And so you really hear that when he talks about why he wanted to start this business and what drove him to do it. And it's that same kind of thing that I feel like I hear from independent business owners across the country that are getting started, especially true in communities that have been marginalized because there's just so much more of a need for that kind of commitment and investment and creating those kinds of spaces that nurture the community. |
| Reggie Rucker: | And so staying with this name, Stacy, of comparing or thinking about how Aaron's story and the North Tulsa story is similar to stories across the country, I also want to see if you can talk to us about how the Walmarts of the world or these mega stores in our economy, what they see in a community like Tulsa or others, you mentioned these marginalized communities. What are they looking at that says, "Okay, that's a community we want to move into and really extract as much as we can from that community?" What are they identifying that's key to that decision for them? |
| Stacy Mitchell: | Well, in the case of Walmart, in some sense, they want all the grocery dollars. I mean, that's sort of their goal, but they have a particular pattern to the geography of their expansion. So they come into a metro area, like the greater Tulsa region, and they build these enormous stores, they're really quite large, and quite a few of them and typically encircle the city, and so they're in the suburbs, they're maybe in the sort of outer reaches of the city. And they build at a scale and with enough stores that they really dominate that regional market. |
| | And because they're able to use their power over suppliers to extract better deals than independent grocers can get, and we can dive into that more later, but because of that, they're often able to, and through a certain amount of predatory pricing, they're often able to offer lower prices, at least on select things. And so they'll pull customers who are able to drive to those stores out of their neighborhoods. |
| | And so as Walmart expanded across metro areas in Tulsa and elsewhere, years ago, it was a lot of small independent groceries, one-store operations, but also there had been a lot of these family owned chains that would be 10 stores, and they would have stores across different cities in Oklahoma. And maybe they had a particular model that was focused on urban areas or black communities. In some cases, businesses owned by people of color. And those smaller chains are the ones that really got devastated by that regional saturation strategy of Walmart's. |
| | And so then what happened is they closed, you suddenly started having places that had no grocery stores at all. And Walmart, like a lot of the major supermarket chains, Kroger, Publix, they sort of redline low income neighborhoods, black neighborhoods, very small towns or places they don't really want to go, but they can have stores at the regional levels that effectively suck a lot of the economic vitality out of those places. |
| | And so as those neighborhoods got left without any grocery stores, it was an open landscape for the Dollar Generals and the Family Dollars of the world. They just moved in like an invasive species that after a great fire or something had kind of left everything open, and they took over. And you really hear in Aaron's story, that's what he's responding to, the extraordinary number of dollar stores and the fact that people in North Tulsa, that's really the only place they've had to buy any kind of food. |
| Luke Gannon: | Aaron talks a lot about how North Tulsa, and we actually mentioned this in our new report, how North Tulsa was a food desert for 14 years. So can you first explain what is a food desert? What does that mean? And then talk about the policy decisions or lack of policy decisions that may have led to North Tulsa becoming a food desert and staying that way. |
| Stacy Mitchell: | So the food deserts are places that lack full service grocery stores where you basically can't buy fresh food nearby. The federal government has a definition, and in urban areas, it's a certain number of miles, and in rural areas, it's a larger number of miles to define what counts as a food desert. And food deserts have really exploded, and they tend to be in a mix of, some of them are in urban neighborhoods, and then there are a lot of rural areas that have also been left without grocery stores. There are a bunch of policy decisions, but they all kind of boil down to the fact that we have heavily favored this consolidated model. |
| | If you think about it, I'm kind of going back to using some more ecology metaphors, if you have a diversified ecosystem, you have lots of different kinds of species, small and large, that are filling different niches. And when you go to a kind of single, highly consolidated situation, you've got these bigger companies that they don't want to fill all those niches. And so the loss of independent grocery stores is not the only cause of food deserts, by any means, but it's a major one. There were a lot of family owned, locally owned grocers that were owned by people who were from communities, wanted to serve those communities that are now places that are left with without grocery stores at all. |
| | And a lot of the policy decisions that drove that consolidation have to do with the ways in which we altered our antitrust policy 40 years ago and stopped enforcing a level playing field. And ,it's absolutely no coincidence that those changes were made around right around 1980. And if you look at the growth of Walmart as a supermarket, they added groceries and they started growing like crazy not very long after that and just shot up. And then their growth spurred all this consolidation among other chains and on it went, and now we're in this situation. |
| Luke Gannon: | I'm curious specifically if there have been any sort of successful policy decisions in the last 10, 20 years that have helped keep some of these small independent local grocery stores alive? |
| Stacy Mitchell: | Yeah, so the two big things, I mentioned antitrust, and then the other big issue has to do with our financial system. So if you're a big chain, if you're Dollar General or Kroger or whatever, you have access to the capital markets, Wall Street investment, and you've got sort of an unlimited ability to finance your growth and to open new stores. If you're an independent grocer, you are faced with trying to get a loan from a bank. |
| | The kinds of banks that make loans to small businesses have been disappearing. The big banks don't make these loans. If you're an independent grocer and you want to serve a community of color or if you're a black entrepreneur, you are now facing even additional barriers to being able to get those loans. So our financial system has also been a major culprit in the ways in which we have and have not regulated that financial system to really put capital where it needs to go. |
| | So an example of a policy that has altered that dynamic, the State of Pennsylvania created something called the Pennsylvania Fresh Food Financing Initiative. And this was created, I don't know, I want to say about 15 years ago, and it lasted for about 10 years and did its job and then they sunset it. But basically, the state put up a set of capital. |
| | There was a nonprofit called The Food Trust that was a partner with the state in doing that. And it used that capital to make grants and loans to people who wanted to start or expand grocery stores in low income, underserved communities. And they ended up financing about a hundred grocery stores in both rural and urban places. And it was a mix of, some of them were little green grocers, some of them were big full service supermarkets. It was all kinds of different grocers, virtually all locally owned. |
| | And it's interesting because the locally owned part was not because the policy said they had to be, but it was rather because that's really where the need was, and those were the kinds of grocers that actually wanted to serve these communities. The reason that the big chains are not in North Tulsa or many other neighborhoods is because they don't want to be there. It's not because they lack capital. It's the independent grocers that lack the capital, but often do want to actually serve those communities. And so the Pennsylvania program fixed that problem and really helped open a lot of these grocery stores. |
| Reggie Rucker: | That's such a good example. And so I want to move us into another very specific but sort of top of mind example that's happening right now. I keep calling it shouting out my family in Cincinnati. So I got a bunch of family in Cincinnati. Every time I'm there, I see all the Kroger's everywhere. Kroger's is the Cincinnati grocery store, unless it's a dollar store or something. So a few months ago, Kroger's decides they don't have enough stores or enough money, they need to buy Albertsons and have more stores to make more money. Okay. |
| | So can you walk us through, their claim is, "Oh, yeah. More stores, more efficiency. We're going to be able to lower prices. It's going to be great for everybody." Can you walk us through why, I'm going to use PG language and say that's not accurate. Tell us what the real story is behind that merger and why it's dangerous for communities. |
| Stacy Mitchell: | It is dangerous, and a lot of people are opposing it, and I'm hoping that the federal antitrust agencies are going to block it, so we'll see. But the reason that it's really dangerous is that part of the reason that Kroger and Albertsons want to combine is in order to have more power over suppliers. These big companies, one of the big problems in our grocery system is that these big companies, they go to the big suppliers, and they are major buyers, and so they have a lot of leverage. |
| | And they say, "Look, you're going to give us a sweetheart deal. You're going to give us a big discount, you're going to give a special product sizes, different terms, superior access when there's shortages. And in turn, you're going to in effect raise prices on our competitors." There ends up being this waterbed effect where the more that Walmart and Kroger and Albertsons squeeze the suppliers, the more they end up raising prices on the independent and smaller grocers who don't have that kind of power. |
| | And that just creates an unlevel playing field. And this has nothing to do with volume efficiencies, because the independent grocers, they're buying through these giant, cooperatively owned wholesalers that are buying product by the mini truckloads. I mean, they're achieving the same scale efficiencies as Kroger or Walmart. This is purely about, "I have financial muscle, and I'm going to get my way." |
| | And this is one of the things that's really devastated local groceries with all the kinds of fallouts for communities that we've been talking about. So one of the major reasons that Kroger wants to do this merger is to have more buyer power. That's pure and simple. That doesn't serve anybody at all. It, in fact, will cause more harm in terms of local grocery stores closing as they lose out. |
| | One of the other big dangers, or there's two other big dangers. One is that these companies, because they have a huge overlap, so there are a lot of places, neighborhoods where you might have at least two options for grocery stores, Kroger or Albertsons, where you're going to end up with just one. There's going to be reduced competition, and that's going to enable these chains to raise prices. And we've already seen the chains taking advantage of this moment to lift up prices. We've seen soaring grocery prices, some of which is due to supply chain stuff, but some of it is due to just pure concentration of market power. |
| | And then if this deal does go through, the chains are probably going to have to divest some of their stores because of that overlap. And so we're going to have several hundred stores that are going to be spun off into a new company. And we know from past examples of this that those new companies often fail, and so you end up in the same place. You just have one choice of grocery store in those communities. |
| | And then I start to wonder, well, of the stores they're going to spin off, they're going to pick what, the ones that are unionized, the ones that are in lower income neighborhoods? Which of the stores that they're going to jettison? They're going to use that strategically to increase their power over workers or to leave behind neighborhoods that they don't want to serve or whatever it may be. So every way you look at this thing, it's just a bad idea, and we need to stop it. |
| Reggie Rucker: | You've done such a fantastic job of explaining this issue, and I know when we've had private conversations, I've, reprimanded might be too strong, but I've sort of warned you about getting into the nerdy RPA conversation, Robinson-Patman conversations and things of that nature. But I do think it's important. We do a lot of work that advocate for the small businesses and local communities to really highlight these policy positions that are important that regulators and policymakers should be thinking about. This is your moment. You want to shout out any of the reports that we've been working on. This is the moment to really get weedy, at least to highlight some of the work we're doing. |
| Stacy Mitchell: | So you're giving me permission to say Robinson-Patman Act? |
| Reggie Rucker: | I know. |
| Stacy Mitchell: | And you think we're late enough in this show that listeners aren't just going to tune right on out? |
| Reggie Rucker: | Well, they're invested at this point. They've spent so much time, it's like, "Okay, might as well keep listening." |
| Stacy Mitchell: | So I think the way to think about this is the story is at the local level, like the story that Aaron shared with Oasis Market and Tulsa and 14 years of being a food desert and just having all these dollar stores overrun the neighborhood, and then finally the city fighting back and passing an ordinance, the community fighting back and getting this brand new, full service locally owned grocery store that's really so beneficial to the community. That kind of story could be happening in so many more places if we address some of these federal problems. |
| | That is the thing. There are a lot of people out on the ground who are struggling and working on these kinds of issues in their communities, and right now they're facing this real uphill battle because of the way federal policy tilts the playing field against grocery stores like Oasis. And the reason to get involved in this fight is we could tilt the playing field in the other direction and actually make this whole thing a much easier prospect and get more and more of these kinds of businesses being able to open and succeed and serve their communities well. |
| | And so with that as the kind of introduction, the Robinson-Patman Act is an antitrust law that was passed in the 1930s specifically to deal with buyer power. This notion that I was talking about in terms of Walmart and these big chains gaming the system, using their power over suppliers to get better deals, forcing independent groceries to pay higher prices and pass those higher prices on often to communities that can least afford it, this incredibly unfair system that is a total function of power. We have a law that explicitly forbids that, and it was passed specifically with the grocery store industry in mind. |
| | And then right around 1980, the powers that be decided that they were just going to stop enforcing this. Congress never repealed it, but the antitrust enforcers kind of fell into disfavor. They thought, :Oh, it's good if these big companies use their power. They lower prices in the long run." Now, we know that that's not true. We have ample evidence that that's not happened, that consolidation in fact has hurt consumers, it's hurt workers, it's hurt farmers, it's hurt communities. So we need to go back to enforcing this law. |
| | And the folks at the Federal Trade Commission now are giving it a good look. There's some real interest in bringing it back. And in fact, Commissioner Alvaro Bedoya gave an important speech last fall at an event that ILSR co-hosted in which he explicitly called for reviving the Robinson-Patman Act. So the more that the Federal Trade Commission hears from people on the ground who are struggling with these issues, the more likely they are to pick up that law and actually use it, and it will make all of our work at the local level that much easier. |
| Luke Gannon: | I want to end this conversation with asking about what your vision is for thriving communities. You've been at this work for a long time, and we often talk about the harms and the consequences and the impacts that we see in our economy of these sort of laws that are not being enforced. And so I want to sort of look at the other side of the coin. What does a thriving community look like to you? |
| Stacy Mitchell: | Well, starting with, I guess, with the sort of grocery sector, since that's what we've been talking about, I can imagine a future where independent grocers are half of the grocery market, maybe more, where every place has a locally owned grocery store or maybe multiple locally owned grocery stores, each of them with a different flavor, different orientation. One of the beauties of diversity like that is that you get businesses that are uniquely adapted to serve a particular community, and it's meeting interests and needs, or particular entrepreneurs that have a certain interest in a particular kind of product that they want to showcase. |
| | There's so much benefit that goes with that, and I think I can imagine a future, if we get these policies right, where we still have chains. The chains are doing their thing, but they're not overrunning communities, they're not engaging in these predatory practices. They're there if that's an option that you want, but then there's a lot of room in the market for local businesses, co-ops, other kinds of business models to take root and really grow. |
| | One of the great benefits of that in the grocery sector is not only what that would mean mean at the neighborhood level, and we would definitely see, going back to the ecology, all of this new species diversity, filling in a lot of those gaps in the market. But one of the great things that would do, it would open up opportunities for all kinds of food producing businesses, which is one of the great untapped economic opportunities is to help people who have great ideas for producing different kinds of foods, sauces, cakes, all the things that you might imagine. |
| | That's low-hanging fruit, because a lot of people are great cooks, a lot of people want to go into business. But right now you try selling your special spaghetti sauce to Walmart. It doesn't work at that scale. They deal with the PNG and ConAgra. They don't deal with these local entrepreneurs. So we have small grocers, and now we got a whole avenue of new economic development and business ownership that we can create. |
| Luke Gannon: | Well, thank you so much, Stacy, for this thoughtful conversation and for joining us on the show today. Thank you to all of our listeners for tuning in to this episode of Building Local Power. You can find links to everything discussed today by going to ILSR.org and clicking on the show page for this episode. That is ILSR.org. |
| Reggie Rucker: | If you like this podcast, please share it with your family, your friends, the strangers that follow you on social media because you're a great follow, everyone. And remember, all of your reviews, likes, and donations help produce this podcast and support the research and resources that we make available on our website. This show is produced by Luke Gannon and me, Reggie Rucker. This podcast is edited by Drew Birschbach and Luke Gannon. Our brand new theme music is composed by ILSR's communications manager, Andrew Frank. Thank you for listening to Building Local Power. |
| Luke Gannon: | And coming up on the next episode of Building Local Power. |
| Shad Dasher: | A country with no farmers is no country at all. And this past year is the first time the United States has imported more food than it has exported. And so once you have somebody controlling what you eat, you're in pretty bad shape. |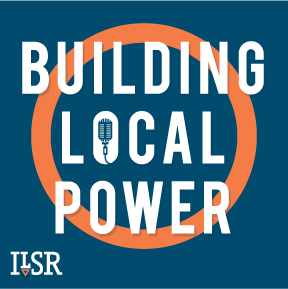 Like this episode? Please help us reach a wider audience by rating Building Local Power on Apple Podcasts or wherever you find your podcasts. And please become a subscriber! If you missed our previous episodes make sure to bookmark our Building Local Power Podcast Homepage. 
If you have show ideas or comments, please email us at info@ilsr.org. Also, join the conversation by talking about #BuildingLocalPower on Twitter and Facebook!
Audio Credit: Andrew Frank, ILSR's Digital Communications Manager
Photo Credit: Andrew Frank, ILSR's Digital Communications Manager
Copyright 2016 Licensed under a Creative Commons Attribution Noncommercial (3.0) license.
Follow the Institute for Local Self-Reliance on Twitter and Facebook and, for monthly updates on our work, sign-up for our ILSR general newsletter.