Energy Research Hot Spot: Community Renewable Energy
Power generation is being distributed and decentralized, and with it the power over the grid itself. After a century of utility energy monopolies in electricity generation, the 21st century is bringing a transition to energy democracy. ILSR explores the opportunity of energy democracy and community renewable energy by analyzing the economies of community-scale renewable energy, identifying the barriers and policies necessary to break them, and telling the stories of successful community energy projects. We do this with landmark reports, timely articles, and in-depth podcasts, and more!
---
ILSR's Reports:
In the past five years, the opportunity for community renewable energy has coalesced around "shared solar," where participants share the electricity output from a nearby solar array in the form of credits on their electricity bill. Some forecasts suggest that shared solar could supply 5-10 gigawatts of new power capacity in the next 5 years.
But shared solar is just a small slice of the community renewable energy opportunity, which could include many other renewable technologies such as wind or geothermal, but also community-owned projects that would allow greater local capture of economic benefits. While shared solar is a model shown to avoid several of the pitfalls typical for community renewable energy, these pitfalls could be bridged to much more broadly expand the economic opportunity.  Read more…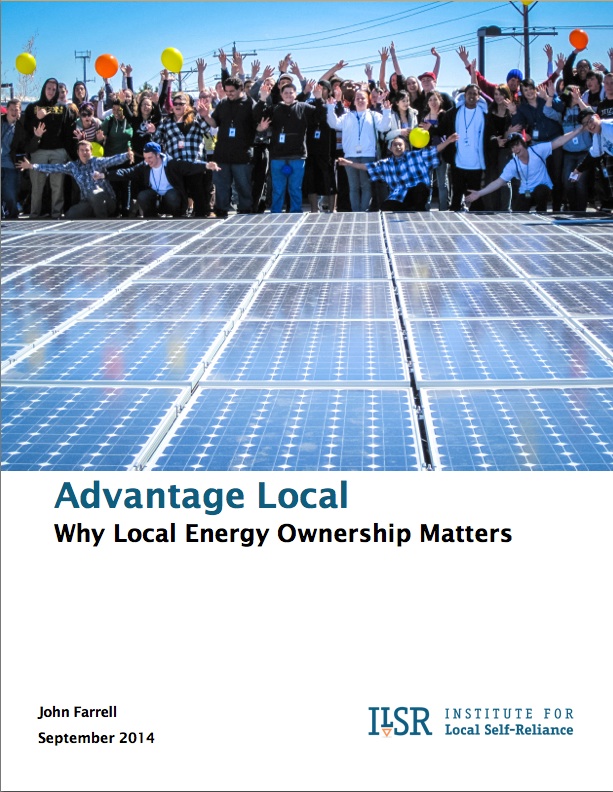 Why does ownership of renewable energy matter? Because the number of jobs and economic
returns for communities are substantially higher when electricity generation from wind and
sun can be captured by local hands.
This economic self-interest motivates rapid expansion of renewable energy and builds
political support for a low-carbon, more local and economically rewarding energy system.
This report serves as a resource, especially for communities seeking independence from big
out-of-state projects like high voltage transmission lines. Read more…
Community solar power can offer unique benefits in the
expansion of solar power, from greater participation and
ownership of solar to a greater dispersion of the
economic benefits of harnessing the sun's energy.  But
community solar faces significant barriers in a market
where the "old rules" favor corporate, large-scale
development.  New rules – better community solar
policy and regulations – are needed to remove these
barriers.
In this report, we explore whether community solar can:
+ Overcome financial and institutional barriers to collectively-owned solar.
+ Increase the number of people who can invest in and own decentralized solar power.
+ Offer an affordable opportunity to "go solar."
+ Disperse the economic benefits of solar power development.
+ Tap unused space on existing structures and near existing grid connections rather than using open space
requiring new transmission.
+ Replicate
---
Our Articles Featuring Community Renewable Energy:
---
Multimedia Resources:
Webinars:
Podcasts:
---
Other Resources: