The economy has stalled and so has the war on climate change. But dozens of cities are creating jobs and cleaner energy using their own power. Check out the full report or the 12-slide summary below, or read on for a summary of the key findings.
Keeping Energy Dollars Local
Chattanooga, TN, is adding over $1 billion to its local economy in the next decade by implementing one of the most advanced smart grids and delivering the fastest internet service in the country with its municipal utility.
Sonoma County, CA, has created nearly 800 local jobs retrofitting over 2,000 properties for energy savings with city-based financing.
Babylon, NY, has re-purposed a solid waste fund to finance retrofits for 2% of the city's homes, saving residents an average of $1,300 a year on their energy bills at minimal cost to the city.
Eight Powerful, Practical Policies
This report details eight practical energy policies cities can and have used to their economic advantage:
Municipal utilities
Community choice aggregation
Building energy codes
Building energy use disclosure
Local tax authority
Solar mandates
Permitting
Local energy financing
Case studies of each policy vividly illustrate their impact with specific examples, right down to the text of the relevant ordinances.
The policies aren't tied to a political ideology, but a practical and local one.  Cities have identified where they have untapped resources and deployed them to generate jobs and keep more of their energy dollars in the economy.
Every City Could Do Something
Some cities are more limited than others. While the federal constitution typically reserves all powers not expressly given the federal government to the states, states typically do not similarly reserve powers for cities. In fact, an opinion issued by Justice Dillon of the Iowa Supreme Court in the mid-1800s (Clark v. City of Des Moines) set a precedent for local authority that extends to this day in most states: many cities have only those powers expressly granted them by the state or that are indispensable in being a city. Issues like energy codes or property assessed clean energy programs don't fit under "Dillon's Rule."
On the other hand, many states have instituted a form of "home rule," that grants (at least some) powers of self-governance to cities. The following map illustrates the complex landscape of local authority.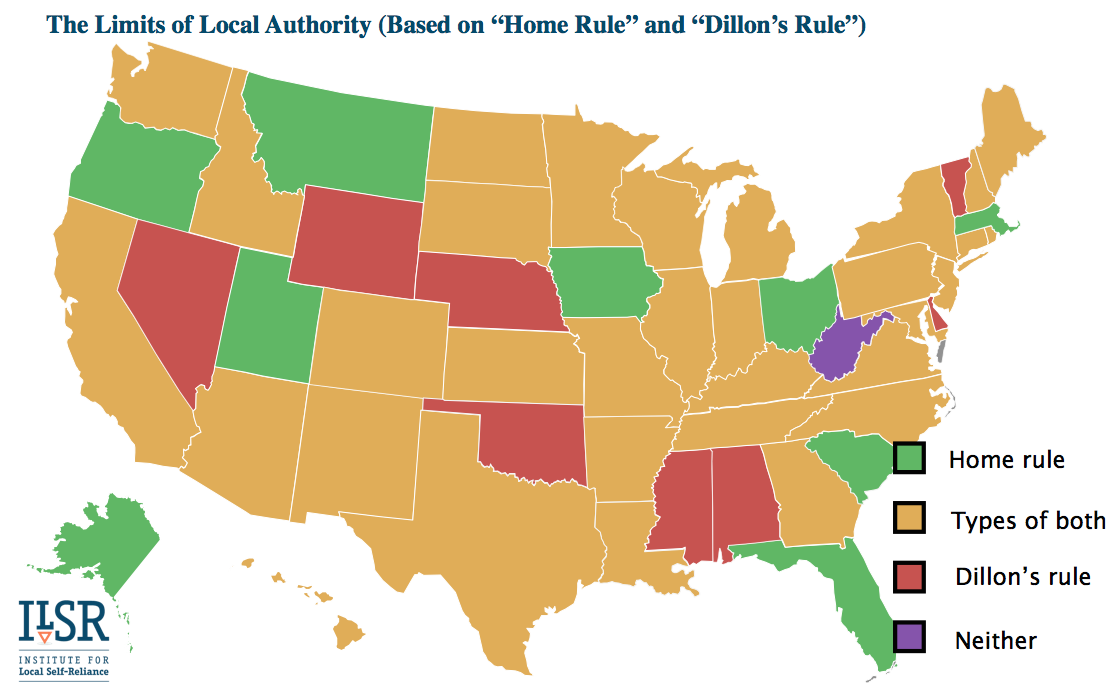 No city, no matter how committed to boosting its economy, could adopt all eight policies (heck, the first two are incompatible). Forming a municipal utility means a tough fight with the incumbent utility.  Few states allow community choice aggregation.
But nearly every city has a local budget and borrowing power, can issue permits for buildings, and can set local policy. And likely no city has explored the full potential of their power to boost the local economy with local energy policies. This report shows how dozens have done so, in the hopes it inspires many more to act.
Like what you see? Get email updates on ILSR's energy work!