A 40-year-old federal law has a new life in promoting a competitive U.S. clean energy market because of falling costs for wind and solar. But despite its lofty potential, the policy remains trapped between regulatory obstacles and utility resistance — forcing communities across the country to leave significant economic benefits on the table.
The Public Utility Regulatory Policies Act (PURPA), which dates to 1978, requires all utilities to buy power from qualifying small-scale clean energy producers when the price roughly matches what a utility pays to generate and deliver its own electricity, or what it would pay a third-party provider. The law provides competitive access to wholesale electricity markets for producers too small to effectively compete with large companies. By doing so, it carves a path for communities to keep energy spending closer to home rather than lining the pockets of utilities' investors.
Dramatically improved renewable generation technology, coupled with steep declines in price, prime wind and solar power to feature prominently in the energy economy of the future. When independent producers can get in on the action, communities can unlock deep economic benefits. Locally owned renewables projects can create 2.8 times more jobs and 3.4 times the economic impact, compared with absentee-owned projects.
There is a particular opportunity to leverage PURPA to promote economic development in rural areas. The solar and wind potential in rural America is already proven. Existing transmission infrastructure has capacity for smaller-scale renewable energy projects. Wind generation that sweeps across the plains and solar built on farmlands nationwide expand the tax base, create demand for local jobs, and diversify rural economies.
At the same time, renewable energy cuts down rural and urban customers' energy costs, providing a further economic infusion. Small-scale generation also appeals to the notion of local control, peeling back power from massive utilities whose interests often focus on shareholders far outside the communities they serve — a philosophy that claims bipartisan support.
So why hasn't PURPA's competitive mandate provided a springboard for widespread distributed generation in an era of inexpensive wind and solar, and rural economies thirsty for an infusion of economic development?
Two Key Elements: Terms and Prices
Today, there's a battle brewing across the U.S. to reinvigorate the little-used law and bring it into alignment with a modern marketplace riper than ever for small-scale renewables (note: we define small-scale in this piece as between 2 and 20 megawatts). Like other policies that present compelling local economic value — among them net metering and community solar — PURPA lives or dies by its implementation.
While PURPA's mandate is clear at the federal level, its implementation falls to each state. State laws put contours around PURPA implementation, and showcase widely variable priorities in its use. These rules reflect a focus on least-cost alternatives for generation, ratepayer impact, and incentivizing certain types of renewable projects over others.
State regulatory bodies oversee contract terms and contract prices. The contract matters a lot. If a contract runs shorter than 15 years, for example, it largely precludes project development as financiers will not provide loans. States with contract terms shorter than 15 years tend to see little to no development of competitive renewable energy.
At the heart of the PURPA debate in several states is the methodology for calculating "avoided cost" — or, the cost a utility would dodge by purchasing power from a qualifying clean energy provider. Typically, this figure includes avoided energy (purchased or generated) and avoided capacity (to meet system demands). It rarely adequately accounts for other factors, like avoided transmission costs, that would boost the value proposition of locally sited small-scale projects.
There is no explicit federal directive on how states should tabulate avoided cost, except that it is up to state regulators to determine a process. Many states lack in-house PURPA expertise, so the patchwork of state rules frequently relies on shaky analysis and misinformation from utilities.  
Utilities in many states, both investor-owned and cooperative, have rallied against more holistic methodologies for calculating avoided cost and determining contract terms. State-by-state variability means there are dozens of different interpretations, and 50 battlegrounds in the fight for fair standards under the federal law.
The following graphic illustrates the three cost components for electricity: generation, transmission, and distribution.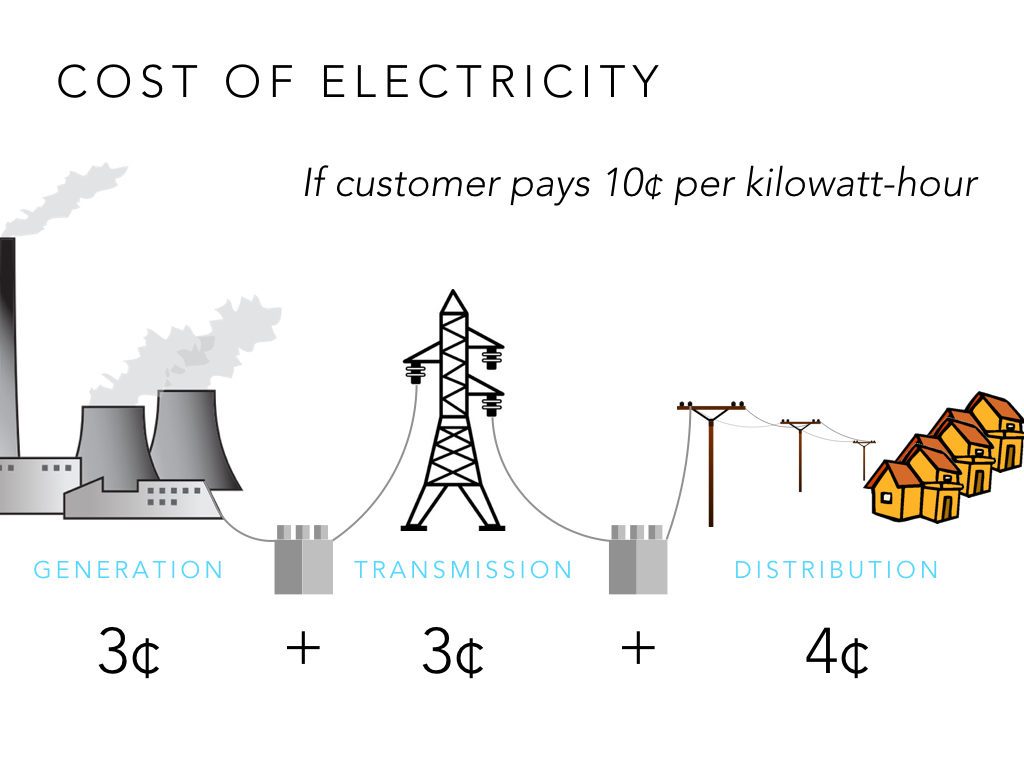 Utilities have frequently argued that buying energy from third parties only allows them to avoid generation costs, and often only the fuel required to produce electricity from existing power plants. In other words, they set an avoided cost of less than $0.03 per kilowatt-hour. When state regulators have required utilities to do a more complete accounting of their actual avoided costs, prices typically range from $0.04 to $0.06 per kilowatt-hour.
A Missing Piece: Delivery
A second issue — one that is more frequently overlooked — is the location and delivery point of renewable energy projects. In several states, this has formed the foundation of arguments to reevaluate whether a given state is allowing PURPA to be implemented in accordance with federal law.
Small-scale projects can take advantage of existing transmission capacity, near substations connecting the transmission to the distribution system, where large projects can't fit. This allows them to avoid not just generation costs, but also transmission. Still, very few state regulators require utilities to include this potential avoided cost in their calculations, despite the obvious benefit for utility customers and rural communities where these smaller scale projects could be built.
In addition, some states allow utilities to paper over the true value of proposed projects by using an inappropriate measuring stick. For example, using an existing wind farm as a baseline for determining the benefits of a wind-solar hybrid project (like one proposed in Minnesota) forces an uneven comparison, working against the project.
The following graphic illustrates this issue for distributed "wind-solar hybrid" projects that combine wind turbines and a solar array. The typical PURPA avoided cost methodology doesn't include the avoided transmission cost, nor does it necessarily identify the uniquely high capacity factor of a project combining daytime solar production with higher nighttime wind energy output.
Though it can support local clean energy economies in a very direct way, poorly calculated contract terms, prices, and the omission of delivery costs has left PURPA on the sidelines. It may be less sexy than other policies that promote clean energy — it requires a nuanced and numbers-heavy analysis of the local law and energy markets, and it remains vulnerable to flawed interpretation at the state level. But it can have a big impact. North Carolina saw deployment of over 2,000 megawatts of solar power under PURPA, when regulators set a fair avoided cost and provided a long-term contract.
Overcoming Anticompetitive Practices
Until now, utilities have played a key role in defining PURPA. This is particularly problematic in the 30 states where utilities own their own power plants and also calculate the contract terms for their competitors. There's a clear conflict of interest for utility to implement this federal law, a conflict that state regulators must overcome.
The fundamental principle behind PURPA — that our marketplace benefits from competitive and renewable energy generation — is diametrically opposed to many utilities' outdated business models. These utilities rely on two main things to boost their bottom lines: electricity sales (stagnant for a decade), and building new power plants that provide monopoly utility investors a virtually guaranteed rate of return. This strategy passes costs onto consumers for the benefit of the utility, when non-utility, locally generated renewables could save them money (and support a vibrant local economy).
To ensure fair competition and the best deal for utility customers, regulators need to ensure that the contract terms enable financing of non-utility power generation and that the avoided cost calculations are reasonable and thorough. They haven't always succeeded. Regulators in Idaho, for example, recently allowed contract terms to shrink from 20 years to 2 years. The Montana Public Service Commission just cut contract prices by 40%.
There's also been some progress toward a fairer process for setting contract terms. In Michigan, for example, regulators this year established an improved calculus that lumps transmission costs into the avoided cost algorithm. With a diverse coalition of allies, ILSR is pushing for similar action in Minnesota. But these are hardly the only states with an appetite for PURPA-enabled projects.
Progress with Cooperatives?
Much of rural America falls into the service territory of rural electric cooperatives, utilities whose member-owners have in recent years helped to propel PURPA into the spotlight. For them, the law can be a help in breaking free of decades-long contracts that bind their co-ops to fossil fuel power sources.
The issue landed before the Federal Energy Regulatory Commission (FERC) in 2015, a case that signaled a huge win for PURPA advocates. The David-and-Goliath battle started when Delta-Montrose Electric Association — a co-op serving about 27,000 member-owners in western Colorado's beleaguered coal country — wanted to shift away from coal-fired generation in favor of local hydroelectricity. But while it was a natural shift, it wasn't an easy one.
Like other small distribution co-ops across the U.S., Delta-Montrose was bound by an "all requirements" contract requiring it to purchase 95% of its power from a coal-reliant generation and transmission co-op. That supplier, Tri-State Generation and Transmission Association — which through a subsidiary owned coal mines — balked at change. At an impasse in their negotiations, Delta-Montrose brought the matter before federal regulators.
Delta-Montrose argued that PURPA, specifically its requirement that utilities purchase locally generated third-party power when the price is right, should supersede its restrictive contract with Tri-State. Regulators sided with Delta-Montrose in the case, and again when Tri-State tried to work around the decision. The ruling sketched out a roadmap for other co-ops eyeing local renewables and the benefits they bring, though few others have captured the opportunity.
Seizing Potential
As the cost of renewables infrastructure continues to fall, PURPA will become an increasingly viable economic development platform for communities throughout the U.S. Milestones in the fight for fairer PURPA implementation to date, including deep revisions to Michigan rules and the Delta-Montrose decision, tee up similar actions elsewhere.
With federal energy policy in flux (if not in outright chaos), the best place for policy action in support of small-scale clean energy is at the state and local levels. Given that PURPA is, by design, already part of each state's renewable energy toolbox, it offers a particularly compelling opportunity to build out generation regardless of federal (in)action. That the law also buoys local economies sweetens its value proposition.
Still, it's often a choppy road to fairer compensation for small-scale renewable projects. Better standards for PURPA often mean lengthy proceedings with state regulators, utility opposition, and even legislative action. But by playing the long game, clean energy advocates can significantly scale up competitive renewable generation, lower the cost of electricity, and increase local ownership and economic opportunity — especially in rural America.
Photo Credit: Solar Trade Association via Flickr (CC BY-SA 2.0).
This article originally posted at ilsr.org. For timely updates, follow John Farrell on Twitter or get the Energy Democracy weekly update.