Dear Commissioners,
I'm writing in response to a negative comment received on your recently adopted rooftop solar mandate as part of 17-BSTD-02: 2019 Title 24, Part 6, Building Energy Efficiency Standards Rulemaking. Berkeley economist Severin Borenstein submitted a letter with the following statement:
"I, along with the vast majority of energy economists, believe that residential rooftop solar is a much more expensive way to move towards renewable energy than larger solar and wind installations."

Severin Borenstein, economist at University of California Berkeley
The conventional wisdom in electricity generation is that scale matters. But this outdated notion rests on the assumption that electricity generators compete only in the wholesale market. California's nearly 1 million solar roofs already producing power provide the factual counterpunch to this myth, but so does ample research on the economies of scale and the price of competition in the wind and solar markets.
The 2-page summary of Is Bigger Best? (preview below), a report by the Institute for Local Self-Reliance, illustrates the misconceptions inherent in comparing utility-scale to community-scale or on-site renewable energy generation. In short, price comparisons between utility-scale and rooftop solar ignore that the two do not compete. Amazon Prime's free shipping wouldn't pretend to compete with the USPS if it didn't deliver to the door, and neither should utility-scale solar pretend to compete with rooftop systems.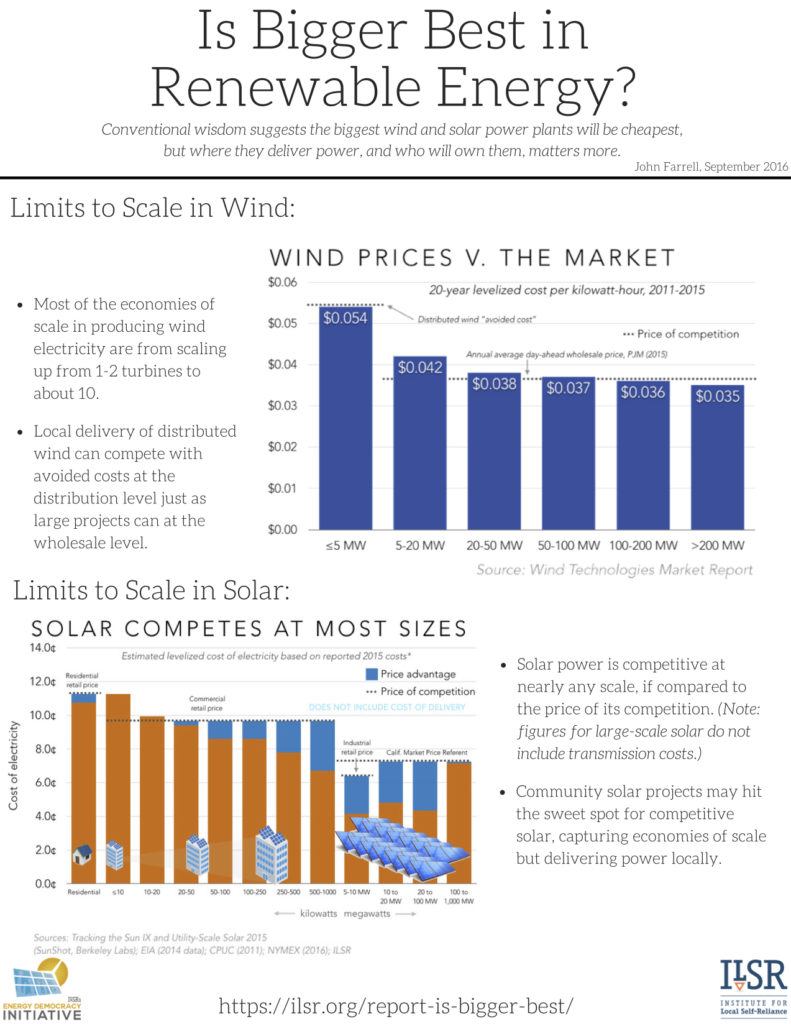 Furthermore, rooftop solar democratizes the economic returns of a clean energy system, allowing many residents and businesses to own a slice of the energy economy formerly reserved for utility shareholders, and supporting local businesses that provide everything from accounting to tax preparation to advertising for the local solar industry.
California's rooftop solar mandate is a landmark decision to lower the cost of solar ownership, to lower the cost of home ownership, and to support local economies. It will be an excellent complement to large-scale renewable energy systems that compete in separate markets.
Sincerely,
John Farrell
---
To hear more on how smaller solar installers offer better prices, listen to our podcast with EnergySage CEO Vikram Aggarwal.
This article originally posted at ilsr.org. For timely updates, follow John Farrell on Twitter or get ILSR's Energy Democracy weekly update.
Photo credit: NREL via Flickr